What do Sydney beatmaker Harley Streten and New Zealand songstress Ella Yelich-O'Connor have in common? Well, aside from a use of musical monikers – you'll know them better as Flume and Lorde respectively – it's that they both rose to international fame remarkably quickly.
Now it looks like the Australian electronic sensation and the 16-year-old who became the first woman to top the US Alernative Songs Chart in 17 years may close those six degrees of separation after a mooted offer for the two to work together on some 'bangerzzz'.
Streten took to his twitter to write the following post, which was picked up and telegraphed by Lorde on her own twitter account:
"@flumemusic: Hey @lordemusic I got your message from @coupdemain , great idea, lets write some music together " bangerzzz

— Lorde (@lordemusic) August 20, 2013

Coup De Main being the New Zealand-based music magazine that originally parlayed the info about Flume and Lorde.
I'd like it to be known to the world that @flumemusic just told me that the next thing on his to-do list is to make a track with @lordemusic

— COUP DE MAIN (@coupdemain) August 20, 2013
Side-project? Feature track? Remix? How about the Flordes of Lume?
Maybe we're jumping the gun (rather significantly), but given Flume's way with manipulating vocal pieces over huge dubstep-inspired drops and given Lorde is in possession of a fine set of pipes and a declaration that "pop music doesn't have to be stupid," it'd be a pretty logical collaboration. Besides Flume certainly knows how to play nice, he's already got an EP in the works with bearded soultronica star Chet Faker up their collective sleeves (following on from their successful union on single 'Left Alone).
Even if it turns out that Flume simply offers a beat-tastic remix of Lorde's 'Royals' or follow-up single 'Tennis Court', you can be sure he'd do a pretty bang up job. Need proof? Check out his unlikely but awesome remix of Gurrumul's 'A Baru In New York' (via Yolanda Be Cool).

The musical fraternity will just have to wait and see, as Flume embarks on his Fall American Tour this month, kickstarting in San Francisco on the 24th August through to his appearance at the first-ever Laneway Detroit, appearing on the bill of the first-ever American edition of the Australian-born festival alongside headliners The National, Sigur Rós, CHVRCHES, Solange, Savages, the aforementioned Chet Faker, and more.
Meanwhile, Lorde is returning to tour Australia for a whirlwind run this October, following on from her winning set at Splendour In The Grass, filling in as a last-minute addition for Frank Ocean, with our Tone Deaf reviewer remarking of her 'Plan B' set, "she oozes craftsmanship and live delivery beyond her adolescent years and puts to shame the rest of us who really weren't too productive during puberty."
Interestingly, the Kiwi singer's forthcoming tour is presented by Laneway, putting her on the rumour mill for the Australian festival's 2014 linuep, joining likely leaks for the bill in the form of dream pop pioneer Washed Out, synth pop trio CHVRCHES, and post-punk lasses Savage.
The announcement of her October Australian Tour also followed details of her debut album, the 10-track Pure Heroine (out 27th September via Universal), which is set to follow the success of her debut EP The Love Club, which continues to climb the US charts – having sold in excess of 51,000 copies, while the six-track long EP hit the #2 spot on the ARIA Singles Chart recently and has gone double platinum off the strength of 'Royals', while Lorde continues to sell well on the New Zealand Charts.
Lorde's huge international exposure overseas has already given her certified 'next big thing' status, while earning the teenager celebrity approval from the likes of Grimes, Moby, and even the Backstreet Boys and Selena Gomez. She's also earned that most popular stamp of cultural approval: the viral YouTube hit.
Walk Off The Earth, best known for their five person-one guitar cover of 'Somebody That I Used To Know' having now recorded a quirky tribute to 'Royals', which has amassed 320,000+ views in just a few days, while fellow New Zealanders, rock band Bonjah covered the tune a few months back for Triple J's 'Like A Version' to great results.
Then there's the recently released and much-hyped remix of 'Royals' from enigmatic Canadian RnB producer The Weeknd, which has proven a blogosphere match made in heaven after it topped the charts of blog aggregate The Hype Machine.

Lorde Australian Tour 2013
Presented by the Laneway Festival in association with the Harbour Agency
With special guest Oliver Tank
Wed 16 Oct – The Zoo, Brisbane QLD
Tickets through 1300 762 545 / www.oztix.com.au
Thurs 17 Oct – Metro Theatre, Sydney NSW
Tickets through (02) 9550 3666 / www.metrotheatre.com.au
Sat 19 Oct – Zierholz @ UC, Canberra ACT
Tickets through 1300 762 545 / www.oztix.com.au
Mon 21 Oct – The Corner Hotel, Melbourne VIC
Tickets through (03) 9427 9198 / www.cornerhotel.com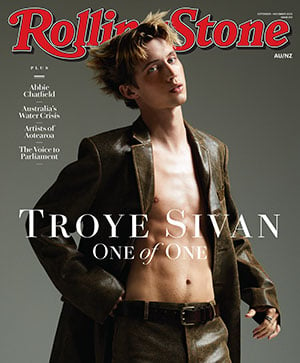 Get unlimited access to the coverage that shapes our culture.
Subscribe
to
Rolling Stone magazine
Subscribe
to
Rolling Stone magazine