With Queens Of The Stone Age in the country right now for Splendour In The Grass, and rumours of the Foo Fighters coming to Australia still quite apparent, it's pretty easy to forget that both groups are on the verge of releasing highly-anticipated records. In a new interview, the Foo Fighters' Dave Grohl talks about how both bands influenced each other in the recording process, and how they both want to "take over the fucking world together."
In a recent interview with Music Week, Dave Grohl and Taylor Hawkins have spoken about how the two groups managed to influence each other in the process of recording their new records. "Queens Of The Stone Age were recording their record a block away," said Hawkins. "We went back and forth to each other's studios, and made opposite records."
"One of the things that was exciting as we were across the parking lot from Queens, making these records, is that it was clear that there are still rock and roll albums to be made," added Grohl.
"I'd listen to what Queens were doing and it would be quintessential Queens. It sounds great. And Josh [Homme] would come over and listen to our stuff, I remember we were playing him 'Arrows', and he's like, God, I'm so glad you're finally making a dark record. I think we inspired each other."
Both Dave Grohl and Taylor Hawkins admitted that it was a good competitive spirit that kept both groups working so hard to make the best record they can. "It's like we want to make a better record than them, and they want to make a better record than us," he said.
Despite the current musical climate, in which rock music has been left behind somewhat, the interviewer asked Dave Grohl whether or not they felt that they needed to catch up in order to bring rock back to where it once was.
"Josh and I were texting the other day," Grohl said. "And we just thought, Well, let's just go take over the fucking world together. Let's do it, why not?"
While we're not quite sure at this stage what 'taking over the fucking world together' will entail, we can't help but say we're a little excited to watch it unfold, and that we're more than a little excited for what the Foo Fighters and Queens Of The Stone Age have in store for the entire genre of rock music.
Queens Of The Stone Age are in the country right now for Splendour In The Grass, ahead of the release of their seventh record Villains, due on August 25th, and the Foo Fighters have no concrete plans for an Australian tour as yet, but their ninth record, Concrete And Gold, is due for release on September 15th.
Check out Queens Of The Stone Age's 'The Way You Used To', and the Foo Fighters' 'Run' below.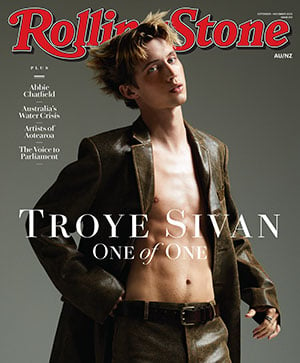 Get unlimited access to the coverage that shapes our culture.
Subscribe
to
Rolling Stone magazine
Subscribe
to
Rolling Stone magazine