If you're hanging out for a new Gang Of Youths album, but you might need to wait a bit longer, with the group revealing the new record will likely be out in 2020.
Back in August of 2017, Gang Of Youths released their second album, Go Farther in Lightness, to widespread critical acclaim. In addition to debuting at #1 on the ARIA charts, it also won four ARIA Awards, and spawned a number of huge singles.
Since then, things have been pretty hectic for the group. From touring with the Foo Fighters, playing MTV Unplugged, and to selling out huge homecoming tours, the band have apparently found some time to at least think about album #3.
Back in November, frontman Dave Le'aupepe spoke to Zane Lowe, revealing that he sort of had the new album's concept in mind, and was hoping to release it in 2019.
"I don't want to stagnate though," Le'aupepe explained at the time. "I kind of want to at least get this third album done by next year, that's really important."
Now, Dave Le'aupepe has given us a little bit more info about the new record in an interview with Radio X's Communion with Maz Tappuni, but sadly, we'll likely be waiting a little while still.
"I've got a name [for the album]," Le'aupepe began. "I even got some song titles, and I've got at least scaffolds for a bunch of songs."
"I've been able to shape something out of it, but I haven't really settled on a sound or anything."
"It might just take time," he continued, noting it might be a self-produced affair. "It probably won't come out this year, but it's gonna be ready by this year. It's gonna be ready by the end of the year, probably."
Check out Gang Of Youths' Radio X interview:
Elsewhere in the interview, Dave Le'aupepe took the time to explain just how nice and down-to-Earth the Foo Fighters' Dave Grohl really is.
"I felt really bad though because they were hoping that we'd come and hang out every night, but we felt like since they were the headline band we kind of just had to stay out of the way," he recalled.
"There's no pretension. I was quite profoundly touched by that, because there's an idea that if somehow you get to this elevated status in the world, you somehow become godlike and seeing them be unbelievably normie was really really lovely."
While we're not sure when exactly we'll get the new Gang Of Youths album, or what it may sound like, the mere fact we're talking about it has us excited. Who knows, maybe Dave Le'aupepe might be able to wrangle a Dave Grohl guest spot?
Check out Gang Of Youths' 'Let Me Down Easy':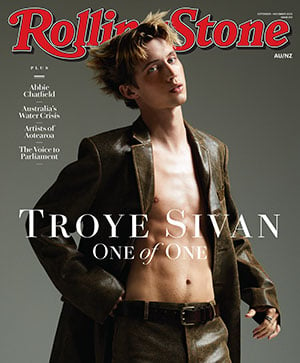 Get unlimited access to the coverage that shapes our culture.
Subscribe
to
Rolling Stone magazine
Subscribe
to
Rolling Stone magazine