Garrett Kato has given us a track by track in-depth look at his brand new EP 's. hemisphere'
Moving from one side of the world to the other on a whim, with just a guitar and a dream, is actually not as uncommon as it may sound. What is uncommon, is making a name for yourself in your new home as a writer, producer and performer. Then subsequently, touring the world after signing to a label and not only entering but helping shape the music scene of the place you moved to.
That is what Canadian born – Garrett Kato has managed to do over the last few years and it has gone pretty well. Now based in Northern NSW, Kato has released a fresh body of work that reflects on this move on how it has shaped the musician and person he is today. S'hempiphere is a six-track EP that uses Kato's considered vocals and subtly intricate guitar work to create a conceptual piece of work, with a feature from Julia Stone on the track Breathe It In. Kato gave us some insight into each track and what the meaning behind them is.
"s. hemisphere"
"s. hemisphere" Is a goodbye letter to North America. The songs were written about the changes and challenges I faced in creating a new life on the other side of the world.
"s. hemisphere is reflective in a way," he explains. "s. hemisphere is about the most polarizing time of my life, moving from Canada to Australia. So many changes happened. I met someone here, fell in love, and got married. Ten years later, I have two kids, a house, and all of these things. I made this life out of nothing. I think about how I ended up here, what I gained, and even what I lost by moving away from family."
Listen to 'Take It Slowly' below.
Track By Track with Garrett Kato
1. 'Control'
"The inspiration for Control was the basic idea of letting go. So many times in my life I would question why things occur the way they do. Some find comfort in Gods while others find safety in a salary with benefits. I'm learning to be comfortable with the simple idea we can't control our own existence. The unknown is scary, but can often unveil the deeper meanings of life."
Love Classic Rock?
Get the latest Classic Rock news, features, updates and giveaways straight to your inbox Learn more
2. 'Life Time'
I wanted to write a positive song that hopefully made people feel good.  It was actually more difficult to write than I imagined, so I took a moment to be thankful for everything I had, and remembered that I wouldn't have anything without this one person. She's the mother of my two children and my best friend in life so I wrote this for her. it's our little story of how we met and I came to be here in Australia living the life I have now.
I met Julia the day we wrote this track. The song started from a voice memo of a melody from her phone. It was a unique experience as we unravelled ourselves into the song and dived deep into our personal lives creating it. The song follows a story of substance abuse railing against a relationship that isn't surviving because of it. It's such a familiar story that is underplayed in our culture with an expectation to follow a lifestyle that isn't sustainable.
4. 'Holding on to You'
Our lives are fundamentally built on connections with each other and often these will dictate the course of our lives. I wrote this song with this philosophy in mind and how we can create our own world with the ones we share it with. In this case, it's the other side of the coin where you know this connection you have is toxic and volatile for you, but it seems better than not having them at all. Like all addictions that can take control of our lives, people can be the most powerful and damaging
5. 'Take It Slowly'
This song is the oldest of the collection. I had my daughter in mind when writing it. Life is an ever-changing landscape of emotions and challenges, but if you're lucky your family grows with you. Starting my own little family across the world from my home I began to realize this more. I take a lot to start over in another part of the world and it comes with its fair set of challenges, but sometimes these challenges are the only things that keep you where you're meant to be.
6. '68'
I have never written a more specific song in my life. For the first time, I chronologically mapped out the story and told it in a new way. My performance was captured live with one mic and I built the surrounding landscape of sounds around it. It's one of the rawest tracks I've released and I'm proud I kept it with all its little imperfections and subtle moments.
Listen to the brand new EP by Garrett Kato on Spotify below.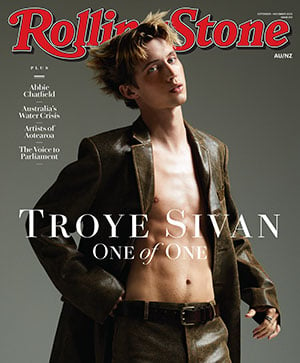 Get unlimited access to the coverage that shapes our culture.
Subscribe
to
Rolling Stone magazine
Subscribe
to
Rolling Stone magazine