Out today, Filipino-Australian singer daine brings us her emo-pop fuelled single 'My Way Out', and we thought it was time you got to know the brilliant musician behind this song.
Released as only her second song, this emo-pop newcomer is paving her way into the music world with her dreamy, spellbinding 'My Way Out' which is out today.
Filled with beautiful, delicate guitar strums layered with sensational beats, 'My Way Out' shines as a chill track with melancholic vocals drawing you in.
"I wrote the song about forcing myself to socialise after a long period of isolation (pre-COVID), and then just finding it so painful and unsatisfying," daine shares. "I wanted to reinvent myself after, focus on myself and my art rather than forcing myself to enjoy being around others."
With this brilliant second single out in the world, we thought it was high time you go to know the woman behind the music, and learn a bit more about daine.
Check out 'My Way Out' by daine:
How did your artist name come about?
It's my birth name!
How would you describe your music to your grandma?
I have tried, but I actually don't know where to start. It's probably a bit too sad for her liking but I think she's proud.
Love Indie?
Get the latest Indie news, features, updates and giveaways straight to your inbox Learn more
Tell us about a few of your tracks; their titles and what they're about?
I currently have two tracks out: 'Picking Flowers' and 'My Way Out'. They were both written when I was 16, heartbroken, and figuring out how to socialise. 
What do you love about your hometown?
I really like that I fall asleep to the sound trams. And also the amount of good vegan feeds around.
Career highlight so far?
Not anything specific, but some of the interactions I get online. The "thank you's", the "this song helped me feel better" sort of thing.
Fave non-music hobby?
I like journalling a lot. Drawing symbols, writing out thoughts, sticking down things I like. It helps me keep track of progress and regress.
What's on your dream rider?
Alkaline water, an orgonite in the centre of the room, mi goreng and chocolate Almond Breeze (not spon).
Check out 'Picking Flowers' by daine:
Dream music collaboration?
Turnstile. I've been dreaming of doing guest vox for Turnstile since I was 13. I feel like we could write something really hard.
Where do you see yourself in 10 years?
Probably a few albums deep into my career, playing shows, writing for other people as well hopefully.
What's your go-to karaoke song?
I have never used a karaoke machine in my life. I was born in 2002.
What's the best advice you've ever received?
Don't place your goals on a pedestal, you sell yourself short by doing so. Nothing is a big deal, it's all achievable, it's all within reach. 
What's one obsession you have that no one would guess after listening to your music?
Wellbeing and veganism. Kinda random and not on brand with the whole sad rap musical aesthetic, but I follow so many vegan blogger mums that live in like Hawaii, or Byron. I froth green smoothies and supplements and whole foods. It brings me so much calm.
Check out daine: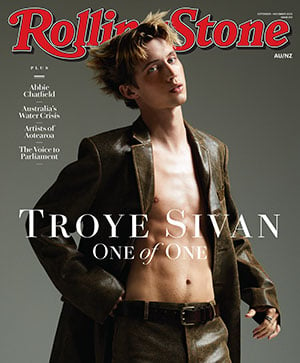 Get unlimited access to the coverage that shapes our culture.
Subscribe
to
Rolling Stone magazine
Subscribe
to
Rolling Stone magazine