Sometimes an artist heads into the triple studios for Like A Version and decides to whip out a completely left field cover; other times, they cover an artist more similar in style to them, a signifier to listeners of what they're all about. Mia Wray chose the latter path last Friday, choosing to perform MUNA and Phoebe Bridgers' hit 'Silk Chiffon'. 
Because Wray is a performer that would fit very well on Bridgers' Saddest Factory Records. The Melbourne-based artist oozes confidence, even when lyrically tackling some deeply dark material, and sings energetic and relatable pop songs.
On her debut EP Stay Awake, released on the same day her Like A Version performance dropped, Wray showcases all this and more. No subject is off limits, with mental health, bullying, and even stalking analysed in the songwriting.
Ultimately, though, what Wray wants to get across in her music is the importance of believing in oneself and one's art; if she can convince just one listener to achieve this, you feel, she'll think her EP has accomplished something.
With polished production by Rob Amoruso (G Flip, The Rubens) and Pip Norman (Troye Sivan), Stay Awake sounds cool and crisp on record, but the EP should also sound strong up close. You can catch Wray perform these songs and more on her biggest Australian tour to date next month (see full dates below).
To celebrate the release of Stay Awake, we caught up with Wray as part of our Get To Know series to find out more about her life and music.
Mia Wray's Stay Awake is out now via Ivy League Records. 
Love Pop?
Get the latest Pop news, features, updates and giveaways straight to your inbox Learn more
How did your artist name come about?
My full name is Mia Wray-McCann and it just kinda made sense to get rid of the McCann to keep it simple and luckily it sounded like a real stage name and I didn't have to come up with something else!
How would you describe your music to your grandma?
Ahhh? I really wanna be a rockstar but I write pop music so it comes out as kinda 'angry pop'. Pop/soul/rock?
Tell us about a few of your tracks; their titles and what they're about?
'Stay Awake' is a track about the ebbs and flows of friendship especially when you're both struggling with mental health. I fell out with someone I consider a sister and I was completely heartbroken over it. But our love was very strong and so eventually we found our way back to each other which I think is the most beautiful thing. And so of course a song had to be written about it.
'Evidence' is about a really shit experience I had walking home alone after a show I played. I got stalked back to my motel room and it was a horrifying experience. Luckily the sick bastard got caught on CCTV footage and was arrested. But that doesn't mean it didn't have an everlasting affect on me so naturally I wrote an angry song about it as my therapy.
'Happy' is about depression. I thought if I said 'I'm so happy' enough times maybe it might actually come true. It didn't. This song is also about being okay with accepting help and that taking medication doesn't make me crazy or weak. It is a sad song but I love singing it because I can see how many people are relating to it in the crowd so it feels like we're all in it together. It's nice to not feel so alone.
What do you love about your hometown?
I grew up in Sunrise Beach (Noosa), QLD. It was great – 5 minutes from the beach although I wasn't exactly the 'outdoor type'. I spent most of my time inside playing music. But I'm so grateful I got to grow up in such a beautiful place.
Career highlight so far?
Oh man there's a few! Getting to go overseas and write with incredible people and film a music video was pretty great. Also jumping up on stage with Vance Joy in Melbourne last year was also great.
Fave non-music hobby?
Probably reading or playing Zelda.
What's on your dream rider?
I've sat here thinking about this for a while and I don't think I have a 'dream rider'. I think I'm pretty simple. I've been trying to think of something ridiculous like a fuckin' jumping castle or some crazy food demands but honestly… give me a burrito, tequila and soda and surround me with my band, friends and fam and that's the dream really.
Dream music collaboration?
I'd love to feature on a Phoebe Bridgers or a Harry Styles track.
Where do you see yourself in 10 years?
Somehow juggling two kids and a solid touring career playing music I love with people I love.
What's your go-to karaoke song?
'You Can Call Me Al' – Paul Simon.
What's the best advice you've ever received?
"It's good to be good, but it's better to be different."
What's one obsession you have that no one would guess after listening to your music?
I love carpet cleaning videos.
Mia Wray 2023 National Tour 
Tickets available via miawray.com
SAT 25 FEBRUARY
PARTY IN THE PARK UNDER THE STARS – PACKER PARK, CARNEGIE VIC
FRI 03 MARCH
SOLBAR, MAROOCHYDORE QLD
SAT 04 MARCH
BLACK BEAR LODGE, BRISBANE QLD
FRI 10 MARCH
MOJOS, FREMANTLE WA
SAT 11 MARCH
MUSIC IN THE PARK, JOONDALUP WA
THU 23 MARCH
LA LA LA'S, WOLLONGONG NSW
FRI 24 MARCH
LANSDOWNE, SYDNEY NSW
SUN 26 MARCH
AWAKEN FESTIVAL – PENINSULA HOT SPRINGS, MORNINGTON PENINSULA VIC
FRI 31 MARCH
HOWLER, MELBOURNE VIC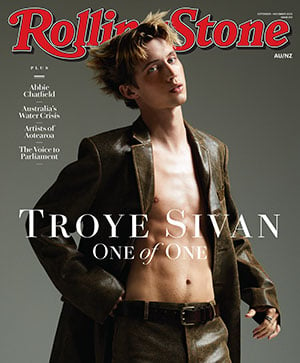 Get unlimited access to the coverage that shapes our culture.
Subscribe
to
Rolling Stone magazine
Subscribe
to
Rolling Stone magazine