If you've been paying attention to the world of Australian music over the last few years, then the chances are good you would have heard of WA duo The Money War.
First forming back in 2016, Dylan & Carmen Ollivierre have managed to assert themselves as one of the most exciting outfits on the Aussie music scene.
Kicking things off with a few singles in the early days, The Money War quickly found constant airplay on stations such as triple j, and even toured nationally with some of local music's biggest names, including the likes of Meg Mac, Dope Lemon, Holy Holy and honorary local Neil Finn.
Having released their long-awaited debut album, Home, just last year (along with their Life Is Better In Dreams EP), The Money War return today with 'Lifetime', the first single from their upcoming album.
A dreamy indie pop track which shows the pair at their very best, it comes accompanied by a black and white music video filmed and edited by Carmen during COVID-19 isolation.
"'Lifetime' is about reaching a milestone and taking stock of your life, comparing the reality to your expectations," Dylan explains. "As we began writing for a new album, we found out we were having a baby.
"Naturally our worlds were filled with extreme emotions and that's what came through in the music."
Love Indie?
Get the latest Indie news, features, updates and giveaways straight to your inbox Learn more
With their new single out in the world today, we had a chat with The Money War to get to know a little bit more about them, and to help introduce you to your new favourite band.
Check out 'Lifetime' by The Money War:
How did your artist name come about?
We wanted to name the project something universal that was a blank canvas. To me 'The Money War' makes me intrigued to listen to the music but lets the music do the talking. I think the name leaves us open to explore any kind of music we want to in the future. Band names are hard though! Surely we are going to run out soon!
How would you describe your music to your grandma?
Melodic, Grandma. Very pleasant and melodic.
Tell us about your new song 'Lifetime'; what's it about?
Our new song 'Lifetime' has been brewing for a while. We actually had the chorus floating around for a couple of years but could never get it to work with any other parts. When we found out we were having a baby, suddenly the story within the song became clear.
The song is basically about repeating the cycle through having your own child. I definitely thought I knew how my life was going to go when I was a kid. The song is about the naivety of thinking you have control – it's a really beautiful thing to observe life taking its own shape before your eyes and it puts things into perspective.
What do you love about your hometown?
Definitely the beaches and the space.
Career highlight so far?
Meeting Neil Finn and him saying we write great songs.
Check out The Money War's 'Home':
Fave non-music hobby?
Listening to podcasts, meditating, gardening, the beach. Lots of riveting stuff!
What's on your dream rider?
Tacos, Fireball whiskey, Cobbs salt and vinegar popcorn, a masseuse.
Dream music collaboration?
John Frusciante, Neil Finn, or Grace Turner.
Where do you see yourself in 10 years?
Life has changed so drastically in the last year; it's really hard to fathom what life may look like in another 10 years. But hopefully, making music somewhere out in the countryside!
What's your go-to karaoke song?
'The Way It Is', by Bruce Hornsby.
Check out The Money War on Spotify: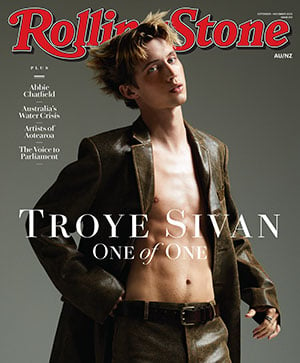 Get unlimited access to the coverage that shapes our culture.
Subscribe
to
Rolling Stone magazine
Subscribe
to
Rolling Stone magazine