Los Angeles genre-melding three piece Your Grandparents are back with a sexy new track 'Sunlight.'
'Sunlight' is the trio's first offering of 2021, coming off the heels of a series of sublime singles like 'So Damn Fly', and 'Tomorrow.' Your Grandparents swagger over a moody, bedroom-y beat. It'll have you feeling some sorta way.
To celebrate the release of 'Sunlight', we send Your Grandparents few burning Get To Know questions. Check out what they had to say below.
Listen to 'Sunlight' by Your Grandparents:
How did your artist name come about?
Ghettoblasterman: It was a joke at first. We were in a group chat with our big bro Q and I threw out "grandpa gang" just to be funny. Jean took that and turned it into Your Grandparents and made it iconic. It pays homage to all of the people who came before us, the people that put us on and passed down the music and art we love so much. Now it's out turn to make something timeless to pass down.
How would you describe your music to your grandma?
Love Hip Hop?
Get the latest Hip Hop news, features, updates and giveaways straight to your inbox Learn more
DaCosta: "Iconic"
Jean: "Pretty good"
Tell us about a few of your tracks; their titles and what they're about?
Simply put, 'Sunlight' is about waking up with someone you love, and 'Red Room' is about letting go of all the bullshit and having fun. 'Past Love' is about running into an old flame with your new shorty and seeing how it pants out. 'Intoxicated' is another favourite it's just about how liquor may affect your good time haha.
What do you love about your hometown?
Dacosta: That people from all over come to LA and bring their culture and ideas
Ghettoblasterman: I agree with Kyle, I'm so grateful for the vast array of cultures we get to experience.
Jean: The fact that all the black folks here know each other one way or another
Career highlight so far?
Getting booked for Day in Vegas
Going on tour with Cuco and Jean Dawson
So Damn Fly hitting a million streams on Spotify
Fave non-music hobby?
Ghettoblasterman: Photography & Making Drinks
DaCosta: Surfing & Modeling
Jean: I like to ride my bike and make clothes
What's on your dream rider?
Ghettoblasterman: I'd love a bar cart to make cocktails and a salmon plate from my favourite restaurant Cafe Brazil
Jean: ok check it out, I need some wings, casa migos, good weed, a handwritten letter of encouragement from whoever gathered these things, a fruit salad, and a newspaper from the city I'm currently in.
Dacosta: all I need is chicken wings and fries.
Dream music collaboration?
Kendrick, Willow, Tyler, The Creator, Erykah Badu
Where do you see yourself in 10 years?
DaCosta: making music directing dramas and horror films.
Ghettoblasterman: Present, Joyful, Youthful, and Founding a an end-to-end multi-disciplinary creative company & compound.
Directing whatever tf I want, maybe have a few standup specials under my belt, then perhaps disappear for a while and confuse everybody for a little bit.
Check out 'So Damn Fly' by Your Grandparents:
What's your go-to karaoke song?
DaCosta: 'Feel No Ways' by Drake I actually never get tired of that song.
Ghettoblasterman: 'Take on Me' by A-ha is so much fun.
Jean: 'At Your Best' by Isley Brothers
What's the best advice you've ever received?
Ghettoblasterman: "Keep going"
DaCosta: "Trust your intuition"
Jean: "Work smart not hard"
What's one obsession you have that no one would guess after listening to your music?
Ghettoblasterman: I love getting organized and cleaning. My martial arts sensei always used to say "When you clean, you clean your mind"
DaCosta: I don't think I obsess over anything so it's hard to say.
Jean: When I was a kid I would build tiny replicas of samurai swords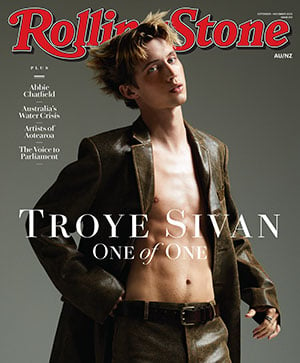 Get unlimited access to the coverage that shapes our culture.
Subscribe
to
Rolling Stone magazine
Subscribe
to
Rolling Stone magazine