"When in Rome," Saint Ambrose (probably) once said, but he (definitely) didn't have to undergo the deeply horrifying Aussie custom of drinking alcohol from a shoe. Harry Styles, however, had no say in the matter.
Drinking out of a shoe, or a "shoey" as it's better known, is, depending on your predilection, a fun party piece or a loutish, but it's also an instantly easy way to win over a boisterous Aussie concert crowd, as the English pop superstar found out to his advantage this past week.
During his Perth performance last Monday night, Styles bravely took a gulp out of his own shoe at HBF Park, leading to an ecstatic reaction from his Western Australian fans (Styles got to do it out of what appeared to be a lovely pair of Adidas x Gucci sneakers; this writer had the horrific ordeal of drinking out of a tradie's work boot upon first moving to this fine country; celebrities really do live better lives than us).
"Does anybody have a drink that they wouldn't mind lending?" Styles asked fans on Monday night, before wondering, "Can we do a shoey with water or is that against the rules? No?"
It's not against the rules but it's probably frowned upon, Harry. The Grammy winner found the funny side at least. "This is one of the most disgusting traditions," he very fairly shouted at the crowd.
Styles follows the likes of Post Malone and Kacey Musgraves in completing a "shoey", and it was just the latest memorable moment in his Australian sojourn.
Harry Styles does Australian tradition Shoey, drinking out of his shoe at his concert in Perth. pic.twitter.com/zmtPh28ZQ3

Love Live Music?

Get the latest Live Music news, features, updates and giveaways straight to your inbox Learn more

— Pop Base (@PopBase) February 20, 2023
The former One Direction star's Love On Tour motored his way around the country, feeling love from all corners of Australia before moving on to New Zealand.
Styles only ended up doing the one "shoey" (despite the only half-joking protestations of the Melbourne and Brisbane crowds ), but what he probably did take a lot of was vitamins during his tour.
Because the days of rock 'n roll touring debauchery for artists at Styles' level are, seemingly, long gone; a world tour, particularly for an artist at the level of Styles, demands discipline and self-care.
As revealed in a recent Rolling Stone interview, his current world tour finds the singer sticking to a strict regimented routine: "10 hours of sleep a night, IV injections pumping him with nutrients and vitamins, a strict acid-reflux-conscious diet that cuts out coffee, alcohol, and certain foods that affect the throat 50,000 fans are depending on."
Harry and Pauli dancing on stage at HBF Park in Perth, Australia!

©️Luckyallalongpic.twitter.com/YTXWg25XD7

— HS Updates (@Harry_StylesUp) February 20, 2023
The discipline of Styles the solo artist is in stark contrast to his first touring forays in 1D, which included him getting tonsillitis on the day of the group's Wembley show in 2014. "I was miserable," he told Rolling Stone. "We played the first one, and I remember I came off, got in the car, and just started crying because I was so disappointed."
And with his Aussie fans patiently waiting so long for him to tour here, not showing up to a show due to negligence or a poor routine would definitely not be a good look.
"Patient" really is the word: Styles' fervent fanbase were perhaps too enamoured with his Aussie tour, with some causing a dangerous stampede by queuing overnight to grab an ideal spot at his show. Others reportedly fainted due to the overwhelming heat in WA.
And imagine queuing for hours to see your idol, only to hear him play Daryl Braithwaite? Styles did just that – after much disco dancing and famous anthems of course – in Perth, covering Braithwaite's classic hit 'The Horses', balancing out the synth pop with a bit of barnstorming pub rock. "I can feel the Aussie coursing through my veins!"he bellowed. Again: this artist knows how to ingratiate himself to a local audience.
Styles' also made the most of his downtime, which included being spotted enjoying a gentle yacht ride along Perth's Swan River before his show last weekend, soaking up the overbearing WA sun.
Yachts, IV injections, pub rock ballads, and drinking from a shoe: Styles is quickly learning all that an Aussie tour has to offer. Now, the singer heads to New Zealand for a massive Auckland show at Mt Smart Stadium with Wet Leg in tow (more information here).
For more on this topic, follow the Live Music Observer or the Pop Observer.
https://twitter.com/hldtour/status/1627678483567591424?s=21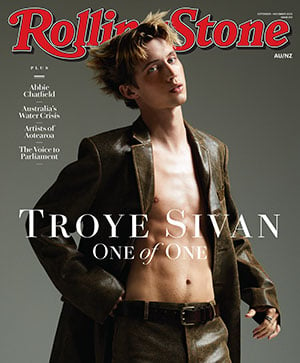 Get unlimited access to the coverage that shapes our culture.
Subscribe
to
Rolling Stone magazine
Subscribe
to
Rolling Stone magazine