The dreaded hip-hop curse has risen its ugly head once more, this time claiming a hip-hop festival that has been canned before it even had the chance to announce its promised line up of international rap acts due for its inaugural launch this November.
Last April, following in the wake of the news of the initial setbacks to the Nas-curated hip-hop festival Movement that eventually led to its cancellation entirely, former Supafest promoter John Denison announced his intentions to launch a new urban music festival called Hype in November.
Responding to inquiries on twitter in relation to the problems faced by his former employers at Supafest, Denison tweeted that Hype Festival would have an internationally based lineup to rival Supafest's, teasing last April: "all I can say one has never been here before, one is a legend, and the other 3 are very very cool!"
But despite his bold promises, Denison has now revealed on his feed that "Hip hop festivals in a mess!" and that plans for Hype Festival has been cancelled.
@slamminsam187 not happening! Hip hop festivals in a mess!

— john denison (@realjohndenison) July 9, 2013

Denison was the former honcho for Supafest, but no longer has any connections to the music festival and is now an Artist Manager at UAE Presents, the promoters that presented Mariah Carey's Australian Tour in January and The Jacksons' MJ-tributing Unity Tour of Australia last March.
Love Eminem?
Get the latest Eminem news, features, updates and giveaways straight to your inbox Learn more
The festival flop is just the latest in what has been an extremely patchy track record for rap and hip hop tours in Australia, proving it to be an unreliably risky business, as demonstrated by previous debacles. Such as Urban Vibe, billed as "the biggest hip-hop event Mildura had ever seen," that had the plug pulled hours before its kick-off after most of the lineup, featuring Soulja Boy, J-Kwon, Scribe and a former 2Pac associate, failed to show up to the event.
Likewise, Coolio's Australian Tour last month fell apart the day before it was to commence, abruptly "postponed", reportedly due to unforeseen circumstances with the 'Gangsta's Paradise' hit-maker's visas. Neither story is anything new, with last year seeing Aussie hip hop tour debacles involving Flo Rida, Mos Def (nee Yasiin), and an ongoing legal stoush between the promoters of Fat As Butter Festival and Flo Rida over the rapper's 2011 no-show, recently telling an Australian court they had no jurisdiction to impeach him for a $400,000 fine.
Combined with the high profile cancellation of the Live Nation-backed Movement Festival in April, and the all-ages Supafest postponing its own 2013 edition amidst rumours of unpaid refunds and issues with venue locations, many would be forgiven for thinking that there's some credence to the 'hip hop curse'.
But the promoter of the stricken Heatwave festival called it all superstition, becoming an unlikely defender in the wake of the embattled Movement and Supafest festivals. "Hip-Hop as a genre [shouldn't] be pigeon holed as impossible to tour or pull off in the format of a festival in Australia," wrote Patrick Whyntie in a long-winded open letter that signposted his intentions to sue D12 after citing the Eminem-associate rap group for being responsible for spectacular financial crash of Heatwave.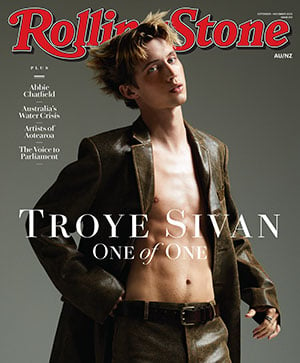 Get unlimited access to the coverage that shapes our culture.
Subscribe
to
Rolling Stone magazine
Subscribe
to
Rolling Stone magazine