Just in case you weren't aware, we're currently in the voting period for the 2017 Hottest 100. Now, if you've been following the annual countdowns for the last few years you might have learnt one thing – people love to predict how the countdown is going to turn out.
Just last week, our friends over at The Industry Observer took a look at what the bookies reckon will top the poll, but that's not really based on more than just betting odds. If you want to know just how people are voting, and what will therefore rank high, you have to go right to the source – the voters themselves.
You might remember how last year Nick Whyte's Warm Tunas website was all the rage. Having started back in 2015, where Whyte predicted the top three spots in the countdown, it returned in 2016 with a much more slick interface. While Whyte's website predicted a flip between the #1 and #2 songs, it was still pretty accurate.
So how does it all work? Well, like previous Hottest 100 predictions, it's all about social media – most specifically Instagram in this case. Warm Tuna goes along and follows all the hashtags pertinent to the countdown, such as #hottest100, #triplejhottest100, #triplejhottest1002017, and #hottest1002017, and then collects the votes that folks have shared with that hashtag.
At the time of writing, the total sample size is pretty small, currently sitting at just %0.45, but considering that the 2016 Warm Tunas prediction was pretty accurate with only a final sample size of %3.72, it doesn't need far to go.
Now for a warning, if you're not keen on knowing what may or may not top the Hottest 100, now's the time to look away.
Currently, Warm Tunas has got Kendrick Lamar's 'HUMBLE.' leading the charge, followed closely by an amazing double play by Gang Of Youths, with 'The Deepest Sighs, The Frankest Shadows' and 'Let Me Down Easy' at #2 and #3, respectively. If we do indeed see Gang Of Youths go back to back, it's the highest double position we've seen since The Offspring hit #3 and #4 all the way back in 1994.
The rest of the top 10 looks like a pretty good mix of Australasian artists, including Methyl Ethyl, Lorde, Thundamentals, The Smith Street Band, and Angus & Julia Stone. Currently, Gang Of Youths have another track predicted for the top 10, while our only international entry (besides Lorde) in the top portion comes from BROCKHAMPTON, with their track 'SWEET'.
Of course, this is all a prediction at this stage and is not only likely, but expected to change as we get closer to the date. So take all this with a grain of salt, and be sure to listen closely on January 27th as triple j count you down, and as we give you live updates for the day.
Warm Tunas' Hottest 100 2017 Predictions
10. 'Chateau' – Angus & Julia Stone
9. 'SWEET' – BROCKHAMPTON
8. 'Birthdays' – The Smith Street Band
7. 'Sally (feat. Mataya)' – Thundamentals
6. 'What Can I Do If The Fire Goes Out?' – Gang Of Youths
5. 'Green Light' – Lorde
4. 'Ubu' – Methyl Ethel
3. 'Let Me Down Easy' – Gang Of Youths
2. 'The Deepest Sighs, The Frankest Shadows' – Gang Of Youths
1. 'HUMBLE.' – Kendrick Lamar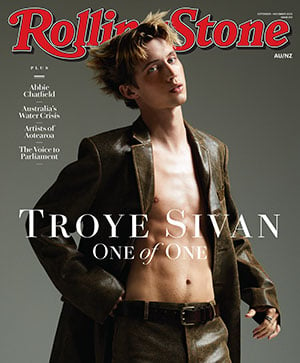 Get unlimited access to the coverage that shapes our culture.
Subscribe
to
Rolling Stone magazine
Subscribe
to
Rolling Stone magazine