The Veronicas have candidly discussed media attacks and the "queerbaiting" claims that followed the twins around after Jess was "outed by the tabloids".
In a new interview with Stellar, twin sister Lisa said the attacks were "a deliberate disconnect by people who chose not to recognise the difference between romantic affection and familial affection. They said we were attention seeking; they called it queerbaiting."
"I was out back then by default – outed by tabloids," Jess told the publication. "My statement [then] was that I didn't need to make a statement. 'I'm just going to be me, and if you all want to call me a fake lesbian,' – which is what they called me at the time – 'I don't really care.'"
The girls were hounded by the press after Jess was spotted kissing then MTV VJ and future ex-girlfriend Ruby Rose.
"It was weird to have it written about so publicly because you don't really see that anymore," Jess said. "I was 20. I didn't want to give them an answer because I didn't know what the answer was at the time. Labels were loaded back then. But all of our fans knew I was queer; I wrote about it in so many songs."
One such song – 'Untouched' – has been recognised by many LGBTQIA+ fans as an anthem of sorts.
"The first time I said, 'Please, stand for the gay national anthem,' was at Pride in Los Angeles and everyone went nuts," Jess recalls. "I think it currently sits in Australia as an official unofficial national anthem."
Love Pop?
Get the latest Pop news, features, updates and giveaways straight to your inbox Learn more
Rose recently described the sisters as "horrific" in a scathing social media post teasing her new tell-all book.
"The truth. It will piss off a lot of people, but maybe you should have been better?" the actor wrote. "Excited to be free. Excited to tell the truth. On the sisters? You're first. How horrific you were."
The sisters declined to comment when asked by Stellar to respond.
Instead, the pair talked about their excitement to perform on the American Express float during the Sydney Gay and Lesbian Mardi Gras Parade this coming weekend and their new business model.
"Taylor Swift is the perfect example of the business model we have now," Jess said. "For the first time, we're managing the people within our team, rather than the people in our team managing us. When everything is artist first and artist central, it means it's also fan first. Most people don't value longevity or the fans as much as the artist does.
"They're in it for the quick buck, and that's business, that's fine; we're not bitter about it. And I said to Lisa, 'Why wouldn't we be the CEOs of The Veronicas band and brand when we've had the best mentors in songwriting and business over 18 years?'"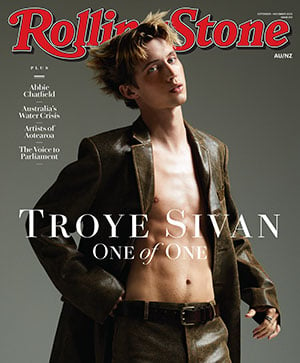 Get unlimited access to the coverage that shapes our culture.
Subscribe
to
Rolling Stone magazine
Subscribe
to
Rolling Stone magazine