The impacts and discussion surrounding the effects of the digital age on the music industry has been the centre of debate over the past few years.
But few discussions have taken into account how the negative impacts of this 'revolution' have affected the TV industry and how that in turn has affected Australia's music scene.
Youtube being one of the main factors behind the downfall of Video Hits – the second longest running music TV show in the world before it was inevitably axed – is the first example which comes to mind.
The fallout from illegal downloading and falling profits of commercial television networks has seen a dramatic reduction in both quality music programs and spots on live television for local and international acts to promote their work.
We're constantly linked to great videos of huge performances from acts who  perform on the variety show/late night circuit in America with shows such as Saturday Night Live and Late Night with Jimmy Fallon just to name a few. While across the pond, England has the institution that is 'Later With Jools Holland'.
Meanwhile, Australia has no such notoriety for quality live music performances on the fabled box. With Rove McManus' shows long gone and a Hey Hey! revamp that few would like to remember, The ABC's Spicks & Specks was the shining jewel in a quickly fading crown.
With the Adam Hills-fronted show having ended, musicians are now left with fewer options to broadcast their songs across national television.
While it seems  the SBS's Rockwiz is forever dependable, Q&A – a political panel show of all things – has become an unlikely source for music performances.
We saw the drama it cost Kate Miller-Heidke when she became a panellist on the programme while promoting her latest album, Nightflight.
"I'm a musician. I want people to hear the songs I write and sing," she said in defence of her appearance on Q&A. "Opportunities to play songs on TV in Australia are scarce. It's pretty much morning television or Gordon St Tonight."
Adding to that, musicians performing Q&A is far from regular.
While Miller-Heidke points out that Hills current show, Gordon St Tonight, is another one of the few options, the show has only aired twelve episodes a season in the past two years.
Morning programs such as the Today Show and Sunrise are really only suitable for 'mum-friendly' musicians and talent show throwaways.
Channel 10 has attempted to fill a hole, by airing live performances on its Newsnight program, but its minuscule influence has done little to provide much for contemporary musicians, with its past few performances coming from country singer Adam Brand, opera singer Marina Prior and former E Street star Melissa Tkautz.
The rising trend of young people consuming television not from the box, but from the internet through either streams or illegal downloading is pushing the commercial networks to the brink.
This makes it  all the more surprising and disappointing that networks won't invest in live music programming, because as examples from around the world show us, there is a market there that can be filled.
Executives have convinced themselves that the only way to make profits in the current environment is to invest in banal reality TV that has left many Australians disillusioned with the commercial networks.
It's no wonder the TV industry has a problem with piracy. What is more staggering though, is their inability to be proactive about the situation to get bums back on couches.
Instead they continue to air talent competitions like The X Factor and The Voice where half-baked singers are pushed down the Simon Cowell manufacturing line with an emphasis put on karaoke style singing which inevitably discourages not only those artists who put much more work in, but  those who are actually musicians.
TV executives are so focused on the easy success of mind-numbing reality TV that they've become completely ignorant to the achievements of our local music industry.
With the internet and radio stations like triple J giving listeners unprecedented access to new music, there has never been a more level playing field between the biggest mainstream acts that are traditionally given air time and the smaller acts who once relied on grass roots support.
Factor in that tours and festivals are selling out across the country and you'll soon realise that 'middle-sized' bands have large enough audiences to warrant a TV performance.
International TV demonstrates this just as much, with the aforementioned programs like 'Fallon' supporting more contemporary acts like Grimes, Beach House and Best Coast.
Australian acts are also taking advantage of such prime TV exposure. Case in point, Gotye's huge performance on SNL, which set in motion his reign across the top of the American Billboard charts.
What is Wally De Backer afforded on Australian TV though?
A short interview on the The Project is barely enough time to cater for Australians interest in music.
Considering the wave of local acts now heading overseas with success that we haven't seen in years, it's baffling that there are more opportunities for live performances on international television then there are here at home.
What's even more disappointing is that while tax-payer funded stations like the ABC and SBS are our best providers of Australian music programming, there are few slots for acts to actually play their latest single or spruik their upcoming tour or album.
Yes there is pay TV, with channels such as [V] and Max, where the former does its best with its Guerilla Gig format and coverage of the country's festivals. But they cannot match the exposure of network television that Aussie acts were once afforded through shows like Countdown.
Despite the axing of music programs like Video Hits and the lack of interest in the ARIA awards, there is definitely a thirst for quality music programming.
Video Hits may have been axed and while the rise of the internet and Youtube was a factor, Channel 10's financial woes was also decisive in its downfall.
The huge success of online streams for festivals like Coachella, Bestival and our very own Splendour In the Grass is evidence of the fact that people love watching live music.
Just look at Moshcam, which is being streamed as we speak to thousands of households across the world via internet-enabled televisions, with a huge catalogue of quality live performances from some of the world's leading musicians.
If networks want to rediscover our love of great live performances, they'll have to stop jamming our throats with talent contests and start treating their audiences with much more respect.
Otherwise it will only drive more young people to alternative online sites and illegal downloading which will in turn increase the current difficulties of commercial television networks .
Past examples of successful Australian programmes that featured music such as Countdown and Hey Hey! show us that when given the chance, Australians flock to live music performances on TV in droves.
All that Australian networks need to do is reinvigorate the live music formula, rather than remain lazy  continue to attempt to revamp something from the past.  If they stick with it, udiences, especially young people, are bound to pay them back in return with their interest.
Because just in case you didn't know, Australians really fucking love live music.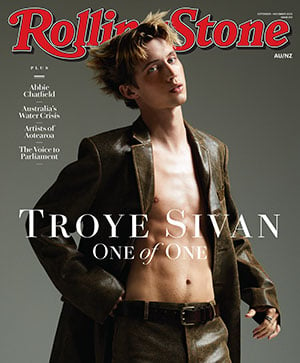 Get unlimited access to the coverage that shapes our culture.
Subscribe
to
Rolling Stone magazine
Subscribe
to
Rolling Stone magazine