Ask any Metallica fan about the group's lowest moment, and there's a chance you'll get a litany of varied answers.
The most conservative respondents might mention their loss at the 1989 Grammy Awards, while others might point to the loss of bassist Cliff Burton, the dismissal of Dave Mustaine, or the exit of Jason Newsted.
Others still might look towards the band's now-infamous dispute with Napster, and cynical fans might cite the band's 2011 collaboration with Lou Reed as their lowest point.
However, despite these varied responses, it seems as though even the most loyal fans will come together to agree that the band's 2003 album, St. Anger, was their worst moment.
So let's back up a moment, what was St. Anger? Serving as the group's eighth record, St. Anger was the latest chapter in an already-storied career from the thrash-metal icons.
Coming almost six years after 1997's critically-acclaimed ReLoad, St. Anger had some pretty big shoes to fill.
When it was finally released in June of 2003, it was met with almost unanimous chart-topping success, putting an end to the group's longest drought of studio albums up to that point.
Love Metal?
Get the latest Metal news, features, updates and giveaways straight to your inbox Learn more
Having been released without any promotional singles ahead of time, fans weren't exactly sure what to expect when the record dropped, but from the outset, they knew it was going to be a powerful listen.
After all, even just a cursory look at that album cover indicates themes of unrelenting power, unforgiving hostility, and unbridled… well, anger.
However, when fans bought their copy from their local record store, took it home, and popped it into their CD player, well, many found themselves disappointed.
Check out Metallica's 'Frantic':
On paper, it's easy to see why people were disappointed; a lack of guitar solos, the presence of no official bass player, a perceived changed in direction, and Lars Ulrich's now-infamous drum sound. But at the end of the day, it was still classic Metallica at heart.
Allow to me to drop in a personal anecdote for a moment. Back in the middle of 2003, I was relatively new to Metallica and in fact, the constant presence of St. Anger's artwork at record stores in suburban Adelaide was the first real exposure I had to the band.
Wanting to know more about the group I already knew to be metal icons, I sought out a friend's opinion as to where I should begin with the band's back catalogue.
As expected, I was recommended the likes of 1986's Master Of Puppets and 1991's mainstream breakthrough, The Black Album, but I decided to round out this trio of musical discoveries with the newly-released St. Anger.
What followed next was a feverish few days of listening to these records, listening to sounds the likes of which I had never heard before.
To this day, Master Of Puppets remains an all-time favourite of mine, while I found myself unable to enjoy much more than the singles on The Black Album. But St. Anger though, that was a different beast altogether.
The band's iconic thrash-metal sound was still on full display, their intensity and power was still shining through, and their production was raw and unfiltered, almost as if it was recorded back in their garage in the early '80s.
By this point, the album's release was still fresh, but the criticism was already flowing. I was confused; how could a fanbase hate an album that was so brutal and unforgiving – concepts that the mere mention of the band's name brought to mind?
Check out Metallica's 'Some Kind Of Monster':
The truth is, Metallica's St. Anger came as the result of a rather tumultuous period of time for the band. With the Napster debacle nearly behind them at the start of 2001, the group were looking at entering the studio to get back to doing what they do best.
Sadly, as their plans to enter the studio were taking hold, longtime bassist Jason Newsted announced his decision to leave the band.
With Newsted citing "private and personal reasons," along with "the physical damage I have done to myself over the years", it was later revealed that his plans to record with another band were opposed by frontman James Hetfield.
Not wanting to begin the recording process with a new member, Metallica opted to get longtime producer Bob Rock take over on bass duties. However, recording plans were again halted when Hetfield entered rehab to combat a number of personal issues.
By this point, tensions were high, and with the group desperately in need of structure, direction, and help, they hired a personal enhancement coach to guide them along.
To make things even more difficult, the group welcomed a duo of filmmakers into the process, with Joe Berlinger and Bruce Sinofsky recording material that would eventually be released on the award-winning documentary Some Kind Of Monster.
As a viewing of this documentary can confirm, St. Anger is the product of inner turmoil, heightened tensions, and frayed relationships. What you're hearing is a fractured band at the end of their rope, with each and every one of their members ready to snap at any moment.
Check out the trailer for Some Kind Of Monster:
Speaking ahead of the record's release, James Hetfield explained that St. Anger featured "two years of condensed emotion", while noting that it is "just the best that it can be from us right now."
Meanwhile, producer Bob Rock explained that while he wanted to "shake up radio and the way everything else sounds," he stated his belief that the "album sounds like four guys in a garage getting together and writing rock songs."
So the question remains; if raw, primitive emotion from a bunch of guys writing rock songs in their garage was what catapulted Metallica to fame, why was it received so poorly this time around?
As most fans will likely point out, the overarching criticism that St. Anger attracts is for the somewhat overpowering sound of Lars Ulrich's drum sounds. Sure, that is indeed a sound that takes some getting used to, but is it so bad that it warrants writing off an entire record?
"One day I forgot to turn the snare on because I wasn't thinking about this stuff," Bob Rock explained of the drum sound in 2004. "At the playbacks, I decided I was really liking what I was hearing — it had a different ambience."
"It sang back to me a in a beautiful way. It just felt totally natural."
"The backlash came when some people heard the album and said, 'You know, heavy metal snares aren't supposed to sound like that'," he concluded. "Well, I guess I must have skipped over Chapter Three in the Heavy Metal Rulebook [laughing]."
"It's crazy, that kind of closed-mindedness."
Check out Metallica's 'My World':
So, we've gone over what people consider to be "wrong" with the record, so let's take a closer look at what is right.
First and foremost, the album is absolutely everything that Metallica embodies. From the very first note of the record, it's full of unbridled energy that never lets up for a single second, reminding listeners with every controversial snare hit that Metallica are a band that take no prisoners.
Likewise, the often-criticised production is a testament to the band's mindset at the time. While Lars Ulrich's idea of calling the record Frantic was shot down for fear that it would paint a picture of a band frantically grasping for musical relevance, their true mentality shone through in the record's mix.
Unpolished, unforgiving, and completely in-your-face, St. Anger is precisely who Metallica were back in 2003.
While plenty of naysayers would likely argue that after six years of waiting, they would have preferred something that at least had a good mix, the fact remains that the record is a snapshot in time, a frozen musical memory of who this band was.
Similarly, St. Anger also serves as something of a throwback to the band's early days, effectively becoming of their most unpretentious and honest releases. Metallica had nothing to prove by this point, and effectively, they were a group struggling to keep afloat thanks to rising tensions and clashing egos.
What this album represents is their desire not to necessarily make a hit record, but to get back to their roots and bang out an album that proves that not only can they still make music together, but that they can still make good music together.
Of course, there's also the fact that St. Anger actually has some pretty amazing tracks on it. Sure, folks might skip over this one in their CD collection, but it's pretty hard not to rock out to tracks like 'My World' and 'Sweet Amber'.
Check out Metallica's 'Sweet Amber':
At the end of the day though, St. Anger has suffered from years of negativity, bad press, and derisive remarks. It's impossible to convince a Metallica fanatic that this record is "good", and in fact, I would be lying if I was to deny that this record has flaws.
However, it has become so common for people to speak ill of this record that its reputation has muddied the waters of its golden moments. Try separating everything you know about this record and imagine listening to tracks like 'St. Anger' for the first time again.
Try to feel unnerved by the menacing intro of 'Some Kind Of Monster', and try not to marvel at the passion present during James Hetfield's cracking voice in 'Frantic'.
At the end of the day, St. Anger might not be Metallica's best record, but the fact remains that it's a sadly-marginalised entry in an absolutely remarkable catalogue in thrash-metal history.
~
Aussie fans will be able to see how far Metallica have come when they hit up local shores for their first Australian performances in over six years. With the mighty Slipknot in tow, these will be some gigs you definitely won't want to miss out on.
Check out Metallica's 'St. Anger':
Metallica's WorldWired Australia Tour 2019
With special guests Slipknot
Thursday, October 17th
Optus Stadium, Perth, WA
Sunday, October 20th
Adelaide Oval, Adelaide, SA
Tuesday October 22nd
Marvel Stadium, Melbourne, VIC
Saturday October 26th
ANZ Stadium, Sydney, NSW
Tuesday, October 29th
QSAC, Brisbane, QLD
Tickets on sale now through Live Nation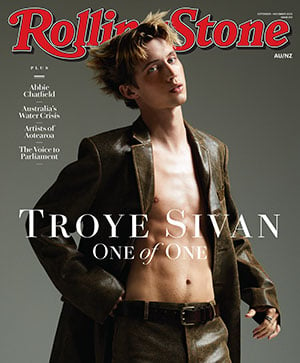 Get unlimited access to the coverage that shapes our culture.
Subscribe
to
Rolling Stone magazine
Subscribe
to
Rolling Stone magazine