Esteemed American music festival Coachella is well-known for annually providing one of music's biggest, most breathtaking music lineups. Its bill has swelled so much in recent years that it's extended to running its three days of music and festivities over two weeks, duplicating its three night for a second week in April.
The mammoth 2013 edition, which wrapped up last weekend, was no different, with a lineup including UK legends The Stone Roses, Blur, and New Order, indie heavyweights Phoenix, The xx, Grizzly Bear, Yeah Yeah Yeahs, and Vampire Weeekend, plus a strong Aussie contingent in Tame Impala, Nick Cave and the Bad Seeds, plus the reformation of Grinderman for the desert festival.
But the festival features just as many smaller up-and-coming acts among its massive names that draws some of the world's hipper music fans looking to catch the most cutting edge little-known act before they blow up to be the next big thing.
A hilarious video taken from a segment on Jimmy Kimmel Live! seeks to prove the point, lampooning hipsters and tastemakers that take enormous pride in their knowledge of bands that few others have yet heard of.
For his latest 'Lie Witness News', a regular segment of Jimmy Kimmel's late-night show, the TV host had a correspondent head to Coachella Music Festival and ask supposedly trendy festival-goers their opinions on a host of bands that didn't even exist. "…We sent a camera crew to Coachella and we asked people walking into the venue what they thought [about] a bunch of bands whose names we made up." – Jimmy Kimmel
"Music fans love knowing about bands that no one else has heard of," explains Kimmel for the opening of the humorous segment; "So we sent a camera crew to Coachella and we asked people walking into the venue what they thought [about] a bunch of bands whose names we made up. These bands are so obscure – they do not exist," joked Kimmel.
The footage shows a host of punters being punked, including a pair of flower-adorned teens saying that fictional group Dr. Shlomo and the G.I. Clinic are "always amazing," and their excitement over "seeing them live."
Another 'fan' of The Obesity Epidemic trumpets that they like "their whole style… their whole genre," and Get The Fuck Out Of My Pool are a band one young fan plans not to miss, while also falling for a group "straight out of Williamsburg," The Chelsea Clintons. "They have a good energy, you can just tell they're coming from a good place," replies the tricked Coachella-goer. Ouch.

Aside from poking fun at American headdress-wearing festival hipsters, Jimmy Kimmel Live! has also provided a platform for a number of Australian artists to reach a television viewing audience of millions. Most recently when Melbourne MC Seth Sentry made history as the first Aussie hip hop artist to perform on la US talk show.
Performing 'Dear Science' and 'Float Away', both taken from his debut album This Was Tomorrow, Seth Sentry's Jimmy Kimmel Live! appearance followed a string of major successes in America, including scoring a coveted support slot on LL Cool J's upcoming US Tour, featuring hip hop icons Public Enemy, Ice Cube, and Doug E – a slot he won after claiming victory at a battle of the bands style competition at industry event SXSW 2013.
The Melbourne hip hop artist's TV gig follows a string of Australian artists making in-roads into the American market via late night talk show appearances on major American networks. Most famously, Gotye's rise to Grammy-winning glory and US chart domination all began with a debut appearance on Jimmy Kimmel Live early in 2012 (the rest, as they say, is history).
Ballarat-bred quintet Gold Fields also performed on the same program to perform their US-storming single 'Dark Again' in February, coming alongside the indie band's extensive co-headline tour of America with A Silent Film and Royal Teeth. While Tame Impala checked in to Late Night With Jimmy Fallon during their own American invasion, nailing a performance of 'Elephant' for their adoring American fans.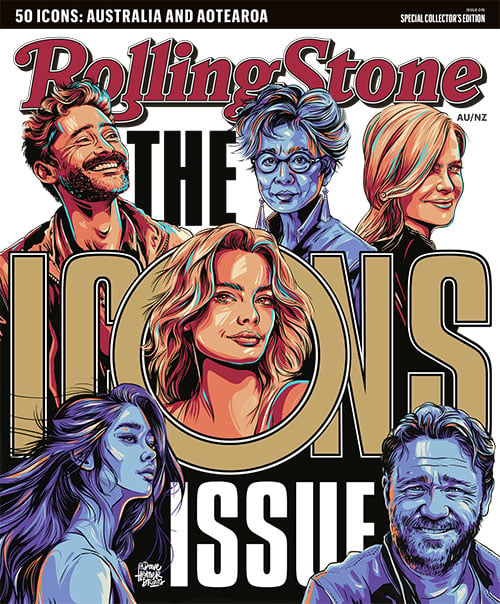 Get unlimited access to the coverage that shapes our culture.
Subscribe
to
Rolling Stone magazine
Subscribe
to
Rolling Stone magazine