John Farnham has been voted the greatest Australian singer of all time in a new poll, claiming the title of the country's greatest voice as voted, not by the general public, but by a panel of his peers.
The new list, commissioned by News Corp, was determined by a voting panel which consisted of 100 Australian singers and musicians, from Aussie legends like Ross Wilson, Daryl Braithwaite, and Russell Morris, to contemporary favourites such as Missy Higgins, Paul Dempsey, and Megan Washington.
Long recognised as "The Voice", this is the first time that an official survey has been based only on the opinion of fellow artists, formally making Farnham the singer's singer.
Receiving praise from contemporaries and admirers alike, Farnsey apparently "blitzed" the poll, according to News Ltd, beating out the likes of Jimmy Barnes, AC/DC's former frontman Bon Scott, and Paul Kelly to the top spot.
The recipient of 19 ARIA awards, including an induction into the ARIA Hall of Fame in 2003, the Whispering Jack musician even has a statue in his honour in his hometown of Melbourne.
Panellist and fellow top five greatest singer, Jimmy Barnes, said "John Farnham could sing the phone book and it would sound great… He is shy and unsure of his abilities sometimes but we mere mortals will probably never know this because his voice is so damn good." "John Farnham could sing the phone book and it would sound great" – Jimmy Barnes
Barnes' son, David Campbell, called Farnham, "the man who showed boys they could use their range" and former Daddy Cool frontman Ross Wilson, who came in at #39 and wrote Farnham's hit "A Touch Of Paradise", stated, "he is The Voice and that fricking TV show full of wannabes ought to find a new name and restore his title."
Late AC/DC frontman Bon Scott got the silver medal on the new poll, with Dave Faulkner of Hoodoo Gurus' referring to Scott's "genius" as one of rock's most revered singers, concluding; "We were very lucky to have him."
The first of four women in the top ten, former Johnny Young Talent Time pintsize starlet, Tina Area was voted in at #3. Missy Higgins eloquently summed up her talent in saying, "she could sing the balls off anyone, and she's miniature."
The late, great INXS lead singer, Michael Hutchence, chalked into at #5 and was praised for his sex appeal as well as his musicianship. Sarah McLeod of The Superjesus saying, "Michael was all about tone and sex. His voice was so alluring, I liked him the best when he sang down low."
Adding to the eclecticism of the list, Triple J favourite Sia Furler made it to #8. Sadly retired from the stage, Sia has spent the last few years focussing on writing for international pop stars like Rihanna, and her collaboration with French DJ David Guetta on "Titanium" sold over three million copies in the States, but still put her ahead of the Finn Brothers – who counted as a single entry (and as co-opted Australians) – and the Divinyls' Chrissy Amphlett on the poll.
Adding soul to the mix, Melbourne's Renee Geyer was voted #7 for her unique, smoky voice. Esteemed for her unique vocal prowess, the ARIA Hall of Fame inductee has even been likened to African-American soul king James Brown, with Bachelor Girl's Tania Doko calling anyone not moved by her voice "cold-blooded."
Also on the soul train is, interestingly, Australian Idol winner, Guy Sebastian in sixth place, who is the youngest on the list. A decade since becoming the first champion of said reality show, Sebastian is gradually shaking the shackles of pop and becoming a respected R&B artist in his own right, having performed with Lupe Fiasco and written for Usher. Displaying diverse appeal, Grinspoon frontman, Phil Jamieson is a fan, labelling his talent "undeniable".
Just missing out on the top ten was Silverchair frontman Daniel Johns (#11), local God Paul Kelly (#14), brooding dark master Nick Cave (#17), and leader of the Easybeats, Stevie Wright (#13). Seemingly appearing on every list of accolades, Grammy award-winning Gotye made it to #30, ahead of the likes of Dan Sultan (#31) and Slim Dusty (#37).
You can view the full results of the singer-voted poll below:
John Farnham
Bon Scott
Tina Arena
Michael Hutchence
Jimmy Barnes
Guy Sebastian
Renee Geyer
Sia Furler
Chrissy Amphlett
Neil and Tim Finn
Daniel Johns
The Bee Gees
Stevie Wright
Paul Kelly
Vanessa Amorosi
Jessica Mauboy
Nick Cave
Connie Mitchell (Sneaky Sound System)
Katie Noonan
Gurrumul
Suze De Marchi
Daryl Braihwaite
Sarah Blasko
Iva Davies
Ian Moss
Doug Parkinson
Glenn Shorock
Darren Hayes
Colin Hay
Gotye
Dan Sultan
Kate Ceberano
Russell Morris
Gerry Humphries
Johnny O'Keefe
Olivia Newton-John
Slim Dusty
Stephen Cummings
Ross Wilson
Bernard Fanning
Adalita
Judith Durham
Marc Hunter
Kasey Chambers
Joe Camilleri
Steve Kilbey
Keith Urban
Daniel Merriweather
Billy Thorpe
Jon Stevens
Tex Perkins
Kylie Minogue
Peter Allen
Joe Camilleri
Jack Jones
Tim Rogers
Peter Garrett
Jimmy Little
Luke Steele (Empire of the Sun)
Dame Joan Sutherland
Archie Roach
Dougie Mandagi (the Temper Trap)
Shirley Strachan (Skyhooks)
David McComb (The Triffids)
Smokey Dawson
Chris Cheney (The Living End)
Nic Cester (Jet)
Gareth Liddiard (the Drones)
Kav Temperly (Eskimo Joe)
Diesel
Lior
Glenn Richards (Augie March)
Rowland S Howard
Rick Price
Spencer P Jones
Phil Jamieson (Grinspoon)
Ian Rilen
Robert Forster (Go-Betweens)
Missy Higgins
James Reyne
John Toogood (Shihad)
Anthony Callea
Grant McLennan (Go Betweens)
Wendy Stapleton
Dave Faulkner (Hoodoo Gurus)
Matt Walker
Max Merritt
Ed Kuepper
Quan Yeomans (Regurgitator)
Abby Dobson
Sally Seltmann
Anthony Warlow
Ian Kenny (Birds of Tokyo)
Bertie Blackman
Ella Hooper
Wendy Saddington
Jeremy Oxley (Sunnyboys)
Christine Anu
As voted by the following panel:
Kasey Chambers
Tina Arena
Ella Hooper
Missy Higgins
Jessica Mauboy
The Collective
Samantha Jade
Guy Sebastian
Brian Cadd
Troy Cassar-Daley
Lee Kernaghan
Sarah McLeod
Don Walker
Jimmy Barnes
Suze DeMarchi
Greedy Smith
Russell Morris
Scott Carne
Brian Mannix
Damien Leith
Andrew DaSilva
Tania Doko
Brooke Addamo
Dan Sultan
Kav Temperley
Julian Hamilton
Angie Hart
Stephen Cummings
Kate Ceberano
Seth Sentry
Michael Paynter
Jack Vidgen
Iva Davies
Connie Mitchell
Dan Brodie
Phil Jamieson
Daryl Braithwaite
Ross Wilson
Ian Kenny
Shannon Noll
Anthony Field
Casey Barnes
Phil Ceberano
Vanessa Amorosi
Butterfly Boucher
Anthony Callea
Bob Evans
Dave Faulkner
Jackson Freud
Dave Graney
Tim Campbell
Jon Hume
Ricki-Lee
Pete Murray
Katie Noonan
Stan Walker
David Campbell
Megan Washington
Paul Dempsey
Wilbur Wilde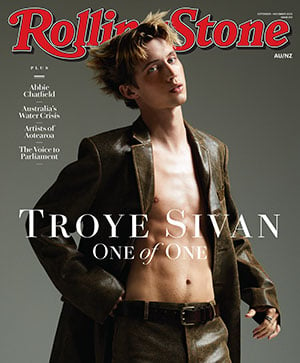 Get unlimited access to the coverage that shapes our culture.
Subscribe
to
Rolling Stone magazine
Subscribe
to
Rolling Stone magazine