John Frusciante was an integral element in the development of the Red Hot Chilli Peppers iconic sound, lending his slack-wristed, funk-tinged Stratcastor riffing to a slew of their most successful albums. Although the band have continued without his presence, nothing quite compares to the most iconic Chilli's lineup.
As originally reported by Alternative Nation, a fan by the name wesleyredhot has taken to the band's Reddit thread to detail a Skype conversation he had with Frusciante.
The user explained that he was given an opportunity by a friend who connected the two, saying "I received a message from a Friend who said, do you want to ask Frusciante three questions'? I knew he was spending a few days with the Amiga Marci, and so I started to shake, I shivered so much that the sim took forever to leave the keyboard. "
He also said that Frusciante answered the phone call whilst in busy LA restaurant and was there with his friend Marcia Pinna.
According to the fan, Frusciante revealed his plans regarding his future with the Red Hot Chilli Peppers and whether he had any plans to return, to which he answered, "that destiny made him fall in love with other things that made him distance himself from a Rock Band, but in the end he completed that one day he might come back, he just thinks it's still far from happening but it's a possibility for one day maybe"
The fan also asked Frusciante whether he was still using "hard drugs", to which Frusciante answered "he thanked the concern and said that drugs are not a problem, The problems are the people, And someday, anything can happen. But that does not use heavy drugs"
On the Reddit thread, there is speculation as to whether the conversation actually occurred, with wesleyredhot attaching a screenshot of the conversation to prove its validity.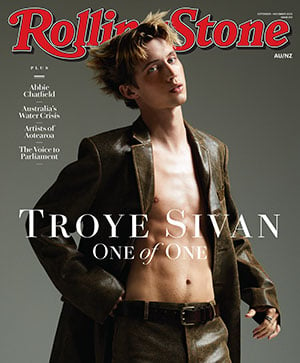 Get unlimited access to the coverage that shapes our culture.
Subscribe
to
Rolling Stone magazine
Subscribe
to
Rolling Stone magazine