Sure, KISS have received (and let's face it, probably earned) their reputation as more of a business than a band, but it's hard to argue with Gene Simmons when he points out just how much effort they go to when getting on the stage, let alone off.
While some bands can just rock up and get a short stint in the hair and makeup chair, the whole KISS image takes a lot more time and energy to orchestrate. So, while some massive bands might still be touring away into their '70s and beyond, The Demon insists that KISS' days are just about numbered.
"So we're not gonna be able to do it into our 70s, and I'm 67 now," the KISS bassist/vocalist told Glasgow Live in a recent interview, setting the doomsday clock at a few years max.
"We'll do it for a few more years, and then when we think it's time to go, we'll go, and we'll do it the right way, with a big party.
"I'd like to think that we would do something that rocks the planet – something big and worldwide and maybe free."
'Free' is not a word we ever expected to hear in Simmons' vocabulary, considering he's made a career selling his music and image every chance he gets. As he points out though, they've put a lot more effort into keeping that gravy train on the rails than many other acts out there.
"We're the hardest-working band in show business," he states. "I wear over 40 pounds of studs and armor and all that stuff, seven inch platform heels, spit fire and have to fly through the air and do all that stuff."
"If Bono or Jagger, who we all love, had to dress up and do what I do, they couldn't last an hour… they just couldn't."
"In hindsight, it would have been smarter to be a U2 or The Stones, to wear some sneakers and a t-shirt and you're comfortable," he adds, fessing up to a rare error in his judgment. "No, we had to do it the hard way."
Having said that Gene, the makeup and armour has definitely worked in your favour in other respects, and we're not sure the train would have kept rolling as long as it has if you were romping around au naturale out there.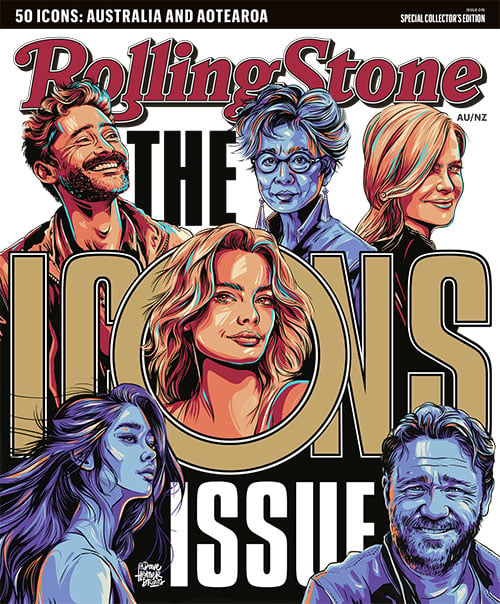 Get unlimited access to the coverage that shapes our culture.
Subscribe
to
Rolling Stone magazine
Subscribe
to
Rolling Stone magazine