The rumour mill for the self-proposed "mega dream lineup" for the indie fetsival du jour, St. Jerome's Laneway Festival, is already picking up speed for the event's 2013 iteration.
While organisers have already revealed dates for the nationwide national tour, as well as the promised date of September 26 to reveal the first round of its lineup, they've thus far been understandably coy about the topic of their festival bill.
That hasn't stopped anybody from making wild speculations though.
Many of the acts rumoured thus far have stemmed from leaked Australian tour announcements that coincide with the already announced February dates for Laneway's national dates early next year.
Namely Marshall Chan aka Cat Power, new indie supergroup Divine Fits, Brooklyn boho-popsters Yeasayer and the old-school guitar assaulters Japandroids; all who have let slip that they'll be touring our shores early next year.
To the predictions already thrown about, Laneway  organisers have responded:
We've seen some wild line-up guesses but some you switched on peeps are on the ball. Keep the speculation coming #Laneway

— Laneway Festival (@lanewayfest) September 13, 2012
More recently, Laneway may have dropped some far more revealing clues in a couple of very unsubtle blog posts that have turned up on the festival's web page that tout two lists – five a piece – of breakthrough international acts and breakout local talent. The very kind of bands that Laneway has always been keen on pushing.
Topping the 'Five International Breakthrough Acts For 2013' is the haunting, crunching dream pop duo that is Purtiy Ring, who – stylistically speaking – are a perfect for the Laneway 2013 bill given both the rising success of their breakout debut Shrines and the festival's penchant for bringing out indie duos (Re: Cults in 2012, Beach House in 2011).
Daughter, aka North Londoner Elena Torna, gets a look in too off the back of her two EPs, His Young Heart and The Wild Youth; while the equally talented buzz act Haim has made Laneway festival organisers "guilty of adding about 100 plays to the YouTube count" of the Haim sisters' summer anthem 'Forever'. Makes sense they'd like to introduce them to some Summer south of the equator too.
Rounding out the list is UK's Jessie Ware, whose stunning debut Devotion is a unashamed pop album, but built on credentials cool enough to make Pitchfork swoon thanks to the appearance of hip producers like The Invisible's Dave Okumu. She's the singer probably best known for guesting on SBTRKT's dubstep-inflected debut of last year.
Since the masked producer/electronic artist appeared earlier this year for Laneway 2012, maybe he's put in the good word for his former collaborator?
The last of the Top Five internationals is Japandroids, who were already hotly-tipped as part of the bill after guitarist and lead "brocalist" Brian King told music blog Polaroids of Androids: "From what I understand we're coming in February. Don't quote me on that quite yet." Sorry Brian, but we probably will.
Meanwhile, the Five Australian Breakthrough Acts For 2013 kicks off with purveyors of pschelicious indie rock, Pond. Their national Australian tour kicks off this week,bookending their appearance at Newcastle's Fat As Butter festival, but with talk that they're heading back to the studio to fish out more aural results – they could still fit in time for a Laneway appearance for their legions of Ponderers (re: fans).
Sydney producer Flume was one of the acts to create a big buzz at the recent BIGSOUND music conference in Brisbane, his blissful mix of electronica and mood-setting is a beat-maker's nirvana, and his House Party/Triple J Unearthed credentials also make him a strong contender for Laneway 2013.
Speaking of Unearthed, the equally-associated Snakadaktal also appear on Laneway's Top 5 list and considering the Melbourne five-piece have spent more time touring than graduating (some members are still in high school), the recent I Oh You singees would probably jump at the chance to tour with Laneway – and maybe they already have?
Finishing up the Top 5/Laneway's own rumour mill is the equally sexy and soulful Chet Faker, who's been a big deal both commercially and critically since dropping his debut EP, Thinking In Textures, earlier this year, even leading the nominations for the Independent Music Awards for 2012; and though he is playing Meredith Music Festival in December, come Feb, maybe he'll be bang up for another national tour to go with a potential gong or two.
Last but not least is Kirin J Callinan, quite possibly one of Australia's most innovative guitar players – if not it's most sonically confronting. The ex-Mercy Arms player has gone solo since moonlighting with Jack Ladder's band, The Dreamlanders as well as Lost Animal.
Laneway organisers also point out that 2012 "has been a big year as Callinan signed to Chris Taylor's (of Grizzly Bear fame) Terrible Records and then released one of the most cinematically brilliant, and equally as insane, videos of the year." That'll be the stark, glitchy, child-and-semi-nude-Callinan-starring 'Way To War' video.
Still this last one may be a bit of a moot point considering Callinan has literally just been announced to appear as part of Sugar Mountain 2012.
Of course, Laneway would have you believe that none of these acts are confirmation of a 2013 lineup, but even if it's just a prospective wish list, it's a very strong showing indeed. We'll see how coy they were really being when all is revealed in two weeks, on September 26.
You can check out the full list of Laneway 2013 dates below
ST. JEROME'S LANEWAY FESTIVAL 2013 DATES
Singapore – Saturday 26 January 2013
Auckland – Monday 28 January 2013
Brisbane – Friday 1 February 2013
Sydney – Saturday 2 February 2013
Melbourne – Sunday 3 February 2013
Adelaide – Friday 8 February 2013
Perth – Saturday 9 February 2013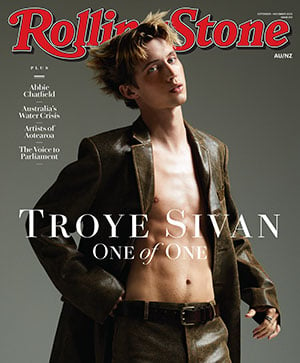 Get unlimited access to the coverage that shapes our culture.
Subscribe
to
Rolling Stone magazine
Subscribe
to
Rolling Stone magazine