Review: The Saboteurs at Regent Theatre, Melbourne, April 18th, 2019
For most Australian fans of Jack White, their love affair with The Saboteurs was always a complicated one. As most would know, the group began life as The Raconteurs back in 2005, but hit a bit of a hurdle when it came to expanding into the Aussie market.
After unsuccessfully asking a Queensland band of the same name to give up their moniker, the group ultimately relented, choosing instead to be known as The Saboteurs in the Aussie market.
Sadly, their initial run never resulted in a trip to Australia, meaning that for years, this distinction was relegated to their physical releases only.
However, after the announcement of a new album, and subsequent tour dates, local fans were given the news that the band would finally make their way down to our neck of the woods after eight years away from the game.
So, on Thursday night, hordes of dedicated fans made their way into the gorgeous confines of Melbourne's Regent Theatre to witness the first-ever performance of The Raconteurs as The Saboteurs.
Check out The Saboteurs' 'Now That You're Gone':
While news of The Saboteurs' Aussie debut was undoubtedly something to write home about in recent months, many fans found themselves somewhat conflicted over the news that these shows would see phones banned from the event.
An oddity for many younger fans, an absence of phones allowed – as Jack White put it – a much more engaging experience, though it did result in a few strange sights to behold.
While some found that they relied on their phones for their digital tickets and seating allocation, many fans stood awkwardly around the lobby, as others became rather interested in the ingredients list on their purchased beverages, taking any opportunity to fill the time before the auditorium doors opened.
Ultimately, this also gave most punters a far more enjoyable time, as they passed the time talking and making new like-minded friends, undoubtedly providing the authentic experience that has fallen by the wayside in recent decades.
Check out The Saboteurs' 'Salute Your Solution':
As audience members slowly filed into the main auditorium, the lights soon dimmed and the inimitable Laura Imbruglia took to the stage.
Backed by her three-piece band, The Bin Chickens, Imbruglia wasted no time in jumping into her set, delivering an array of loose, alt-rock tunes that showcased her impeccable ability as a charismatic performer and accomplished songwriter.
Delivering a set of tracks from her last album, What A Treat, and her recently-released Scared Of You, Imbruglia and her band kept the attitude light, joking with fellow members, and even sharing jokes with the audience alongside her delightfully-upbeat bassist Kelly.
Tearing through tracks like 'Harsh Dylan Songs' and 'You're Shit', Laura Imbruglia switched up the tempo from time to time, complementing her driving alt-rock numbers with slower, more emotive tunes, though never straying too far from an immersive guitar solo.
After upping the intensity with 'Give Boys Pink Toys', Imbruglia and The Bin Chickens topped off the set with their "nod to AC/DC", a pounding rock number called 'The Creeps'.
Undoubtedly saving one of their best moments to the end, the musicians closed out their all-too brief performance with this powerful tune, featuring some astounding vocals by Imbruglia in its closing moments, undoubtedly proving their worth as one of the most fitting groups to support an act like The Saboteurs.
Check out Laura Imbruglia's 'The Creeps':
As sharp-dressed stagehands appeared before us to set up the evening's main event, eager fans looked on in awe as countless guitars were brought out to the stage, each more grandiose than the last, and each providing a sound that gear-lovers would salivate over.
However, after an intermission that felt like an eternity for many, the lights darkened once again, and excited chatter turned into cheers of anticipation.
Suddenly, a number of figures cut through the light, with the familiar face of Jack White raising his hands, imploring the audience to "get the fuck up". We complied, and the ensuing wall of feedback told us that The Saboteurs had well and truly arrived.
Kicking things off with his iconic scream, Jack White lead his bandmates into a stunning rendition of 'Salute Your Solution', complete with ferocious vocal delivery, immensely distorted guitars, and an intense stage presence by all of the group's members, undoubtedly delivering what can only be described as an explosion of blues and garage rock.
As Patrick Keeler pounded away on the skins, Jack Lawrence kept the groove on the bass, and Brendan Benson shredded on the guitar, it was hard for the audience to tear their eyes away from the enigmatic Jack White.
Appearing so ecstatic throughout the entire set, White looked less like a musical icon and more like a fan who got the chance to play with his favourite musicians.
A mix of endearing and awe-inspiring, his dedication and intensity undoubtedly stole the show at times, though he made it clear that The Saboteurs were in no way a one-man band.
Check out The Saboteurs' 'Broken Boy Soldier':
"Do you feel better now?" White asked The Saboteurs' eager fans, before jumping into a rendition of 'Level'. Utterly mesmerising, White stormed around the stage with such ferocity you'd think he was playing his final show.
Switching guitars at almost every opportunity, throwing down mic stands, and getting his microphone lead caught on his guitar's headstock during a particularly wild moment, it felt hard to look away from the rest of the band, lest we miss one of the evening's highlights.
Thankfully, Brendan Benson did us a favour, stepping up to the microphone to formally introduce himself, and take the lead on a gorgeous rendition of 'Old Enough'.
"We've been waiting 11 years to finally say, 'We are The Saboteurs'," Benson noted to fans, before showcasing his awe-inspiring vocals, as Jack White served as second guitarist for a while.
Of course, White wasn't one to let the spotlight go for too long, jumping back to the forefront to address the audience with the motivational style of a preacher, even going so far to ask if he can "get an amen" at one point.
Soon though, the group were dipping back into their latest tunes, despite White's remarks that for some bands, the introduction of new material "used to be death words back in the day."
However, The Saboteurs' new tracks were in no danger of a poor reception, with tunes from their upcoming Help Me Stranger record sounding just as powerful and cohesive as their classic material.
Check out The Saboteurs' 'Steady, As She Goes':
While Jack White jumped behind the keyboard alongside Dean Fertita for a performance of 'You Don't Understand Me', it felt as though the evening was truly getting started, with the introduction of tunes like 'Help Me Stranger' inciting widespread applause, while some dedicated concertgoers even began head-banging to 'Consoler Of The Lonely'.
Soon though, one of the evening's highlights arrived by way of a rambunctious play-through of the group's debut single, 'Steady, As She Goes'.
As the iconic introduction was met with cheers and applause, White and his bandmates milked the reception for all its worth, dropping in an extended solo, and even getting the audience to play their part by chanting the lyrics during the song's breakdown.
As Jack White jumped back into the tune for the final chorus, we were truly witnessing him at his most intense, with his phenomenal scream filling our ears, and his exceptional guitarwork truly serving as something to behold.
However, as the dust settled, it was clear that we were nearing the end, as the band took their leave from the stage to the sound of a deafening roar from the crowd.
Check out The Saboteurs' 'Hey Gyp (Dig The Slowness)':
Following a few brief moments of chants, cheers, and applause, The Saboteurs made their way back to the stage to deliver one of the most fiery encores you'll find anywhere.
Kicking things off with their cover of Donovan's 'Hey Gyp (Dig The Slowness)', they tore through the likes of 'Hands', and 'Only Child', adding in some extended jams before closing things out with the exceptional 'Broken Boy Soldier'.
As the group linked arms and bade us farewell, Jack White apologised for taking so long to come down to Australia, noting that they would endeavour to return soon in order to repeat the evening's events.
While at times fans could be forgiven for believing a performance of The Saboteurs to be something akin to The Jack White Show, it's impossible not to mention the immense talent of the rest of the band – each of them acclaimed composers and performers in their own right.
Together though, these exceptional musicians all come together to form the imposing and inimitable beast that is The Saboteurs.
Armed with ferocious songs, a mesmerising stage presence, and a dedication to their craft that is unparalleled in the music world, The Saboteurs are undoubtedly one band you need to see live at some point in your life.
While we might have waited 14 years between their formation and eventual Australian debut, there's no doubt that fans will indeed be eager to see The Saboteurs perform on Aussie soil once again, because there is nowhere else you can get a live show like they deliver.
The Saboteurs are set to continue their tour in Sydney on April 20th, before wrapping up their debut Aussie visit with a performance at Bluesfest on Monday, April 22nd. Check out all the details, along with setlist information, below.
Check out The Saboteurs' 'Sunday Driver':
The Saboteurs Australia & New Zealand Tour 2019
(Remaining Dates)
Saturday, April 20th
Big Top Luna Park, Sydney, NSW (18+)
Tickets: Big Top Sydney
Also appearing at Bluesfest on April 22nd.
Thursday, April 18th – Monday, April 22nd, 2019
Tyagarah Tea Tree Farm, Byron Bay, NSW
Tickets: Bluesfest
The Saboteurs @ Regent Theatre, Melbourne 18/4/19 Setlist
'Salute Your Solution'
'Level'
'Bored And Razed'
'Old Enough'
'Somedays (I Don't Feel Like Trying)'
'Sunday Driver'
'Consoler Of The Lonely'
'You Don't Understand Me'
'Now That You're Gone'
'Help Me Stranger'
(New Song)
'Steady, As She Goes'
Encore:
'Hey Gyp (Dig The Slowness)' (Donovan cover)
'Hands'
'Only Child'
'Broken Boy Soldier'
Laura Imbruglia @ Regent Theatre, Melbourne 18/4/19 Setlist
'Awoooh!'"
'Harsh Dylan Songs'
'You're Shit'
'Carry You Around'
'Casual'
'If I Ever'
'Tricks'
'Diptych'
'Give Boys Pink Toys'
'The Creeps'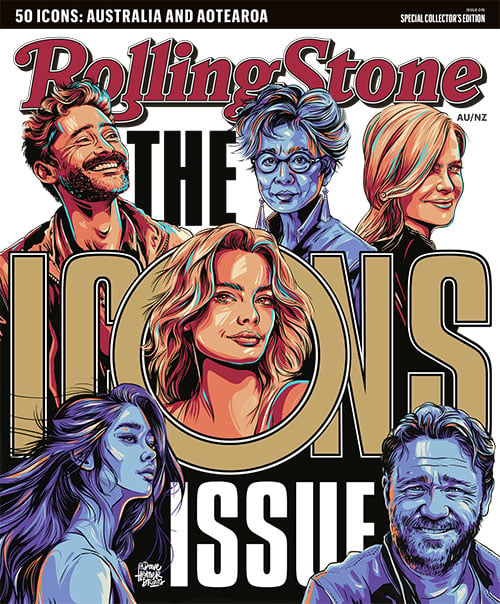 Get unlimited access to the coverage that shapes our culture.
Subscribe
to
Rolling Stone magazine
Subscribe
to
Rolling Stone magazine