Aussie electronic producer and chart-topper Luude has unveiled the latest track in his run of already-impressive singles, teaming up with Mattafix for the release of 'Big City Life'.
Late last year, Luude (best known to his parents as Christian Benson) unleashed his rework of Men At Work's iconic 'Down Under'. Before long, the track had managed to garner a strong following, with Men At Work frontman Colin Hay even coming on board to re-record his own vocals for its official release.
"The original is just so iconic, and this just brought it to a younger audience I guess?" he told Rolling Stone Australia earlier this year. "It's a classic tune mixed with a bit of fun and people seemed to get around that."
Needless to say, the track became a massive hit both here and abroad. In addition to topping the NZ charts, it hit the top five in the UK, and peaked in the top ten in Australia, Germany, and Austria, showing just how widespread Luude's reach is.
But it didn't stop there, in fact, Luude has since managed to claim the record of having the two highest-charting drum and bass records of the last eight years, with part of that record owing to his latest release.
Check out the reworking of 'Big City Life' by Luude & Mattafix:
Back in 2005, English duo Mattafix unleashed their single 'Big City Life', which went on to become one of the group's biggest hits to date. Fast forward almost two decades, and the group hit up Luude to organise a drum and bass reworking of the track.
Utilising his signature precision breakbeats, Luude underscores the vocals perfectly, working to set them free from their pensive melancholia, while emotive synth strings tend towards an energetic drop that highlights Luude's now-iconic bass tones in all their glory.
Love Electronic?
Get the latest Electronic news, features, updates and giveaways straight to your inbox Learn more
"The original 'Big City Life' was literally one of my favourite tunes as a kid – so it's so surreal to actually be able to put this new remix version out with Mattafix actually on the tune," Luude says of the opportunity to work on the track.
"I worked on the production side with Chase & Status and Goddard who brought their own vibes to this record and I'm bloody stoked with how it's turned out – it's just a fun summer tune."
A fun summer tune it truly is, with the pairing of Mattafix and Luude turning out to be one of the year's best. Already, the track has managed to hit the UK top ten, achieving a feat many Aussie artists have tried – and failed – to match over the years.
Currently, it remains to be seen whether or not his version of 'Big City Life' will turn into the sort of iconic hit that his rendition of 'Down Under' has become, but if anything, the power and energy featured in the track are a testament to Luude's ability to rework some of the most memorable songs in music industry and make them his own thanks to his unique musical flair.
Check out Mattafix's original version of 'Big City Life':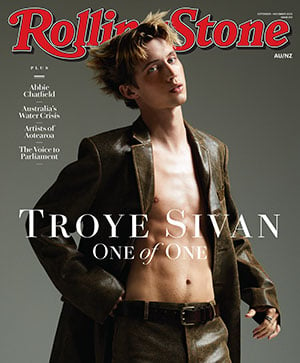 Get unlimited access to the coverage that shapes our culture.
Subscribe
to
Rolling Stone magazine
Subscribe
to
Rolling Stone magazine