Content Warning: This article about Marilyn Manson discusses sexual abuse and domestic violence. If you or someone you know is affected by the following story, you are not alone. To speak to someone, you can call Lifeline on 13 11 14, or 1800 RESPECT on 1800 737 732.
The music world was rattled this month after Westworld actress Evan Rachel Wood identified Marilyn Manson as her alleged abuser. 
After years of speculation, Wood took to Instagram to discern Marilyn Manson as the partner that "horrifically abused" her.
"The name of my abuser is Brian Warner, also known to the world as Marilyn Manson," Wood wrote on the February 1st post. "He started grooming me when I was a teenager and horrifically abused me for years. I was brainwashed and manipulated into submission. I am done living in fear of retaliation, slander, or blackmail.
"I am here to expose this dangerous man and call out the many industries that have enabled him, before he ruins any more lives. I stand with the many victims who will no longer be silent."
The revelation provoked a number of women to come forward, sharing their own stories of physical, sexual and emotional abuse and harassment allegedly experienced at the hands of the shock rocker.
Though the news that Marilyn Manson has an alleged history of abusing women was met with no real surprise. For stories about the way Manson has treated women have long been publicised, often by Manson himself. It's harrowing and shameful that as a culture we unanimously chalked Manson's behaviour down to the musician being an esoteric, freaky artist, instead of calling it for what it is — abuse.
Love Classic Rock?
Get the latest Classic Rock news, features, updates and giveaways straight to your inbox Learn more
These stories span from as far back as 1998. Let's take a look at the timeline of abuse below.
February 1998 – The Long Hard Road Out of Hell:
Manson's autobiography is littered with stories of the musician maltreating women and fans. Tales of his sexual escapades were framed in the context of consent, though the nature of the acts are vile and callous.
There are recounts of Manson burning off the pubic hair of "groupies" with a cigarette lighter, forcing a number of groupies to "confess their sins" whilst strapped to a makeshift torture device, encouraging his bandmates to take part in a game that involved spitting on groupies.
In chapter 13 of the book, Manson details an incident that took place in a Miami recording studio involving a deaf fan. The incident first saw Manson and his bandmates cover the woman in meat, Manson then asked bandmates Madonna Wayne Gacy and Twiggy Ramirez to scotch-tape their penises and challenge the woman to fit them both into her mouth, after having sex with multiple band members, Manson and another bandmate urinated on her.
November 1998:
Manson was involved in an altercation with then-executive editor of SPIN magazine. In a lawsuit, Marks alleged that Manson threatened to kill him and his family in a dispute over the magazine's cover.
In a follow-up interview with Rolling Stone, Manson claimed that he "got arrested for putting a gun in the mouth of an editor of SPIN" and "hid from the law" at Trump Tower. He was not arrested, and the lawsuit was settled out of court.
August 2001:
Manson was charged with assault and sexual misconduct after allegedly rubbing his crotch on the head of a security guard in Detroit. Hep plead no contest to lesser charges of disorderly conduct and assault and battery and received a $4,000 fine.
In December that year, Manson was also sued by a Minneapolis security guard, who claims the rocker did the same thing. A jury found Manson not liable in the suit, which alleged battery and emotional distress.
April 2002
Manson is sued for wrongful death by the mother Jennifer Syme — partner to actor Keanu Reeves —who died in a car accident after he allegedly gave her drugs. Manson denies the claim that he provided Syme with drugs, citing that the suit was "completely without merit."
"Manson believes that the lawsuit is completely unfounded and is investigating an immediate counter-suit against St. John for slander, harassment and abuse of the legal process," A statement on Manson's website read. "'This lawsuit, which is completely without merit, will not bring back Jennifer's life. It serves only to reopen the wounds and the pain felt by all who loved Jennifer. It is a pity that St. John sullies her own daughter's reputation by filing this baseless claim.'"
"After Manson and his five guests finished an evening at the movies followed by a quiet get-together at his home, he made sure Syme received a safe ride home from a designated driver and went to sleep."
June 2009:
In an infamous interview with SPIN, Manson says he self-harmed following his breakup with Evan Rachel Wood, relaying fantasies he had about hurting her. "I have fantasies every day about smashing her skull in with a sledgehammer," he is quoted.
In an interview with Metal Hammer in November last year, Manson was asked about Wood's domestic abuse testimonies. The singer reportedly responded by hanging up the phone.
Following the interview, Manson's team released a statement claiming the "sledgehammer" comment was "obviously a theatrical rock star interview promoting a new record, and not a factual account. The fact that Evan and Manson got engaged six months after this interview would indicate that no one took this story literally."
July 2009:
In a since-deleted blogpost, Manson threatened violence against music journalists. "I am far different than the soon-to-be-murdered-in-their-home press has decided to fabricate," he wrote at the time. "If one more 'journalist' makes a cavalier statement about me and my band, I will personally or with my fans' help, greet them at their home and discover just how much they believe in their freedom of speech."
November 2016
The first time Evan Rachel Wood acknowledges being raped "by a significant other while we were together" in an interview with Rolling Stone. The interview saw her divulge that she experienced "physical, psychological, [and] sexual" abuse at the hands of a partner. Though she did not identify the names of her abuser.
October 2017: Manson's longtime bassist, Twiggy Ramirez —real name Jeordie White—, is accused of rape by Jack Off Jill singer Jessicka Addams.
Following the accusations coming to light, Manson, released a statement claiming "knew nothing about these allegations until very recently" and was "saddened" for the alleged survivor's "obvious distress."
After being fired from the Marilyn Manson fold, Ramirez released a statement claiming to have "only recently been made aware of these allegations from over 20 years ago," and maintains, "I do not condone non-consensual sex of any kind."
February 2018
Evan Rachel Wood delivers a testimony before Congress, detailing her experience of sexual assault and domestic violence at the hands of an unidentified partner.
"My experience with domestic violence was this," she says, "the toxic mental, physical and sexual abuse which started slow but escalated over time, including threats against my life, severe gaslighting and brainwashing, waking up to the man that claimed to love me, raping what he believed to be my unconscious body."
That same month, House actress Charlyne Yi accused Manson of harassing women and making constant racist comments on the set of the production.
In a since-deleted tweet that Manson was a "huge fan of the show," and visited the cast whilst filming the final season, where he "harassed just about every woman asking us if we were going to scissor, rhino & called me a China man."
"I genuinely hope he gets help," she wrote.
August 2018
The Los Angeles County District Attorney's Office releases a court filing declining to pursue a case of alleged sexual assault against Manson. The district attorney declined the case because the statute of limitations had expired and "absence of corroboration," according to the court filing.
"Under current policy, the Los Angeles County District Attorney must investigate any claim of sexual abuse, no matter how outlandish. It is not surprising that the District Attorney, after investigation, summarily rejected the claims made in a police report filed by a former acquaintance against Brian Warner p/k/a Marilyn Manson," the singer's attorney, Howard E. King, Esq., told  The Hollywood Reporter.
"The allegations made to the police were and are categorically denied by Mr. Warner and are either completely delusional or part of a calculated attempt to generate publicity for the claimant's business of selling Manson memorabilia.
"The police report that spurred the investigation was accompanied by the woman's press release and other attempts to generate publicity that fraudulently claimed she was held captive by Mr. Warner for 48 hours in 2011. Any claim of sexual impropriety or imprisonment at that, or any other, time is false."
April 2019
On April 23, Evan Rachel Wood testifies in front of the California Senate Public Safety Committee, in support of the Phoenix Act.
The act, which was signed by Gavin Newsom October 7, extends the statute of limitations on domestic violence felonies from three to five years. It also requires police officers to undertake more training on intimate partner violence.
During her testament in front of the State Senate, Wood detailed that she had been groomed by an older man when she was 18.
"He cut me off from my close friends and family one by one, by exhibiting rage in some form or another when I was in contact with them," she said during her testimony. "He had bouts of extreme jealousy, which would often result in him wrecking our home, cornering me in a room and threatening me."
Wood detailed that her abuser left her terrified for her life, using techniques like starvation, sleep deprivation and threatening her life.
"The fear of being judged by society is debilitating and the fear of retaliation from my abuser is paralyzing," she says. "I have been diagnosed with complex PTSD, including disassociation, panic attacks, night terrors, agoraphobia, impulse control, chronic pain in my body, among other symptoms."
February 2021
Wood releases her statement, identifying Marilyn Manson as her alleged abuser. Vanity Fair publishes accounts of four more women who detailed experiences of sexual assault, and harrassment with Manson.
Manson issues a statement denying the allegations.  "Obviously, my art and my life have long been magnets for controversy, but these recent claims about me are horrible distortions of reality. My intimate relationships have always been entirely consensual with like-minded partners. Regardless of how—and why—others are now choosing to misrepresent the past, that is the truth."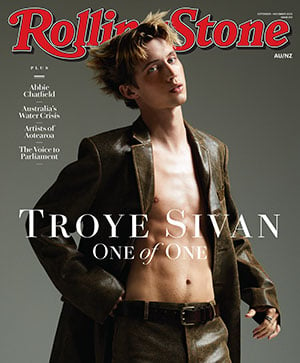 Get unlimited access to the coverage that shapes our culture.
Subscribe
to
Rolling Stone magazine
Subscribe
to
Rolling Stone magazine