It's a life that arcs like a work of fiction.
Rock and Roll Hall Of Fame inductee. Civil rights activist. Grammy Award winner. Daughter of gospel music's most enduring figure. Frontwoman of The Staple Sisters. Former beau of Bob Dylan. Stax hit-maker.
After all those achievements and accolades, it's only now – after 74 ageless years – that Mavis Staples has come full circle.
Staples' latest album, One True Vine – her second collaboration with universally-adored Wilco founder Jeff Tweedy – sees her warmly floating back into her infancy; a time of family sing-a-longs, splintered church floorboards and a hissing Mississippi sun.
While most of us can't remember the haircut we had last week, Staples recalls her childhood with striking immediacy, "Most of these songs on the (new) CD, I heard these songs when I was a little girl, when I was a kid," she says in her trademark gentle tone.
"I would be in Mississippi with my grandmother and we would walk five or six miles to her church every Wednesday night, every Friday night, every Sunday morning and I would hear these songs.
"And her church – it what's you call the 'little church up on the hill' – was just a wooden church with wooden benches and wooden floors. No piano, no organ, just people tapping their feet, clapping their hands.
"I keep a freedom song or two in all of my concerts because I think they're still relevant. We still need those songs."
It was a period for the icon to hone her voice; a gift her father – legendary blues and roots figure Roebuck "Pops" Staples – swore was some divine working far beyond the stick-thin frame of his nine-year-old.
Stalking those days of innocence was a backdrop of civil unrest and racial segregation. Water fountains and public bathrooms came complete with 'For Color Only' signs. A deeply-rooted 'equal but same' mentality continued to compromise America's reputation as the land of freedom.
Along with her father and sisters, Staples would rebel non-violently against the establishment, preferring to eat cold cuts from the local grocery rather than face the degradation of entering restaurants from the back entrance.
"I still keep all of those years in my heart and in my mind – I never forget," Staples recalls. "I never forget what we went through – what the experience we had with Dr. Martin Luther King.
"Dr. King did so much for us. I'll never forget the day the whites had to start taking those 'For Color Only' signs down. We just rejoiced."
Inspired by his meeting with Dr. King in 1963, "Pops" gathered his daughters and accompanied the then 34-year old clergyman around the country, raising funds and penning protest anthems such as 'Long Walk To D.C.' and 'Why Am I Treated So Bad'.
They provided a soundtrack to the era; a voice of reason in a time of transition.
Naturally, it's a cause she's still promoting today: "The civil rights movement – I'm still there," she confirms.
"This is the 21st century and in some of the states here in the United States you wouldn't believe it. You still have prejudice right here in Chicago. I can watch the news I can see a black family move into a white neighbourhood. And they'll move into that neighbourhood just fine.
"But the night when they go to bed, when they wake up the next morning there's all kind of graffiti. The 'n' word sprayed on their garage, sprayed on their car – the 'n' word (followed by) 'get out.'
"I keep a freedom song or two in all of my concerts. I will sing at least one or two freedom songs because I think they're still relevant. We still need those songs."
Many of these protest songs formed the bulk of We'll Never Turn Back (2007) – an album that sparked the latter-day renaissance of Staples' career.
A few years later she teamed with Jeff Tweedy in 2010 to deliver You Are Not Alone.
An emotional Staples received a Grammy for the album, nearly 40 years after achieving commercial stardom in The Staple Sisters with iconic crossover hits 'I'll Take You There' and 'Respect Yourself.'
The momentum continues with One True Vine, a sequel to Your Are Not Alone with Tweedy back to push the buttons.
"Tweedy and I are a lot alike. I hate to think of us not working together again."
Staples' fondness for the Wilco frontman is far from subtle: "First of all, Tweedy is just a super genius, you know. He asked to produce me and for a talent like Jeff Tweedy to want to produce me just made me feel so good," she humbly states.
"His writing, his lyrics – you have to look at his lyrics and understand what he's talking about. He knows me. He knows what I did, what I can handle, he knows my heart.
"Tweedy and I are a lot alike. I hate to think of us not working together again."
One True Vine is a stripped-back counterpart to its prequel. Tweedy's production lends itself to a quiet, relaxed night-in. Staples' vocals are at the fore but remain suitably understated – she prefers using her deft phrasing and accentuation to hammer home the point.
"We didn't want the album to sound the same. We wanted it to be different from the first. The first album – You Are Not Alone – was spicy, sparky and electrifying. This CD is more toned down, more intimate, more personal. I love the acoustic guitars.
"The lyrics from these songs, they're way back – they're not pushy, they're not trying to convert you. We just want to relax you and make you feel good."
The LP also features contributions from a wide palette of musical luminaries, including Nick Lowe and several highlights from Tweedy himself.
Most notably, One True Vine contains tracks written by Staples' father.
Though penned more than 40 years ago, their relevance still burns true today: "One of the songs I'm singing that Pops wrote ('I Like The Things About Me'), he wrote that song back in the 70s when black people were ashamed," says Staples
"Black people were ashamed of their knotty hair and big lips. And so there came a time when they became proud. James Brown came with "I'm black and I'm proud" and black people started wearing their hair natural and they didn't care about their big lips.
"So Pops, he wrote that song back then. I just felt like that song needed to be revisited."
Ms. Staples and her entourage will also be revisiting Australia following last year's acclaimed performance at Bluesfest – a festival she declares her favourite: "Oh yes indeed! We'll probably come for the Byron Bay festival. Oh, we're coming – yes indeed.
"We have to sing our new songs over there."
Her visit will be a privilege for all concerned. At 74, Mavis Staples remains an iconic performer, a stoic activist and, above all else, a beautiful soul.
One True Vine is out now through Warner.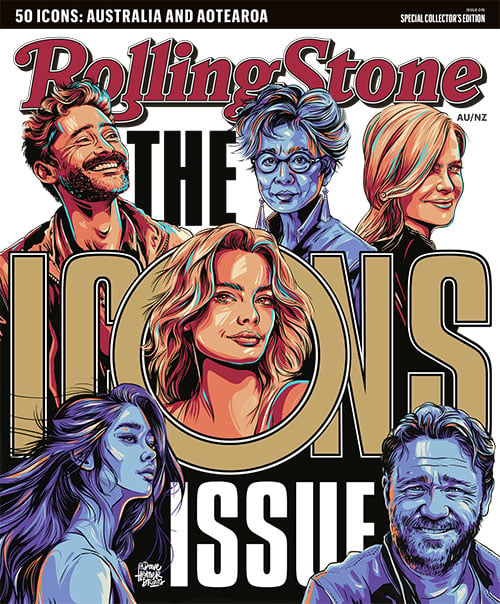 Get unlimited access to the coverage that shapes our culture.
Subscribe
to
Rolling Stone magazine
Subscribe
to
Rolling Stone magazine