Melbourne politician David Limbrick has made a call we can all get behind, campaigning for a Victorian freeway to be named for enigmatic music icons TISM.
Whether you're eight or 80, the chances are pretty good you've been exposed to TISM at some point in your life. Famed for their envelope-pushing music and live shows, there are few bands out there who had the ability to get a Melbourne pub crowd screaming along to lyrics that referenced literary figures like T. S. Eliot, Simone de Beauvoir, or James Joyce.
Existing from the early '80s until 2004, TISM found themselves the recipients of what they would call a disproportionately large amount of fame, with singles like '(He'll Never Be An) Ol' Man River' and 'Greg!! The Stop Sign!' becoming staples of triple j back in the mid-'90s.
Now though, one day after the 15th anniversary of the band's final gig, Liberal Democratic Party member David Limbrick has called for the band to get the recognition they deserve.
Check out Liberal Democratic Party member David Limbrick's noble appeal:
Speaking directly to the Minister for Roads, Mr. Limbrick was quick to note the importance of TISM's influence on the Victorian music scene.
"This week the Liberal Democrats have spoken about sex and drugs, and I rise now to speak about rock and roll," he began. "Liverpool had The Beatles, the Rocky Mountains had John Denver, and my electorate – south east metro – has TISM."
"For those of you who have tragically missed out, TISM stands for 'this is serious mum'. They are an anarchic rock and roll band who were active during the '80s and '90s. They are one of our greatest cultural exports."
Love The Beatles?
Get the latest The Beatles news, features, updates and giveaways straight to your inbox Learn more
Noting that he managed to see them play live twice, Mr. Limbrick went on to quote from "their hit, 'The Mordialloc Rd. Duplicator' from the album Machiavelli And The Four Seasons" (despite the fact the song was never a hit, and was actually released on their Great Truckin' Songs Of The Renaissance album).
"From Lower Springvale to the Frankston Freeway, until you get to that bitumen stain/That runs between two road highways, happy people trapped in its invidious single lane," he quoted.
"There ain't no better roadworks in the nation, than the Mordialloc Road duplication."
Check out TISM's 'The Mordialloc Rd. Duplicator':
"Yes, TISM were a visionary band who understood the importance of infrastructure," Mr. Limbrick continued.
"In other parts of Melbourne, artists with little or no connection to the city, such as Michael Hutchence and AC/DC, have been honoured with statues and street names. They didn't live in Melbourne or even sing about it.
"My request for the Minister is to right this historical injustice and change the name of the Mordialloc Freeway to the TISM Mordialloc Freeway."
While it remains to be seen whether or not David Limbrick will be successful in his attempts to get the renamed after one of Australia's most iconic bands, we wholeheartedly support his efforts, and reckon it's about time TISM received the recognition they deserve.
Who knows, maybe we could work on combing through TISM's discography for other potential things to name after them? After all, 'Mourningtown Ride' gives us a great reason to name a number of Melbourne train stations in their honour.
Check out 'Mourningtown Ride' by TISM: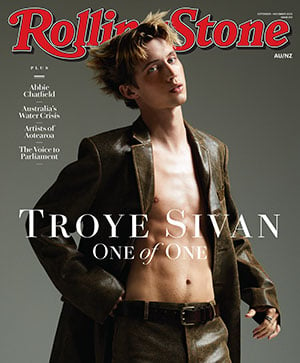 Get unlimited access to the coverage that shapes our culture.
Subscribe
to
Rolling Stone magazine
Subscribe
to
Rolling Stone magazine