At the end of September, The Living End released Wunderbar, their eighth studio album, and their first in two years. Already it's on track to be one of the year's best rock albums, and it's been turning heads all over the place, with some of Australia's greatest musicians sharing their thoughts on the record.
Now, one of Australia's most revered musicians, Midnight Oil's Jim Moginie, has written an love letter to The Living End's Wunderbar, praising it as one of the year's best.
Check out Jim Moginie's praise of the album below, and be sure to pick up your copy of The Living End's Wunderbar as well.
Jim Moginie's love letter to The Living End's Wunderbar
In conversations now, people say disingenuously, 'I don't want to cause offence, BUT….' and then go on and cause mighty offence: so it is with my hand on my heart that I say that The Living End are like wallpaper here in Australia in 2018, albeit wallpaper adorned with tattoos, Gretsch guitars, scrawlings of political lyrics and double bass motifs. BUT….sometimes, culturally, over a 20-year career, wallpaper can get taken for granted.
Their legion of fans know that this band is absolutely ferocious live, on any given night they will give any band they are on the bill with a right royal kick in the arse.
With this new album; Wunderbar, with its drop sections and jarring dynamics, catchy hooks and blitzing musicianship you can feel that they're on the hunt for something else.
It's ten times more extreme.
Recorded in a German studio they sound all at once humungous ('Don't Lose It'), humourous ('Rat In A Trap'), protesty ('Too Young To Die') and self loathingly philosophical and minimalistic ('Amsterdam').
They are full of doubt, swagger, wry smiles and mental mood shifts like any giddy adolescent worth their salt and they sound troubled, out of their comfort zone, unhinged and rawboned. My vision on listening was there is something animalistic at work, it's like they're on heat, covered in the funk of wild bears roaming the snow-covered hills in search of prey. Lost, wounded, unsettled, looking to land a killer blow on the auld brainbox. Having said that, the delivery is clear as a bell, and is all more widescreen and 3D than before sonically.
TLE have few equals in this country for their commitment and passion to their craft. I recorded them a few years ago and they are so good that it was almost frightening. Their band~ness borders on telepathic and they have that 'cut one and the other ones bleed' quality that all great bands have: they just have each other, and that means the world. I felt an instant kinship, like they were long lost brothers from other mothers. Chris is a hands down guitar genius, all at once crisp, economical and feral. Andy and Scott are a piledriving rhythm section of Port Kemblaesque proportions one minute and then swinging like a barn door the next.
The Living End are a wild force of nature. They've been so consistently good over such a long time period that it's almost a given.
So don't treat these fucking legends like wallpaper. I don't want cause offence, BUT…just go and buy this record.
Jim Moginie (Midnight Oil)
September 2018
Check out The Living End's 'Don't Lose It':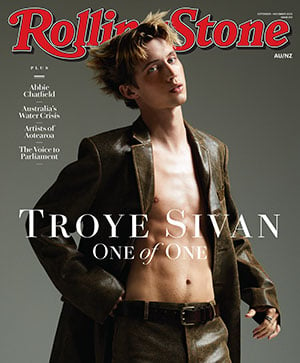 Get unlimited access to the coverage that shapes our culture.
Subscribe
to
Rolling Stone magazine
Subscribe
to
Rolling Stone magazine