Miley Cyrus is back with a brand new single, Flowers, and the internet can't stop suggesting that there's an underlying message calling out Liam Hemsworth for allegedly cheating on her with Jennifer Lawrence.
The upbeat pop song is about a relationship gone wrong, and it seems that fans have taken it upon themselves to create their own theories about who and what the lyrics are referring to. The breadcrumb that they've really hung onto is the gold dress that Miley Cyrus sports in the clip.
Many fans pointed out that the gold dress was reminiscent of the gold Prabal Gurung gown Lawrence wore when she attended The Hunger Games premiere with Liam in Los Angeles in 2012. Next, they dug up a video of Lawrence admitting that she'd kissed Hemsworth at some point – but it's important to note that he and Cyrus split up multiple times during their relationship, and the kiss could have taken place during one of their breaks.
View this post on Instagram
Regardless of how much of a reach these theories are, Miley Cyrus's sister Brandi Cyrus appears to agree with the sentiment that any publicity is good publicity. She recently appeared on the podcast The Morning Breath with Wells Adams and Sarah Hyland to discuss the single and the "hilarious" fan theories that have sprung up around it.
Love Pop?
Get the latest Pop news, features, updates and giveaways straight to your inbox Learn more
Brandi described the theories as "hilarious" and listed other fan theories that have been floating around in cyberspace since Flowers was released earlier this month.
"It's just too good. Like, every day I wake up to a new one. The first one was something about this Bruno Mars song. They're like, 'Liam played the Bruno Mars song at their wedding! And this is a response to the Bruno Mars song.' That one's funny." She added.
"Then there was, 'The suit she's wearing is the suit Liam wore at the Avengers premiere, where he told her that she needed to behave for once. And so this is a f*ck you because she's in the suit.' Hilarious.
"Then the other one was, 'The house is the house where Liam used to take people [to] cheat on her with.' The narratives are f*cking hilarious, but it's so great. The best PR that could ever happen because it gets people talking about the song on TikTok and it's everywhere. And it's just so fun to watch it all play out. Miley fans, I love ya."
When Brandi was asked if there was any truth to the theories, she didn't deny nor confirm. "I'm not here to say that's true and what's not true," she said. "Only Miley knows the truth."
For more on this topic, follow the Pop Observer.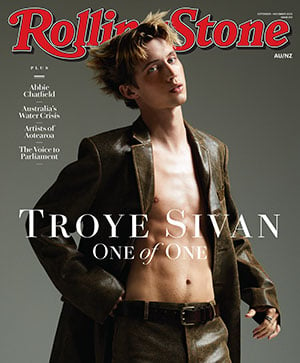 Get unlimited access to the coverage that shapes our culture.
Subscribe
to
Rolling Stone magazine
Subscribe
to
Rolling Stone magazine