In the lead up to the release of his 35th studio album, ​Psychedelic Pill​, Neil Young has revealed that being mentioned in Kurt Cobain's suicide note "fucked" with him.
Just before his death in 1994, the former Nirvana frontman referenced Young's 1979 song "Hey Hey, My My (Into The Black)" in his much-quoted suicide note, writing: "It's better to burn out than fade away."
According to NME, Young makes the revelation in his new autobiography, ​Waging Heavy Peace​, which is set for Australian release on October 4.
"When he died and left that note, it struck a deep chord inside of me. It fucked with me," he writes.
The singer also reveals he had tried to contact Cobain before his death: "I, coincidentally, had been trying to reach him through our offices to tell him that I thought he was great and he should do exactly what he thought he should do and fuck everybody else," he writes.
Young went on to dedicate his 1994 album, ​Sleeps With Angels ​to Cobain, while R.E.M. frontman Michael Stipe told a similar story last year, as ​Consequence of Sound ​points out.
"R.E.M. worked on two records in Seattle and Peter Buck lived next door to Kurt and Courtney [Love]," he told Interview Magazine. "So we all knew each other. I reached out to him with that project as an attempt to prevent what was going to happen. I was doing that to try to save his life."
The new autobiography caps off a busy year for the music legend, with Neil Young and Crazy Horse set to unveil ​Psychedelic Pill​ on October 29, the group's second album for the year.
The nine track LP includes current single "Walk Like A Giant" (which you can watch/listen to above) and 27 minute opener, "Driftin' Back". It follows the release of Americana in June, Young's first recording with Crazy Horse since 2003's Greendale.
Young also recently admitted he had sobered up to write the new book. Speaking of his battle with alcoholism: "I did it for 40 years. Now I want to see what it's like to not do it," he told the New York Times. "It's just a different perspective."
Neil Young and Crazy Horse will also play a series of shows to support the record, including a performance at the Global Citizen Festival, an event aims to use social media and a ticket ballot to fight global poverty.
In other Neil Young news, Rolling Stone reports the iconic performer has expanded his hi-resolution music service Pono with a line of portable players and a music-download service. Pono will also a trial a digital-to-analog conversion technology, that will hopefully allow you to hear music as it initially sounds during recording sessions.
Finally, the 66-year-old has finally jumped on the social media bandwagon by joining Twitter. You can follow what will no doubt quickly become a popular stream at
@neilyoung
.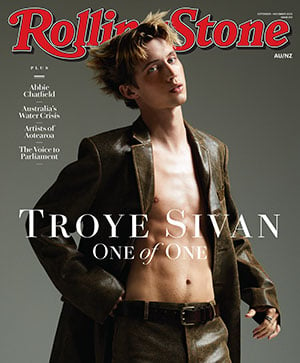 Get unlimited access to the coverage that shapes our culture.
Subscribe
to
Rolling Stone magazine
Subscribe
to
Rolling Stone magazine