Has the news of the current vinyl resurgence piqued your interest in the beloved old-school format? Looking to dip your toe into the market, but not sure where to start? Well this new hand-curated mail delivery service may provide you with the key to the vinyl kingdom you've been looking for.
It's called VNYL and it's making some serious waves on Kickstarter. The creators are gunning for a goal of $10,000 that will allow them to make sure anybody can get vinyl in a way that's convenient and doesn't require hours of crate-digging through somebody's hand-me-downs.
"There's something inherently special about vinyl records. It's a tangible experience. The beautiful 12″ artwork, the uniquely warm sound, and the rich feeling of analog," VNYL's creators write on their Kickstarter page. "We believe every piece of vinyl tells a unique story — a record of where it has been and where it may go."
[include_post id="430765″]
"Secondhand vinyl is a long-loved tradition from the worn edges of the cardboard sleeve to the distinctly rich tones. It's a narrative that tells of someone who loved records and understood their timeless value. We believe this story should continue its journey to you and to a community of vinyl lovers."
"We want to bring the experience of hand-curated music right to your door. So we've come up with VNYL. A new service devoted to the discovery and sharing of vinyl," they add. "We believe in promoting vinyl in the best way we know how – by curating simple packages that you can vibe with."
As A Journal of Musical Things notes, VNYL works on the original Netflix model. Before they were an on-demand giant contending with Aussies sneakily tapping into their US-only service, Netflix was a DVD rental service that processed all transactions through the mail.
For a fee, you would go online, put together a list of DVDs that you wanted to watch, and receive a steady stream of packages through the mail. When you were done viewing your DVDs, you sent them back to Netflix so that others could share in the fun.
[include_post id="429917″]
With VNYL, you pick out what "vibes" you're into — for example, you might be planning a dinner party, a gaming night, or a romantic rendezvous — VNYL then hand-curate three LPs and ship them to you. Once you're done, you can mail the records back or buy them, with prices starting at $12 each.
Best of all, you can listen for as long as you like, and the VNYL team stress, "Humans at the helm. No algorithms or maxing out your data plan. Just creating the easiest way for you to find great stuff to listen to without having to spend hours bin diving at your local record store."
What's most exciting is that VNYL aren't the first to dive into this burgeoning market, with a similar service called Vinyl Me, Please available for upwards of USD$23 a month, which offers customers such perks as limited edition LPs pressed exclusively for Vinyl Me, Please members.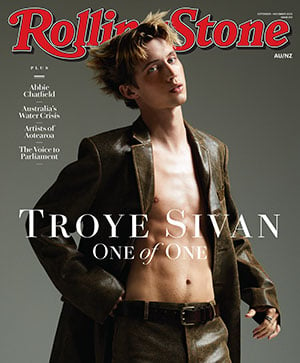 Get unlimited access to the coverage that shapes our culture.
Subscribe
to
Rolling Stone magazine
Subscribe
to
Rolling Stone magazine