It's the thing that's making every journalist a little nervous: ChatGPT. The artificial intelligence chatbot, it turns out, is also causing concern for Nick Cave.
The singer-songwriter detailed his thoughts on ChatGPT on The Red Hand Files website, after revealing that many fans had submitted song lyrics 'in the style of Nick Cave' by using the chatbot service.
In a lengthy letter, Cave thoughtful went off on the "grotesque mockery" that is ChatGPT and AI. "I do not feel the same enthusiasm around this technology. I understand that ChatGPT is in its infancy but perhaps that is the emerging horror of AI – that it will forever be in its infancy, as it will always have further to go, and the direction is always forward, always faster," he wrote.
"Judging by this song 'in the style of Nick Cave' though, it doesn't look good… The apocalypse is well on its way. This song sucks."
According to Cave, ChatGPT lacks the heart and soul that only a human songwriter can provide. "Songs arise out of suffering, by which I mean they are predicated upon the complex, internal human struggle of creation and, well, as far as I know, algorithms don't feel. Data doesn't suffer," he continued.
"ChatGPT has no inner being, it has been nowhere, it has endured nothing, it has not had the audacity to reach beyond its limitations, and hence it doesn't have the capacity for a shared transcendent experience, as it has no limitations from which to transcend.
"ChatGPT's melancholy role is that it is destined to imitate and can never have an authentic human experience, no matter how devalued and inconsequential the human experience may in time become."
Love Classic Rock?
Get the latest Classic Rock news, features, updates and giveaways straight to your inbox Learn more
Cave then cleverly used the ChatGPT-produced lyrics to show his ire at the chatbot: "With all the love and respect in the world, this song is bullshit, a grotesque mockery of what it is to be human, and, well, I don't much like it — although, hang on!,
"Rereading it, there is a line in there that speaks to me — "I've got the fire of hell in my eyes"— says the song 'in the style of Nick Cave', and that's kind of true. I have got the fire of hell in my eyes – and it's ChatGPT."
You can read Cave's full letter here. Do you think the rise of ChatGPT is a negative thing?
For more on this topic, follow the Classic Rock Observer.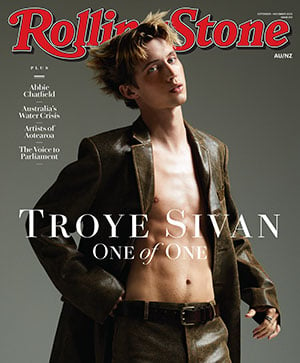 Get unlimited access to the coverage that shapes our culture.
Subscribe
to
Rolling Stone magazine
Subscribe
to
Rolling Stone magazine