"I often find the promotion of music keeps me from actually making music."
It could be the disenchanted mantra for every contemporary artist, but for singer-songwriter Will Sheff, "It's kind of like a hilarious paradox."
Though guilt-ridden for drawing Sheff away from rehearsals with the Austin, Texas band he fronts, the reason is to discuss his latest act of creation, The Silver Gymnasium – the newest concept-driven long player from Okkevil River.
In the folk-lilted alt-rock group's tradition, the band's seventh album is another richly detailed and realised excursion steeped in Sheff's lyrical myth-making and poetic class.
Where the 37 year old has previously mined the world of music itself for weaving his musical tapestries – a folk song by Tim Hardin for 2005's breakout Black Sheep Boy or the arrested development nature of rock for The Stage Names (2007) and its companion piece The Stand-Ins (2008) – The Silver Gymnasium is inspired by a topic of which Sheff is also an expert: his own childhood.
Set in the rural town where Sheff grew up, and non-coincidentally during the mid-1980s when he himself was a teen, The Silver Gymnasium is Okkervil River's impressionistic take on Meriden, New Hampshire; a New England township that not even Wikipedia can provide little more than a few sentences' worth of notoriety on.
So with The Silver Gymnasium becoming Okkervil River's highest charting album to date (reaching #7 on Billboard in the US), is its creator concerned that the record will put his sleepy hometown 'on the map', so to speak?
"I was definitely worried about that," replies Sheff. "If even one person moved to my town because of this record, I would feel like I never should have made it in the first place," he explains, chiefly because The Silver Gymnasium isn't a journalistic take on the place that shaped Sheff's formative years.
The album's achievements are not in drawing specific attention to Meriden (though "people from the town really like it," assures Sheff), but instead its ability to act as a siphon for the listener to remember their own.
It's both an examination of nostalgia through the lens of his hometown, and vice versa.
"It wasn't like I was trying to make this record about 'oh my town was so great, my childhood was so great'. It wasn't that at all."
Indeed, it's filled with much pathos and regret – about fading friendships, opportunities lost. All the songs are sang in Sheff's familiar rolling stanzas and honest, stretched voice, songs dealing with nostalgia in every spectrum of its meaning.
"The goal was to write about childhood in a more universal way," he explains.
"To talk about nostalgia for one's childhood and missing one's childhood and why it is that you miss your childhood and what it feels like."
"The goal was to write about childhood in a more universal way"
To get to the heart of what's "special or sad or profound" about crossing the threshold from boy to teenager, however, Sheff says, "you have to be specific about your own experience because [then] it has the ring of truth and people can relate to it."
It's what leads to the pangs of recognition in lyrical references both trivial – musty VHS rentals, playing Atari, taping hits off the radio – and revelatory.
'Pink-Slips' chronicles Sheff's prophetic move to Texas to make his fortune, reflecting on Meriden with, "This wish just to go back, hey /when I know wasn't ever, ever happy/ Show me my best memory – it's probably super crappy."
However, it'd be a disservice to file The Silver Gymnasium among rock's pantheon of small town escapism, drawn in widescreen Born To Run proportions.
"The Boss still lives in Jersey, you know?" retorts Sheff. However, his own engagement with his hometown is far more complex.
"I always wanted and knew – and even remember literally saying this to someone when I was younger – that I wanted to leave. That I had to get out of there," he recalls.
"I don't want to be a teenager in a small town. Nobody wants that. But I always knew that I wanted to come back."
Sheff's 'kids eye view' of Meriden on the record isn't simply a place to take flight from, nor is it just a celebration of a locale that preserves his memories like bugs in amber. It's a place he can actively engage with and return to – be that artistically or physically.
"Oh man, I'd loved to!" comes his response when asked if he'd move back one day. "I always thought my town was special. It's where I'm from and so I felt a lot of allegiance to it."
Succinctly, "all my feelings about that are in the lyrics."
While a lot of attention is paid to Sheff's words (and for good reason), the same kudos must go to the level of care and effort taken in the music that accompanies them.
To help underpin the sense of nostalgia that The Silver Gymnasium evokes, its sonic touchstones are informed by the gaudy era of 80s pop that Sheff grew up surrounded by (and is a big fan of as a result).
But rather than shovel an 80s pastiche – "which I've done for my own amusement at home – and I'm good at," adds Sheff – the songs are instead informed by the decade's "philosophy."
The sound and production hallmarks of the era (the 'big' sound, the effects, doubling of tracks, and slick rhythm section) can be heard on cuts like 'Stay Young' and 'White' without sliding into recreating or imitating "cheesy over the top stuff," as the Okkervil River mouthpiece puts it.
"Whenever you hit the nail too hard on the head you kind of end up missing the point somehow," he explains, using Daft Punk's Random Access Memories as an example.
"There's a lot (there) that sounds exactly like it could have come from a record from 1981. And I like that about it. But that's not the kind of record I was trying to make. I was trying to make a contemporary record," he declares.
"I'm always hopefully trying to give it some kind of truth, as opposed to just trying to give you a warm and fuzzy nostalgia feeling."
Rather than being polished or produced, The Silver Gymnasium is "rough and ready," as Shef calls it. "A lot of what you're hearing on the record is exactly what we played in the room."
"I'm always hopefully trying to give it some kind of truth, as opposed to just trying to give you a warm and fuzzy nostalgia feeling"
There's much more to the album than being in the room with the band, though; the world of The Silver Gymnasium has expanded through an interactive map of Meriden, music videos, and even an 8-bit videogame.
This 'world-building' is something Sheff's always been drawn to. His visions are consistently realised in the artwork of long-term collaborator Will Schaff (as far back as Okkervil River's 2002 debut).
But because he's "so used to creating detailed and intensive things," as he puts it, "it would be an interesting exercise" to explore a project that's absent of a unified thread.
"I think maybe I'll make a record – at some point – that's utterly non-conceptual. Just 'talks off' and does it in a really short space of time, with no care of effort involved," he punctuates with a hearty laugh.
The idea is part of the songsmith's compulsion to "want to do the thing I haven't done before, or that's opposite to what I did the last time," he explains.
That attitude definitely influenced Sheff's one-off synth-pop solo project, Lovestreams, which resulted in a lone single 'Shock Corridor' – released in January 2013.
Though part of an unreleased album that Sheff "might put out eventually," it was primarily "a whole record that I did, just for myself…to keep reminding myself that I'm not in this for anything but my own commitment to the work," he details.
"I think there's a real deep streak of careerism in indie rock right now and I just think, you have to put something on the sacrificial table every now and then to show the art gods and to show yourself and to show the spirit that got involved in music in the first place, that you're not just doing it for the money or for the fame or whatever."
Any sense of high-brow pretence to Sheff's perspective is undermined by his evident passion towards creativity, mirroring the enthusiasm of the kid found in The Silver Gymnasium opener 'Down, Down The Deep River', who enthusiastically enquires about "the greatest movie you know/or the greatest song that you taped from the radio."
"Right now, I love making music. I love making art. It's my favourite thing in the whole world," Sheff enthuses.
"I like it better than doing just about anything – it's just the best thing that was ever created and I think it's the responsibility of artists to feel that way about their work and I also think it's also the responsibility to walk away when they're no longer feeling that."
Luckily, the Okkervil River frontman hasn't lost that spark yet. "I'm gonna keep making music until I stop finding it fun." For the foreseeable future, he's having a ball.
Okkervil River Australian Tour 2014
Presented by Handsome Tours, supported by Triple R and Tone Deaf
Sydney: 21st Feb, Oxford Art Factory – w/ Ernest Ellis – SELLING FAST!
Melbourne: 22nd Feb, Corner Hotel – w/ Roller One & Ernest Ellis – SELLING FAST!
Tickets for all shows on sale now through www.handsometours.com
Okkervil River will also appear at Perth Festival 2014, details here.
The Silver Gymnasium by Okkervil River is out now via iTunes
Watch the clip for 'Stay Young' here: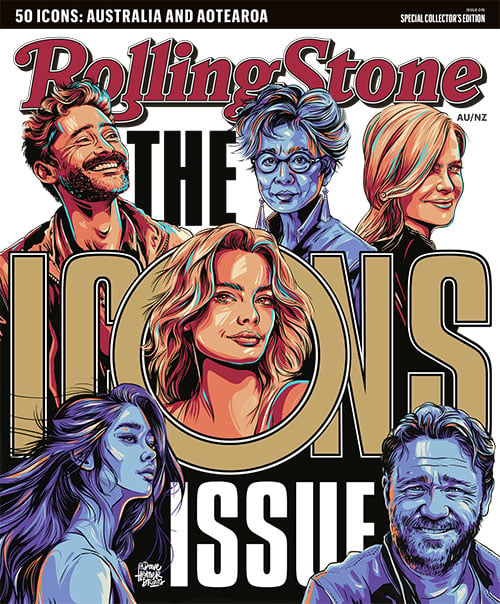 Get unlimited access to the coverage that shapes our culture.
Subscribe
to
Rolling Stone magazine
Subscribe
to
Rolling Stone magazine