Only a few weeks ago, Tasmania's PARKER released her fierce new single 'Superhuman'. Now, as she gears up for a few livestream concerts, we got a sneak peak into the inspiration behind some of her songs.
PARKER might be a familiar name to you, with this being the third place in the music world where the musical talents of Tash Parker have been found. With her talents also featured in the folk group Runaway Belles, and the immensely talented a capella group Ladychoir, PARKER follows Tash as she ventures solo into the beautiful world of music.
June 5th saw PARKER swing through with her riveting new song 'Superhuman' which came along with a thrilling music video in tow, and now she's gearing up for two livestreams that will take place in July.
Celebrating her bold new single, PARKER will be hosting two livestream single launch shows, with one being electronically driven on July 2nd, and the other will fly acoustically on July 16th.
With PARKER taking off in the music world, she dished out the ins and outs of her favourite tunes she's created thus far.
Check out 'Superhuman' by PARKER:
Can't Keep Waiting
'Can't Keep Waiting' is a song I originally wrote on ukulele while I was visiting New York on an art school study tour. I had just come out of an 8 year relationship and I was feeling really lost.  
I knew I was at the beginning of a huge change in my life and I wrote this song as a mantra to myself. The song has a call and response backing vocal part that represents my internal dialog with myself during that time.
Love Indie?
Get the latest Indie news, features, updates and giveaways straight to your inbox Learn more
I made my first ever music video in collaboration with Jaymis Loveday for this song. It won a bunch of film festival awards and landed me a selection as a finalist for the Women's Art Prize 2020 in Tasmania. I'm looking forward to playing the original ukulele version of this song in the acoustic livestream show. 
 A Million Suns
'A Million Suns' is a song I co-wrote with Greg Walker [Machine Translations, Sophie Koh]. Its lyrics are based on a collaboration where Greg and I used the exquisite corps technique developed by the surrealists to construct two poems.
From those we harvested the lines and turned it into a song. We then produced the instrumentation together including my favourite sounds of bowed piano.
My dear friend from art school Lillian Bell made an absolutely gorgeous stop time animated clip for this song which has just been shortlisted for the Florida Animation Festival and the New York Animation Film Awards. 
Become The Fool 
'Become The Fool' is a song that I wrote with my songwriting and production dream team Hans Van Vliet and Becki Whitton. This song is autobiographical but it also draws its inspiration from the Marvellous Mrs. Masel TV series and Amy Winehouse's 'Wake Up Alone'.
The music video for this song was the first one Hans and I produced collaboratively and it takes inspiration from the Bauhaus art and design movement.
Hans made the clip in the game engine UNITY, used motion capture data to create the dancer and fabric simulation software to create the movement of the cloak.  We released a live version of this song recently on Youtube filmed at St John's Anglican Church in Launceston which features Miles Bender on piano. 
 Superhuman
'Superhuman' is one of my favourite songs.  It started as a one hour songwriting challenge and the original demo just had the synth bass line and vocals.
Hans then worked with me to write a second verse and bridge and we produced it together at his studio in Brisbane.  Hans made another amazing video in UNITY for this song that tells the story of a humanoid being rebuilding itself from its past present and future.
This clip and all the artwork around this track is very much inspired by 80s fantasy cinema.  I've recently been arranging a stripped back version of this song for electric guitar and voice. It's got a soft metal kinda vibe which I'm really into. Clearly I listened to a lot of Metallica when I was a teenager.
Check out PARKER:
PARKER Livestream Single Launch Shows
Thursday, July 2nd 8PM AEST
Facebook Live, Electronic Show
Thursday, July 16th 8PM AEST
Facebook Live, Acoustic Show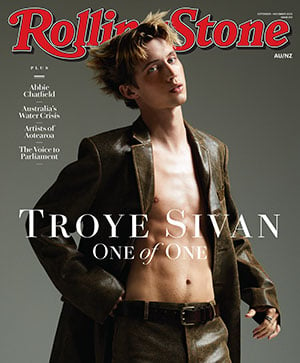 Get unlimited access to the coverage that shapes our culture.
Subscribe
to
Rolling Stone magazine
Subscribe
to
Rolling Stone magazine