Review: Paul Kelly's Making Gravy at the Sidney Myer Music Bowl, Melbourne, December 14th, 2018
For many Melburnians, unpredictable weather is just part and parcel of living in the Victorian capital. However, when an amazing concert is planned for a Friday evening, and nature attempts to – quite literally – rain on our parade, it can turn the night into something that no one would have expected.
Such was the case on Friday night, when Paul Kelly kicked off his 2018 Making Gravy concert series against a backdrop of flash-flooding, stormy weather, and one of the most resilient crowds he'll ever witness.

As dedicated Paul Kelly fans made the trek through the CBD to Melbourne's Sidney Myer Music Bowl, many felt they were fighting a losing battle. With rain pouring down with unprecedented ferocity, visibility was limited to about two feet in front of people, and legions of soaked music lovers stumbled around the hilly entrance to the venue.
As these fans slowly made like the rain and poured into the Bowl, they were met with the soulful sounds of Melbourne's Mojo Juju, who soundtracked a frenzied attempt by those in the audience to occupy the sheltered, seated section.
Despite the inclement weather, Mojo Juju powered through an all-too-brief set, managing to get the crowd moving with a short collection of immersive, catchy tunes.
Sadly, irony was not absent from the evening, with a performance of 'Don't Stop Me Now' being cut short due to safety issues with the stage. Urging the audience to "swim between the flags", Mojo Juju left the stage, only moments before the entire stage monitor system fell to the ground, ostensibly ruining the equipment due to its impromptu swim in the slowly-flooding venue.
Check out Mojo Juju's 'Don't Stop Me Now':
For most of the next two hours, punters were left in a state of confusion about what was set to occur for the rest of the evening. After evacuating the audience from the seated area to the grass, the audience waited patiently for further information about the night's proceedings.
As those behind the scenes worked defiantly to drain the flooded stage, security valiantly kept the crowd informed to the best of their ability, undoubtedly hampered by a power failure and a loss of the PA system.
While the gates were shut to ensure safety for those outside, a 2km-long line soon formed, as these prospective concertgoers soon found themselves frustrated with an unfortunate, albeit unavoidable, lack of communication.
However, the audience attempted to make the best of a bad situation, joining in singalongs of Paul Kelly's songs, and exploring the well-decorated Sidney Myer Music Bowl.
With a blow-up bottle of sauce, an esky filled with what was ostensibly cans of Gravox, and street signs the related to Kelly's songs (needed directions to St. Kilda, Kings Cross, the MCG, or the Foggy Highway? They had you covered!) adorning the venue, it was a shame that the poor weather made the decorations unable to be appreciated by those in attendance.
Thankfully, after close to two hours, the decision was made that the venue was safe for both performers and the audience, and would indeed be going ahead. Soon, a flood of people filled the venue, eager to finally witness the evening of music that almost seemed destined to be cancelled.
Check out Paul Kelly's 'Hasn't It Rained':
As the audience took their places in the soaked Sidney Myer Music Bowl, Alex Lahey's band took to the stage with a veritable sense of urgency, almost as if they were fearful the evening might still be cancelled.
Regardless, after a brief wait, Alex Lahey took to the stage to perform a ferocious set full of the alt-pop hits she's become known for. "We fuckin' made it Melbourne, let's do it," Lahey exclaimed, before the air was filled with pounding drums, distorted guitars, and some of the catchiest choruses anyone has ever witnessed.
Kicking things off with 'I Love You Like A Brother', Alex Lahey set herself apart as one of the most vital performers on the Aussie music scene. With a clear knowledge of how to write a catchy song and get the crowd moving, it was clear that the young members of the audience might be asking for their very first guitar this Christmas, hoping to emulate the brilliance of Lahey's immersive set.
As the set continued, tracks like 'Let's Go Out', 'Every Day's The Weekend', 'You Don't Think You Like People Like Me', and set-closer 'I Haven't Been Taking Care Of Myself' were met with huge applause from the eager crowd, undoubtedly aware that the evening was going to defy the odds and be one of the most memorable events of the year.
Check out Alex Lahey's 'Every Day's The Weekend':
After another brief intermission (and a set up by one of the fastest road crews in the business), Angus & Julia Stone took to the stage. Backed by a four-piece band, Angus Stone hobbled onstage with crutches, sitting on a chair for the performance, but in no way hindering the brilliance of the pair's set.
Kicking off with 'Snow', Angus & Julia tore through a set full of deeper cuts and fan-favourites, dipping into their first EP for a performance of 'Private Lawns', which included an intriguing guitar solo from James Gilligan, and a brief trumpet solo from Julia Stone.
Continuing with tracks like 'Wherever You Are' and 'Big Jet Plane', it was clear that the audience couldn't get enough of the band's atmospheric folk tunes and emotive lyrics. Soon though, the energy was turned up another notch as they ripped through a highly-energetic version of DOPE LEMON's (aka Angus Stone) 'Uptown Folks', much to the delight of the crowd.
Topping off their set with the beloved 'Chateau', Angus & Julia Stone undoubtedly continued their reputation as one of Australia's most beloved musical acts. Hampered by a slightly shortened set, they still performed one of the evening's best sets, and proved why they're such a mesmerising live band.
Check out Angus & Julia Stone's 'Chateau':
Following another surprisingly brief intermission, the stage was darkened with the man everyone was here to see; Paul Kelly.
No stranger to approaching misfortune with a smirk, Kelly and his six-piece band soon kicked off the set with the rather fitting 'Hasn't It Rained', before addressing the wet elephant in the room. "We called our record Nature," he quipped, "So you know what to expect".
Dipping into a number of tracks from his most records, 2017's Life Is Fine and 2018's Nature, Kelly was clearly in his element, showing his appeal as one of the most beloved Aussie performers alive, and walking around the stage like he was having the time of his life.
Featuring the acclaimed musicianship of Vika and Linda Bull on vocals, Ash Naylor on guitar, Cameron Bruce on keyboards, Peter Luscombe on drums, and Bill McDonald on bass, Kelly continued through his set, belting out classics like 'Before Too Long' and 'Careless', armed with guitar and that oh-so iconic voice of his.
Check out Paul Kelly's 'Careless':
Inviting a few guests on stage throughout the set, including daughters Memphis and Maddy Kelly, Kate Miller-Heidke, and Alice Keath, the night was clearly a beloved celebration of Kelly's music, as the crowd of all-ages managed to belt out the words to almost every song of the evening.
Following a performance of 'From Little Things Big Things Grow', which began as a solo spot and soon featured every member of his band, the crowd didn't sit down for a moment, standing up so to find the prime position to sing back every lyric of his classic songs.
Tearing through performances of 'To Her Door', 'Sweet Guy', 'Dumb Things', and the ironic 'Deeper Water', the evening soon reached its peak with a rendition of the unlikely Christmas classic, 'How To Make Gravy'.
While it was hard to find anyone who wasn't in the festive spirit thanks to this track, the feeling was soon compounded thanks to a performance of Darlene Love's 'Christmas (Baby Please Come Home)', spearheaded by Linda Bull and featuring every guest musician of the night.
Bidding us farewell soon after, Kelly and his band soon returned for a gorgeous a capella version of 'Meet Me In The Middle Of The Air', truly making it clear we had witnessed something special this evening.
Check out Paul Kelly's 'Meet Me In The Middle Of The Air':
While the evening might have begun with feelings of uncertainty thanks to the deluge from above, it was a credit to the performers, security, staff, and promoters who ensured that the show went on despite these setbacks and a shortened set.
As a result, those who managed to stick around were treated to one of the most memorable Christmas performances they'll find anywhere, whether it be from an Aussie music icon or not. With a set full of new classics and fan favourites, it was clear that Paul Kelly's Making Gravy concert series not only defied expectations to become a success, but that it was a highlight of Kelly's career.
Paul Kelly's Making Gravy concert series continues in Sydney tonight, before finishing in Brisbane on – you guessed it – the 21st of December.
Check out Paul Kelly's 'How To Make Gravy':
Paul Kelly @ Making Gravy, Melbourne 14/12/18 Setlist
'Hasn't It Rained'
'And Death Shall Have No Dominion'
'Rising Moon'
'Before Too Long'
'Careless'
'A Bastard Like Me'
'With The One I Love'
'Song From The Sixteenth Floor'
'With Animals'
'Firewood And Candles'
'Bound To Follow (Aisling Song)' (With Kate Miller-Heidke)
'Life Is Fine'
'From St Kilda To Kings Cross'
'Sonnet 18' (With Alice Keath)
'From Little Things Big Things Grow'
'To Her Door'
'Dumb Things'
'Leaps And Bounds'
'Sweet Guy' (Sung by Vika Bull)
'Deeper Water'
'How To Make Gravy'
'Christmas (Baby Please Come Home)' (Darlene Love cover) (Sung by Linda Bull)
Encore:
'Meet Me In The Middle Of The Air'
Paul Kelly's Making Gravy 2018 tour
Saturday, December 15th
The Domain, Sydney, NSW (18+)
With special guests Angus & Julia Stone, Alex Lahey, D.D Dumbo & Angie McMahon
Tickets: Ticketmaster
Friday, December 21st
Riverstage, Brisbane, QLD (All Ages)
With special guests Angus & Julia Stone, Alex Lahey and Mojo Juju
Tickets: Ticketmaster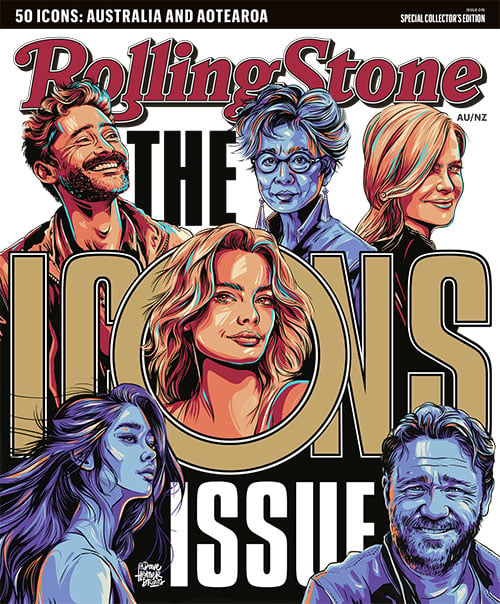 Get unlimited access to the coverage that shapes our culture.
Subscribe
to
Rolling Stone magazine
Subscribe
to
Rolling Stone magazine