You'd think a new band releasing their first single would need some introducing, but, especially if you've been anywhere around the Australian emo/punk scene, you'll probably already be acquainted with most of Pilot Crisis. 
The fledgling Brisbane band were born from the ashes of the six-piece outfit Loiter, when some of the members really took that band name to heart and left in search of other adventures.
The remaining members – Mitch Chen, Brandon Day, Tim Ricketts – decided to keep on going under the new name Pilot Crisis, recruiting the powerhouse vocalist Evie Cowen to front proceedings; the ensemble was rounded out with the addition of Connor Brandon on bass, thanks to a casual online post in a local musician's Facebook page.
Which brings us to today and the release of the band's debut single, 'Misguided'. It finds the new-ish band flying out of the traps as Pilot Crisis, combining thought-provoking lyrics with bruising instrumentals.
The thrilling emo-meets-pop-punk track, which recalls Paramore or PUP, was penned by Cowen, with the vocalist firmly pointing the finger of blame at a broken system that doesn't provide the necessary support those in need require.
"At the time that I wrote 'Misguided', I was in a position where I could no longer work and had to quit my job," she explains. "My situation had made me rely heavily on the system and that's where I noticed an insane imbalance in true support for people who actually need help.
"The world was being misguided by the pain we were all experiencing. We were trying to fight it, but all in vain as we continued to get hit while we were down—that's at least how I felt.
Love Emo?
Get the latest Emo news, features, updates and giveaways straight to your inbox Learn more
To celebrate Pilot Crisis' first release, Tone Deaf arranged an artist on artist interview to get to know them better. And while some of these pieces can be awkward, especially when the artists don't really know each other well, the perfect band was just waiting there in fellow Brisbane emo/pop-punk lot Talk Heavy: it just so happens that Matt from the band engineered Pilot Crisis' debut song.
You can read the full conversation below, in which the Brissy bands discuss everything from new music to wrestling to Jason Segel to socks and shoes.
Pilo Crisis' 'Misguided' is out now.
PART 1 – Talk Heavy interview Pilot Crisis

So, who is the pilot and what is the crisis?
I'd like to think Tom Hanks is the pilot because if I could take one thing away from that Sully film, it's that he's really, really good at landing planes safely even if birds were to take out the engines, which brings me great comfort. The everyday crisis we are facing is how expensive a simple milk from the servo is starting to cost. The freedom fuel had a 600ml for $7.80 or something which made me real sad. I didn't have the pocket change for such a refreshment.                                                  
This is your debut single, transforming from Loiter to Pilot Crisis – tell us more.
Mitch Chen (Guitar), Brandon Day (Guitar/Synth), Tim Ricketts (Drums) and Evie Cowen (Lead Singer/Cellist) are 4/6 from the original Loiter line up. We wanted to form a new band balancing a melancholy emo pop punk sound and added Connor Barnden (Bass) to the fray. With this new match up, we wanted to debut our new sound with a new name. Thus Pilot Crisis was born.
If you could create your opposite dream band – so the worst of the worst band members/musicians you dislike – who would be in it and what would that band be called?
Easy – Lil Wayne on guitar, MGK on lead vocals and guitar, Fieldy from Korn on bass and Meg White on drums, playing modern day Djent-tinged pop punk. Band name: "Name Generator".
If each member of your band fought each other in a prison rules brawl, who do you think would come out on top?
To set the scene we know Tim and Evie both have high pain tolerance from the amount of tattoos they have. Brandon has that momentum and will to never give up. Connor just wouldn't fight and Mitch would just start spitting at people. I'd say Tim would win though. He is the quiet one of the band and is real dangerous. He'd be the guy talking about 'how much prep time he has' and would rock up with his fists covered in glass.
Let's say you're an aspiring pro wrestler – what's your gimmick and finishing move?
I'm the Trash Man! I come out, I throw trash all over the ring! And then I start eatin' garbage! And then I pick up the trash can, and I bash the guy on the head.
Fuck, Marry, Kill – Tony Hawk, Stone Cold Steve Austin and Niko Bellic (from GTA IV)?

Fuck Tony Hawk because he seems like a gentle lover (purely based on his Tony Hawk's American Wasteland avatar), kill Stone Cold Steve Austin for siding with McMahon at Wrestle Mania X-7, and marry Niko Bellic because if you pick the correct choices of GTA IV after 40+ hours of an emotional journey, he lost his love. I'd like to think I can be his new forever and always.
Congrats on your debut single 'Misguided'. How did it come about?
I wrote the instrumental for this song way back in 2018 when I was jamming on pop punk bands through uni like Paramore, My Chemical Romance, and Sum 41. We've been playing music together for close to a decade which made the recording process quick and efficient as we knew what sounds we liked, what guitars we loved to play on, and you knew how to get the best performance out of all of us.
Lyrically, the song is pretty hard-hitting – what's the meaning of the track?
At the time that I wrote 'Misguided', I'd experienced a lot of negative things in a very short amount of time. I was in a position where I could no longer work and had to quit my job. My situation had made me rely heavily on the system, and that's where I had noticed an insane imbalance on true support for the people who actually need help. It made me angry to a point I had never experienced; however, this rage and hurt was not for myself, but for others. The world was being misguided by the pain we were all experiencing.
PART 2 – Pilot Crisis interview Talk Heavy
Are you guys a sock/shoe/sock/shoe type of band or a sock/sock/shoe/shoe band?

I'm personally a strong advocate for the sock/sock/shoe/shoe method personally. But I can't speak for the other members of the band and I'm afraid to ask in fear of it changing my perception of them (and planting a deep-seeded hatred against one of them). Seriously, why would you go sock/shoe/sock/shoe, it doesn't make any sense to me.
If you all could only eat one meal for an entire tour for breakfast, lunch and dinner, what would it be?

Honestly, I feel like anything would be better than how much you can be forced to just eat servo food and McDonald's while on the road. I remember on our tour with Press Club, by the end of day two (of driving around NSW) we already despised McDonald's so damn much.
But anyways, I guess I'd just go with something similar to what I usually meal prep at home – some variation of salmon, broccoli and cauliflower rice for lunch. Then for dinner it would be some variation of chicken, broccoli, diced capsicum, onion, spring onion and some kind of sauce. I'd probably skip breakfast unless I really needed it, in which case it would be a light brekkie wrap of some kind.
If you were to star in an early 2000's rom-com, what is it about and how big of a part does Jason Segel get?

If I could create and star in a 2000's influenced romantic comedy, I'd probably make it a classic 'opposites attract' tale. Maybe I'm just like a boring data analyst who is super methodical and cautious when it comes to love and then I meet and fall in love with someone like an adventurous marine biologist while I'm on holidaying in a foreign country.
Then it's the classic thing of me learning to take more risks and enjoy life, but then the holiday has to end but I decide to risk it all, quit my job and follow my new love adventure. Maybe Jason Segel can play my cool weird uncle who tags along for the journey.
What's the fastest you have ever gone?

Well I guess that all depends on which means of travel you're talking about. Walking – I'm typically pretty slow, but not like "inconveniently slow and getting in your way while you try to walk through the city" kind of slow. Driving – I don't drive, but I've been in some cars when they've been going pretty fast. My Dad and brothers all love cars, so they have a 'Need For Speed', so to say. Flying – planes go pretty damn fast and I've definitely been in a plane before.
As you know we're huge fans of your EP Jump Into Nothing. Anything cooking for 2023?
Thanks so much. Last year was massive for us with the release of our six-track EP as well as playing our first shows at BIGSOUND and touring with Press Club / Radolescent and Sophisticated Dingo! We have been recording a few more songs for this year so look out for those!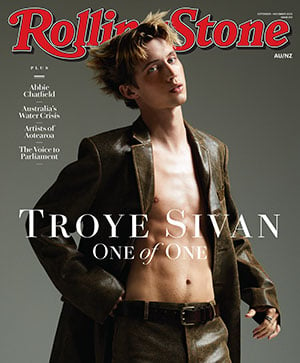 Get unlimited access to the coverage that shapes our culture.
Subscribe
to
Rolling Stone magazine
Subscribe
to
Rolling Stone magazine