The Psychedelic Porn Crumpets have got a new album, SHYGA! The Sunlight Mound, coming out on Friday, February 5th, so we got them to chat to each other about it ahead of its release.
We absolutely love the Psychedelic Porn Crumpets here at Tone Deaf and always jump at the chance to chat to the lads whenever we can.
Which we have, like when they released 'Mr. Prism', their 2019 album And Now For The Whatchamacallit, and just having an enjoyable chat (on a podcast).
With the band's new album SHYGA! The Sunlight Mound, penciled in for a Friday, February 5th, launch date, we thought we might do something different this time around just to shake things up, as well as keep things fresh.
So rather than us asking all the questions about the new Psychedelic Porn Crumpets album, we got band members Jack McEwan, Luke Parish (Rish), Danny Caddy, and Chris Young to interview each other instead.
And the result was a glorious mess that was equal parts fun and insightful.
Jack: Think of the band now, vs. when you first started. What's been the biggest change in the way you all play?    
Love Indie?
Get the latest Indie news, features, updates and giveaways straight to your inbox Learn more
Danny: When we first started none of us had previously found the right outlet for all the new ideas we were all working on individually, so when we finally made porn crumpets we used to cram as many ideas into our parts as we could.
Maybe the individual parts in those days weren't as cohesive, but they had some sort of naivety to them which lots of our fans still enjoy. I think that sort of youthful approach seems to be what fans still really love about our first album.
Nowadays we really strive to be playing together as one tight powerhouse. There's a real feeling of bliss when we all lock in on the songs and now that we've found that groove in some of the tracks through touring them, we won't be happy until everything feels like that.
Danny:  Do you have any favourite songs on the new album? What makes them so significant for you?
Jack: Overall I really enjoy listening to the tracks as an album, it's all pieced together in chunks. 'Hats Off To The Green Bins', 'Glitter Bug', and 'More Glitter' I'm happy with, it's a nice section.
The shorter ones like 'Big Dijon' and 'Round The Corner' I had most fun working on, they've got quite a unique flavour to them.
But if I'm picking one track then I'd say 'Mango Terrarium', it takes me back ya, like an old seahorse, even though it was only a few months ago when I finished that song, it feels like it lives on somewhere else which is nice.
Check out 'Pukebox' by the Psychedelic Porn Crumpets:
Rish: How have you enjoyed preparing for the upcoming tour [with Ocean Alley]? 
Chris: If there's one positive the band can take from being grounded at home this past year is that we've been able to spend a lot more time in the rehearsal room tightening the screws.
We didn't actually have a lot of shows booked on the horizon other than the tour with Ocean Alley, so in that respect there wasn't that much to prep for. We did get plenty of enjoyment in time spent honing in on some brand-new spankers from the new record.
Chris: What have you missed most about touring and performing?
Rish: Definitely a change in scenery, playing new venues and playing to new crowds and seeing how far the music has reached into the corners of the earth is rewarding and makes the whole process worthwhile.
We are still very fortunate to be able to perform here in Western Australia though and at the moment it's probably one of the only places in the world we can do that so while touring is off the cards at least we can keep the pits flowing back home.
Jack: Psychedelic Porn Crumpets have been received really well internationally – what do you think it is about the music you're making that has connected to so many people around the world? 
Chris: A crumpet's tune is like that one mate that ushers you back to the bar on one more cheeky round: for the good times.
Not sure if there's anywhere in the world where that doesn't resonate with people. The energy from the live show as well can be infectious (is that word banned now?) and intoxicating, rude not to get amongst it.
Rish: If someone's coming to Psychedelic Porn Crumpets for the first time with this album, do you think it's a spot on representation of the band? 
Jack: Yeah I'm really happy with how everything came out, even the artwork and vinyl records, they look great. I'd say this album is pretty different to its predecessors, Shyga has its own personality which I'm really pleased with.
It feels brighter and warmer than our earlier work, I wanted to evoke as much excitement and uplifting themes as possible, now when I listen back It always makes me want to sink a few beers so hopefully I've done something right.
Danny: Where did the album name come from? 
Jack: Shyga! The Sunlight Mound!!! I was listening to a band called Godspeed You! Black Emperor and loved the fact they had an exclamation mark in the middle of their name.
I wanted something similar that sounded triumphant, I was throwing around noises and Shyga seemed instinctive, like a blurt of 'Eureka!" It also sounds bright. I kept laughing at it when i was going back through my notes then thought I've gotta call it that, it's ridiculous.
Check out 'Tally-Ho':
Rish: How easy is it to take the sonic ideas in your head and channel them on record and then live with the rest of the band? 
Jack: Yeah the main challenge is learning to play everything live. We went a bit ham on production, adding loads of samples, mellotron, glitched out guitars that are warped up octaves.
It's tricky to nail them perfectly without launching samples which we've spoke about and I think we all agreed it wouldn't suit the style, but luckily everyone's great at their instrument so whatever I create I'm confident we can replicate anything.
They kinda take on a new flavour when we play them live, I don't mind that though, it's like we're two bands.
Chris: If listeners had to submit one song from the album to be the song that saves 2021 from going down the same path of destruction 2020 did, which one would it be and why? 
Jack: [Laughs] I reckon 'Mr. Prism' seems like a nice chap. You can't be unhappy listening to that song.
It feels like a nice step forward, the tunes uplifting, the lyrics tell of a once sickly man who's finally rejuvenated with life and the end takes off on a rocket. Always looking up old mate prism!
Danny: Would you have done anything differently with this album? 
Jack: Good question, I dunno, I'm pretty happy with it as a whole. The concept, the flavour, the uplifting themes, I'm proud of it. I think I could have probably tweaked a few production bits here and there but overall I'm 99 percent chuffed.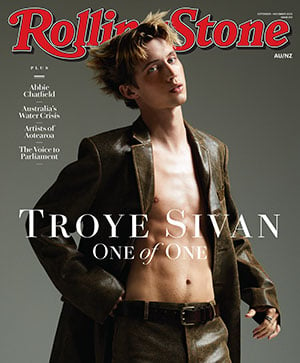 Get unlimited access to the coverage that shapes our culture.
Subscribe
to
Rolling Stone magazine
Subscribe
to
Rolling Stone magazine