Review: Red Hot Chili Peppers at Rod Laver Arena, Melbourne, February 28th, 2019
Late last year, it was revealed that the funky monks themselves, the Red Hot Chili Peppers, would be making their way to Australia for the first time in six years.
Their first headline tour of the country since 2007, this visit came almost three years on from the release of their latest album, The Getaway. Needless to say, fans could barely contain their excitement, and when tickets went on sale, the shows sold out almost instantly.
Now, after kicking off their Aussie tour with an eventful Hobart show last week, the Red Hot Chili Peppers made their way to Melbourne on Thursday night, delivering a set that – like the band themselves – was red hot.
Check out the Red Hot Chili Peppers' 'Dark Necessities':
As fans queued up outside Melbourne's Rod Laver Arena on this Thursday evening, there was only two things on their mind; seeing the LA funk-rock icons, and getting inside out of the heat.
By the time fans had managed to make their way out of the sweltering temperature, it was impossible to see an iconic black Red Hot Chili Peppers t-shirt that wasn't drenched in sweat. One could only imagine what the crowd would look like after the concert.
However, there wasn't much time to sit around wondering, because before long, a devastatingly-loud sound rang out through the arena, indicating the arrival of George Clinton & Parliament Funkadelic.
With the Parliament Funkadelic collective celebrating their 50th anniversary last year, and George Clinton getting ready to close the book on touring Australia, fans were undoubtedly doing their best to catch these icons of the genre.
Thankfully, they were in no way disappointed, with Clinton taking centre stage to take total command of the audience.
Dressed in white robes and backed by a multi-talented band that ebbed and flowed in size (at one point reaching up to 16 members), it was hard to look away for a single second for fear of missing a mere moment of the festivities.
With an immensely loud sound, the band tore through a number of classics including 'Get Off Your Ass And Jam', 'Super Stupid', and 'Give Up The Funk (Tear The Roof Off The Sucker)', fans found themselves completely immersed in the set's party-like atmosphere, truly aware they were witnessing something special.
While almost every moment of the show seemed to appear so chaotic, closer inspection showed that every single member was a master of their craft, helping deliver one of the tightest shows you'll see anywhere.
Following a powerful, lengthy rendition of what appeared to be Funkadelic's 'Maggot Brain', the festivities came to a sadly-premature halt with a performance of iconic track 'Atomic Dog'.
As Clinton waved goodbye to the audience (which was still far too sparsely populated for his legacy), his band kept at it, not content at packing it in until they were sure they had left their mark on this Melbourne crowd, a task they had clearly accomplished.
Check out George Clinton's 'Atomic Dog':
As classic rock songs flowed through the stadium's PA system, excited chatter soon focused solely on what the evening's setlist would look like. Before long though, the sound of a saxophone filled the stadium, and as cheers rose up, the lights went down, and a trio of figures darkened the stage.
With the Red Hot Chili Peppers' Flea, Chad Smith, and Josh Klinghoffer before us, the musicians soon jumped into the band's iconic opening jam, stretching their instruments to their limits before masterfully transitioning into the opening bars of 'Can't Stop', as frontman Anthony Kiedis burst onstage.
Watching the band in their element, it was immediately clear that they were a well-oiled machine, so confident and talented in their instruments that their trademark antics simply added to the spectacle of the show.
While a soon-to-be-shirtless Kiedis ran all over the stage, bassist Flea was his characteristically-energetic self, and drummer Chad Smith hit his kit with such ferocity and precision that it was clear that he served as an inspiration for countless aspiring drummers around the world.
However, it was the actions of comparatively-new guitarist Josh Klinghoffer (celebrating his ninth year in the band), that undoubtedly stole focus. With what seemed like more energy than the rest of the band combined, Klinghoffer ran all over the stage, contorting his body during solos, and belting out those iconic riffs with ease.
The entire time though, he appeared so relaxed and casual in his stance that it almost felt like a display such as this was his idea of taking it easy.
Following a brief shout out to the Melbourne suburb of Burwood (the birthplace of Flea, no less), the group took us back to 1999 with 'Scar Tissue', before 2006's 'Dani California' received a riotous applause, with fans singing out the track's iconic chorus at full volume.
Check out the Red Hot Chili Peppers' 'Dani California':
As 'Dark Necessities' rang out through the stadium, the audience could barely look away from the Red Hot Chili Peppers for a single second. With mesmerising bass-lines and rhythmic grooves paired with the hypnotic imagery on the giant screens behind the band, the show was becoming more of an immersive experience than anything else.
After dipping into their bag of tricks to bring out a cover of The Stooges' 'I Wanna Be Your Dog', the Chilis kept on bringing the goods, dishing out iconic tracks like 'Californication', 'Aeroplane', and fan-favourite 'Throw Away Your Television'.
Soon though, things were clearly about to be kicked up a notch, with frontman Anthony Kiedis asking Flea if he was "ready to drop the hammer". Within moments, fans were treated to a masterclass of bass playing as their classic cover of Stevie Wonder's 'Higher Ground' led to widespread moshing at almost every turn.
On a more topical note though, Flea took a quick moment out of the band's set to comment on the issues faced by New South Wales music fans at the current time. "What the fuck," he questioned emphatically as cheers of "Fuck Gladys" rang out, "live music is the lifeblood of humanity!"
As cheers rang out around the stadium, the group closed off their main set with performances of 'Sick Love', and 'By The Way', with the latter proving that fans still can't get enough of the band's turn-of-the-century material.
Check out the Red Hot Chili Peppers' 'By The Way':
After leaving the stage, fans again began to enthusiastically muse about what the group's encore would consist of. "They'll do 'Under The Bridge' for sure," one fan stated with ill-placed confidence, as images of other audience members flashed upon the screen.
By this point, the excitement was palpable, with a stage-bound roadie receiving some of the most energetic cheers of the evening. However, fans weren't waiting too long though, with Josh Klinghoffer soon returning to the stage to perform a haunting solo rendition of Nick Cave & The Bad Seeds' 'Push The Sky Away'.
As the rest of the band returned, a piano intro signalled the introduction to 'Dreams Of A Samurai', which again ended in an onslaught of cheers.
However, as the group then jumped into their final song, George Clinton and many of his Parliament Funkadelic bandmates found themselves onstage to join in on a powerful rendition of 'Give It Away'.
With Clinton's energy and experience, fans could easily have been forgiven for thinking they were watching the Chili Peppers perform this track for the first time in the early '90s.
Sadly though, this marked the end of the evening, and as the group bade us farewell (and Chad Smith threw drumsticks to almost every audience member he could find), it was clear that fans had just witnessed an amazing night of music.
While some fans could be heard criticising the choice of setlist songs as they left, the vast majority were left astounded that after 35 years together, the Red Hot Chili Peppers still sound as energetic, fresh, and and powerful as ever.
The Red Hot Chili Peppers continue their Aussie tour with appearances at Geelong's A Day On The Green and Adelaide's Superloop Adelaide 500 this weekend, before finishing up in Perth next Tuesday. Check out details below.
Check out the Red Hot Chili Peppers' 'Give It Away':
Red Hot Chili Peppers Australian Tour 2019
With very special guests George Clinton & Parliament Funkadelic
Tuesday, March 5th
nib Stadium, Perth, WA
Final tickets now on sale through Live Nation
Also appearing at A Day On The Green and the Superloop Adelaide 500 After-Race Concert
Saturday, March 2nd
Mt Duneed Estate, Geelong, VIC
More info: A Day On The Green
Sunday, March 3rd
Superloop Adelaide 500, Adelaide, SA
Tickets: Live Nation
Red Hot Chili Peppers @ Rod Laver Arena, Melbourne 28/2/18 Setlist
'Can't Stop'
'Scar Tissue'
'Dani California'
'Dark Necessities'
'Hey'
'I Wanna Be Your Dog' (The Stooges cover)
'Right On Time'
'Hump De Bump'
'Throw Away Your Television'
'Californication'
'Aeroplane'
'Go Robot'
'Higher Ground' (Stevie Wonder cover)
'Sick Love'
'By The Way'
Encore:
'Push The Sky Away' (Nick Cave & The Bad Seeds cover) (Josh Klinghoffer solo)
'Dreams Of A Samurai'
'Give It Away'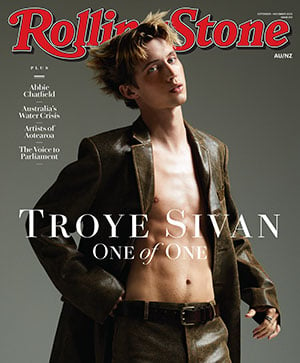 Get unlimited access to the coverage that shapes our culture.
Subscribe
to
Rolling Stone magazine
Subscribe
to
Rolling Stone magazine