Organisers for the long-running Falls Music & Harts Festival held, had previously indicated that without government support the future of the event in Tasmania looked dire.
While the State Government could make no guarantees as to their commitment to the annual music festival's future, today's news means the Tasmanian leg of the Festival can continue, thanks to the financial support of a new major sponsor. Namely philanthropist Graeme Wood, who is injecting a substantial investment into the music festival.
In a statement by the festival's organises, Wood stated, "The Falls Music and Arts Festival is a case study of the tangible economic impact that creative events, and cultural and ecotourism, can have for the Tasmanian economy. As a philanthropist and businessman, this inspirational combination of creative endeavour and sustainable economic return is something I'm very keen to support."
Wood, who has a proven track record in his commitment to the arts, was the founder of non-profit organisation, Artology. A group dedicated to developing creativity in young people with its flagship program, WotOpera, that helps develop high school mini-operas, as well as his other philanthropic involvements in the arts; including the Fresh Ink young playwrights' program at the Australian Theatre for Young People and the Red Room poetry initiative.
In response to the financial saviour's support, Falls Festival founder Simon Daly responded, ""I feel honoured to be working with a great team and amazing supporters to deliver these festivals year in year out, but particularly in this milestone year as we reach our 10th birthday celebration in Marion Bay and Lorne's 20th."
One of Australia's premier cultural events, Falls has consistently delivered first-class bills of both world class international acts, as well as supporting renowned and emerging local bands each year. The festival has also played a significant role in fostering the artistic community in including a variety of performing arts showcases, and in Tasmania, 27 local performance groups were included in the 2011 program.
"I've seen the difference the festivals have made to their communities," says Daly, "not just in economic terms, but just as importantly, the social and cultural impact, particularly in Tasmania. We created the festival in Marion Bay for Tasmanians, all Tasmanians. We've consciously made it the best value and most accessible festival in Australia and it's rewarding to see such a broad mix of people, of all ages, connecting and having a great time together."
The Festival's presence in Tasmania was however, costing an enormous amount in resources, with promoters warning that last year's leg was not making it financially viable to continue at such a loss. But the issue is that the Tasmanian leg doesn't make enough money to make it worthwhile for the busy promoters. Last year they profited a modest $50,000 in Tasmania after the leg cost $4.2 million to put on. "Major events have huge budgets which is why they're more commonly staged in larger markets," says Daly.
Luckily Wood's support means that Falls can continue to operate in Tasmania, which according to the press release, "generated more tourism than any other single even in Tasmania with some 7,742 visitors travelling from interstate to enjoy 3 days of music, performance and film in Marion Bay's idyllic natural setting." Contributing $31.45m in economic benefit."
The festival's renewed presence in the state will ensure the flourishing of its cultural and musical community, Daly once again praising Wood's support, "Tasmania is incredibly fortunate to have people like Graeme who understand the importance of supporting arts and cultural projects that are important to our community"
First details of the Falls Festival for Lorne and Marion Bay will begin rolling out from July, with tickets going on sale after the first announcement.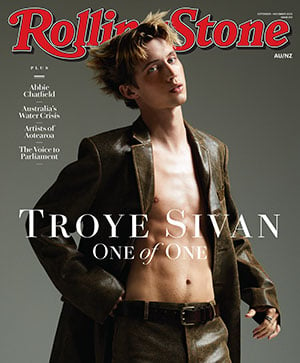 Get unlimited access to the coverage that shapes our culture.
Subscribe
to
Rolling Stone magazine
Subscribe
to
Rolling Stone magazine