It's been eight years since Robyn last released an album. That album, Body Talk, cemented the Swedish pop icon as a master of writing songs that felt equally as suited to making moves in the club or crying alone in your bedroom. Tracks like 'Call Your Girlfriend' and 'Dancing On My Own' served as the quintessential soundtrack for a newer generation of her fans, predisposed to dancing through the heartbreak.
Then, Robyn more or less disappeared. While sparse touring and collaborations with the likes of Röyksopp and Neneh Cherry followed, there was no solo release for almost a decade. Until now, that is.
Honey, the eighth studio album from the queen of bittersweet pop, feels like a culmination of the styles Robyn has worked with in the past, and an exploration of new ground. While glittery opener 'Missing U' is reminiscent of the Body Talk-era, songs like 'Because It's In The Music' and 'Between the Lines' have a kind of space to them, a groove and rhythm that – for all their tenderness – are playful, too.
It's likely the most diverse collection of Robyn songs on an album yet. For an artist that has largely eschewed the 'pop star' label in its most conventional sense throughout her career, it feels like a natural progression, done – as always – entirely on her own terms.
Diving back into things after the time away from the public has been hectic for Robyn. "Right now is kind of crazy. I haven't unpacked my bags since I was in Ibiza like a month ago," she says, referring to her return to the live stage on the Balearic island back in August. "I'm really happy and excited by everything but it's full on."
I was going through a really rough time and I was very sad, so when I started feeling like I wanted to make music again, that was a really delicate thing.
The process of writing songs for Honey began in Robyn's own office studio, a process which she approached with equal levels of exploration and self-care. In the period between albums, around 2015, she experienced a major breakup as well as the death of longtime collaborator and friend Christian Falk. She knew that going back to the studio would mean being kind to herself. "I didn't have a clear vision at all," she says.
"I was just really exploring and trying new things. It was definitely a very open time for me. I think I knew what kind of music I wanted to make. I had an idea about dance music and how it makes me feel – which is not something new, I've done records from that point before, but in a different way this time."
Watch the video for 'Missing U' by Robyn below
There's a focus throughout Honey on the rhythm and grooves behind the songs, drawing from Robyn's experiences of dance music and clubbing. These, rather than lyrics or melodies, served as the jumping off points for the songs on the album.
"It came from a really raw place; it wasn't a conceptual idea," she says. "It was more like, me producing beats and DJing and listening to rhythms, listening to old disco records, finding a lot of new club music and clubbing a lot.
"I was going through a really rough time and I was very sad, so when I started feeling like I wanted to make music again, that was a really delicate thing. I couldn't push through it. I had to really do things that made me feel good, so it was all about that."
At this point in the conversation, Robyn pauses, considering how to describe her feelings throughout that time. "You know that feeling where you're just about to fall asleep and everything feels really open and very calm?" she finally asks.
You can hear that feeling in the beats, and Robyn's own distinctive voice. The tracks on Honey feel like they've been crafted with a certain sweetness – the sound of being gentle with yourself while still refusing to play it safe; to take risks. "I was exploring… but I wasn't doing it for anyone but myself," is how Robyn puts it.
For Robyn, there were two primary reference points for Honey's composition. First, the softer sounds of the pop artists she grew up on – "Kate Bush and Prince, always," she says. "But a particular part of their work, that I've always listened to but never really put on my own records. I wanted things to move me in a particular way, and rock me in a way that made me feel good, and I couldn't do that with the kind of even, forceful groove that I've worked with before."
What that meant for Robyn was totally reworking the way she related to rhythm. "I, like many people, have had club experiences that have been really beautiful and amazing. There's a way of listening to club music that's very different to listening to a pop song," she says.
"It's not about getting to the chorus, it's about something else, it's about liking where you're at. I wanted that to be a part of it as well, a different way of relating to the curve of a song. I think this time I explored that a little more." Duality and juxtaposition has been a recurring element in Robyn's music, but it's done to a much fuller extent on Honey.
"It's all in the rhythm I think, not just the music but how you put the words together," she says.
"Whatever's catchy about a song is as much about the rhythm as it is about the melody and I think there's certain scales, certain harmonies, notes you can be in that are more open than others, you know? They kind of embrace something sad and happy at the same time. I always want that in a song: I want that kind of complexity if possible."
Listen to Honey's title track below
After this initial period of writing in her own studio, Honey's recording was spread out over sessions in Stockholm, London, Paris, New York and Ibiza. And while Robyn played a far more integral role in the production side this time around, she also worked with longtime collaborator Klas Åhlund as well as Joseph Mount of Metronomy, Adam Bainbridge (Kindness) and others.
There's no space for pop music to be pretentious.
Many of Robyn's songs are written in second person, directly addressing a 'you' figure. There's a difference, she says, between singing about someone and singing to them, and many of the songs on Honey interrogate a feeling in a more conceptual way; themes of happiness and sharing love with others. Themes which, Robyn admits, may seem "a little hippie-dippie" to some.
"I think songs with a message are usually not something that I feel comfortable with, but on this record there actually are some of those songs, which I haven't written in a long time. I don't think that I ever thought I would write songs like that again. I'm conscious of feeling pretentious and nostalgic, which are things I think are just in the way of the good stuff. But on this record there's some songs like that – when there's a 'you', when I'm talking to someone, it is sometimes other people, and sometimes it's myself."
Pop music has always been at its best when it leans into emotion without fear of judgment. It's understandable how that kind of vulnerability could be crucial to the way an artist like Robyn writes. So much so, in fact, that Joseph Mount has admitted he had to adjust to Robyn's "emotional transparency" while the pair were working together – acknowledging that it's an integral part of how she creates.
"There's no space for pop music to be pretentious," Robyn explains. "If it gets pretentious it gets kind of boring. So I think pop music is amazing that way – you can say really powerful things. I like when the music tells you something too, when it's not just about the melody and lyrics, when it's about the vibe and the way the music moves you. That's the best, when that happens."
Part of that power, too, is the way that personal impact is contextual from person to person. The songs across Robyn's oeuvre are impactful exactly because of the way they feel as equally relevant dancing in the club or crying alone in a bedroom, and many of the songs on Honey feel similar.
"The best way of making someone feel something is to leave space for them to feel their own feelings, and not mine," she says.
"When I was growing up and I listened to Prince or Janet Jackson or whoever, the amazing thing – that I still love about music – is when I listen to a song and I feel like they put their finger on something that I recognise, that I felt, but I didn't know how to explain. I think that's amazing. Like, 'Oh, I know that feeling, I know exactly what that feels like, I just haven't thought about it that way'. It's the same with books or films. You mirror yourself in other people, and I think music is a way of mirroring yourself."
That desire to be universally relatable tends to be scoffed at as insincere or inauthentic by pop's detractors. But, it must be asked, what is more sincere, more vulnerable, more authentic than fully submerging yourself in the extremes of your emotions, being transparent as possible in the hopes that listeners will connect and relate to their own experiences?
Without sounding hyperbolic, it's difficult to capture exactly how powerful an impact Robyn's music has had in the lives of her listeners. It's been a long eight years for her fans, waiting with bated breath for news of new material. When an early incarnation of Honey's title track debuted on an episode of Girls in 2017, the ensuing, fan-driven #RELEASEHONEYDAMMIT campaign caught on like wildfire.
In the clip for 'Missing U', Robyn sits in a hotel room listening to voicemails recordings that her fans have left, explaining what her music has meant to them. Many of Robyn's fans are queer – "Robyn is like, the literal soundtrack of me coming out of the closet" explains one voicemail. Later, she turns up at a fan-organised Robyn party in Brooklyn – one that's been running, independently for eight years.
"It's amazing," she says when I ask what it's like knowing how pivotal a role her songs have played for her fans. "For me, visiting that party was a way of revisiting this empty space or radio silence that I've been in. I found out about this party they'd been throwing in Brooklyn for years and it was just amazing that they'd kept going, that they'd built this community of people who kept coming every time they did it. Coming there was familiar; it was like closing the gap.
"This was a place I could meet people that have supported me throughout this whole period where I've been gone. I've been in rough patches, I've been in great patches. A physical space for that time. They've done things and I've done things and there's been this amazing connection between us throughout this whole thing.
"Seeing their vibe, their community – there's a lot of things that have happened at that party that have nothing to do with me. Just being a part of what their thing is, is really nice."
Honey is out October 26.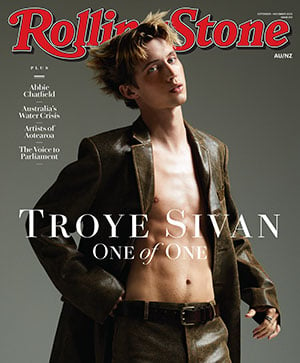 Get unlimited access to the coverage that shapes our culture.
Subscribe
to
Rolling Stone magazine
Subscribe
to
Rolling Stone magazine