Unless you've been living under on bloody massive rock for the past to months or so no doubt you're across the fact that Australia's biggest music poll – triple j's Hottest 100 has just come and gone.
With some more excited about the poll results than others one thing is for sure and that's how much we love a debate about what the results mean. As we reported earlier today, The Church's Steve Kilby had this to say in The Guardian about the results "Nope, my readers, the Rubens do not rock," Kilbey writes. "It's another wry bouncy (little) song, pleasant and innocuous and harmless and twee. No electric guitars were harmed during the making of this record, and no revolution is preached."
The Rubens themselves have come out in light of criticism stating that "I think we were surprised, but I guess I was really surprised at some of the results," they said. "I thought certain songs would have been much higher or lower. And that all comes down to personal taste."
To get a fresh take on what all this means we chatted with Aussie music icons, Rockwiz's   Brian Nankervis and Julia Zemiro about their thoughts on winners, the losers and whether it really all means anything at all.
Brian Nankervis
We had Sam Margin from The Reubens on RocKwiz in Series 12. He arrived early for rehearsal in the Gershwin Room and sat near the mixing desk watching Dugald change guitar strings while on stage, the RocKwiz Orkestra warmed up, swapped anecdotes and ran through the Arctic Monkeys song, 'Do I Wanna Know', that Sam and Heidi Lenffer were singing to close the show.
Sam was charming, friendly and quiet, perhaps a little shy. Maybe nervous? He edged closer to the stage as the band became more confident … I wondered if he was imagining his part of the song, Heidi's part, where they would stand, how they would relate to each other.
I introduced myself, thanked him for agreeing to be on the show and asked how it felt, playing one of their songs, on television, without the rest of The Rubens? He said it was a really, really weird thing.
I told him that a lead singer from a band once said that appearing on RocKwiz without the rest of his band mates was like having a very public affair … so he'd invited them all in to watch "so nobody was hiding anything from anyone … but they all just hung out in the green room drinking the rider and asking Marcia Hines about seeing Jimi Hendrix at Woodstock!"
[include_post id="469846"]Sam smiled and nodded and made me feel like what I said wasn't quite as odd as it probably sounded. Bloody hell, I was old enough to be his father! Cool out Brian, leave the poor kid alone! He rehearsed 'Lay It Down', the Reubens song he'd sing when he first came on stage.
He seemed delighted that the band knew it so well. Then Heidi arrived and they rehearsed the Arctic Monkeys song … and it was stunning! Both singers were obviously extremely well prepared and Sam in particular brought a compelling intensity to his performance.
They did the song two or three times in front of five or six lucky observers, then Sam stepped off the stage while Heidi rehearsed her song. He appeared visibly changed, looser in the limbs, a little chattier, happy to lean on the bar, pick at the dried fruit and Savoury Shapes (no expense spared at RocKwiz!) and watch Heidi rehearse her song. The show that night was fabulous. Sam was cautious on the panel, but answered enough questions to put his stamp on proceedings and the duet was a powerful ending to the show.
As to what songs I think should have reached the top ten? With no disrespect to Sam, or Tame Impala who we'd love to have on RocKwiz, my ideal top ten would read like this:
10. Tame Impala – 'The Less I Know The Better'
9. Alabama Shakes – 'Don't Wanna'
8. The Wombats – 'Give Me A Try'
7. Courtney Barnett – 'Pedestrian At Best'
6. Urthboy – 'Long Loud Hours'
5. The Weeknd – 'Can't Feel My Face'
4. Florence + The Machine – 'Delilah'
3. San Cisco – 'Too Much Time Together'
2. British India – 'Suddenly'
1. Courtney Barnett – 'Depreston'
Julia Zemiro
The Hottest 100, like any popular vote, is fraught.
'It's not representative enough!'
Or 'it's too representative!'.
Of what? The mainstream? Not alternative enough?
Much like the Eurovision Song Contest or any of the Idol Franchises, it will always be fraught. It's a popular voting contest. A song contest. The 'right' song doesn't always win, whatever that is. The best song? It's completely subjective. And it's about winning. It's a game.
Again, like Eurovision, I will want the underdog to rise up. I want a little country like Bosnia- Herzegovina to win, but no matter how good the song, they won't.
The Rubens were #1 this year at Triple J. A band of brothers and their mates from Menangle, a tiny country town in NSW will undoubtedly benefit from it and I'm delighted for them.
[include_post id="469883″]Not long ago, Rockwiz had Sam Margin (Rubens lead singer) and Heidi Lenffer from Cloud Control on the show. He played 'Lay it down' and she sang ' The smoke, the feeling'. To close the show, they did a cover of Arctic Monkeys' 'Do I wanna know?'.
They were both fabulous guests: chatty, prepared, funny. It makes my job even more enjoyable. One of my favourite perks of hosting Rockwiz is hanging out and observing musicians up close. I marvel at their energy, their determination, and wonder at those who are in it for the long haul, and those that have proven it already.
But I care less and less about voting and awards. We can all see through it if we choose to. I hate the betting that goes on around all these competitions. It has nothing to do with the music and everything to do with gambling. I bloody hate it. And the predictions are rarely correct. Who will vote, for which song, how many times.
I tune out on Australia day. I don't celebrate it. So I missed an alternative: indigenous radio station 3KND playing their own 100, possibly a great new tradition to start up. Just listen and dance to the music. No votes. Just listen.
Julia and Brian will be appearing as part of Spectrum Now Festival at The Domain in Sydney which is running from March 3rd -13th. More details at www.spectrumnow.com.au.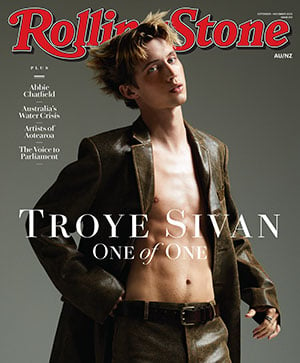 Get unlimited access to the coverage that shapes our culture.
Subscribe
to
Rolling Stone magazine
Subscribe
to
Rolling Stone magazine