Since it's beginning some 12 years ago, Seattle's Sasquatch! Festival has grown exponentially into one of the US's most revered music pilgrimages.
For its 2014 return, the musical extravaganza made a daring move, announcing that Sasquatch! would expand into two weekends of sounds, akin to the Californian dream of Coachella – only with one slight tweak, Sasquatch! Festival's second weekend would house an entirely different lineup from its first.
The duo of festivities were to take place on the American Memorial Day weekend (May 23rd to 25th) and the 4th July weekend (July 4th – 6th) respectively.
However, as Billboard has highlighted, the freshly concocted 4th July weekend edition of the festival has sadly been cancelled.
Taking to their official website, Sasquatch! organisers stated, "unfortunately, the second weekend was not embraced. We felt it was better to cancel the new event now and give everyone time to make alternative plans for the Fourth of July weekend."
The Independence Day Weekend instalment of the festival was billed with an incredibly eclectic wealth of talent, including Soundgarden, Kraftwerk, New Order, Frank Ocean, and Neutral Milk Hotel – just to name a very small few to turn you a nasty shade of green.
Included in this "would have been" wondrous lineup are two of Australia's finest exports, the folky heart-string tuggers Boy & Bear and the slack-rock 'Avant Gardener', Courtney Barnett.
Boy & Bear are at present taking North America by storm, selling out shows across the region and were one of the record-breaking number of Australians who performed at the music mecca that is SXSW. The band will return to Australia for a blistering 40+ date regional tour this April and May in support of their stellar sophomore record, Harlequin Dream.
This news has not punctured a hole in Courtney Barnett's never-ending schedule. Having just closed-out a national tour of Australia with Billy Bragg, Barnett will soon jump a plane back to the UK and Europe to play a string of shows including Barcelona's Primavera Sound and Field Day before jet-setting across the Atlantic for Firefly and Canadian industry conference NXNE.
If you were planning on raising that Aussie flag for Barnett's Sasquatch! set, don't fall into complete despair. Despite losing-out on what would have been a golden opportunity to perform at its incredible platform, Barnett has scored herself a gig playing with Sharon Van Etten on 5th July in Seattle, to show those Yanks how it's done!
Rest assured the first and original May 23rd – 25th Sasquatch! will power through America's Memorial Day weekend.The stunning lineup featuring the likes of the reformed Outkast as well as The National, Queens Of The Stone Age and M.I.A will still be joined by a healthy stock of Aussie talent including: Cut Copy, Cloud Control and Big Scary.
It's with great hope that the cancellation of the second Sasquatch! will not prove horribly detrimental for the overall future for the festival. Ticket-holders for the 4th of July weekend edition of Sasquatch! are to be fully refunded.
Sasquatch! Festival 2014 Lineup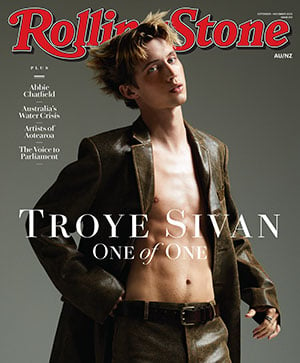 Get unlimited access to the coverage that shapes our culture.
Subscribe
to
Rolling Stone magazine
Subscribe
to
Rolling Stone magazine