A sexual assault case which accused Marilyn Manson of unspecified sex crimes dating back to 2011 has been dismissed by the Los Angeles County District Attorney.
As The Hollywood Reporter notes, a police report was filed back in May which saw Marilyn Manson accused of unspecified sex crimes that allegedly occurred back in 2011.
Now, the Los Angeles County District Attorney has been forced to decline the case due to the expiration of the statute of limitations, and an "absence of corroboration".
In a statement released to The Hollywood Reporter, the lawyer of Marilyn Manson (whose real name is Brian Warner), Howard E. King, Esq, addressed and denied what he called "outlandish" claims.
"Under current policy, the Los Angeles County District Attorney must investigate any claim of sexual abuse, no matter how outlandish," King explained. "It is not surprising that the District Attorney, after investigation, summarily rejected the claims made in a police report filed by a former acquaintance against Brian Warner p/k/a Marilyn Manson."
"The allegations made to the police were and are categorically denied by Mr. Warner and are either completely delusional or part of a calculated attempt to generate publicity for the claimant's business of selling Manson memorabilia."
"The police report that spurred the investigation was accompanied by the woman's press release and other attempts to generate publicity that fraudulently claimed she was held captive by Mr. Warner for 48 hours in 2011. Any claim of sexual impropriety or imprisonment at that, or any other, time is false."
This news happens to come after a year which saw Marilyn Manson involved in a small number of controversies. In addition to a number of appearances in musical headlines, which included the rocker forcing an Avenged Sevenfold fan to remove his shirt at a concert, and an 'onstage meltdown' which led to fans starting a chant of "Fuck you, Manson," the infamous musician was also accused of harassment by actress Charlene Yi earlier this year.
In a series of posts on her Twitter account (which has since been deactivated), Charlene Yi explained how Marilyn Manson acted towards her and others when he visited the set of House, which Yi starred on during the show's final season.
"Ugh don't even get me started on Marilyn Manson. Yes this happened a long time ago – on the last season of House he came on set to visit because he was a huge fan of the show & he harassed just about every woman asking us if we were going to scissor, rhino & called me a China man," she wrote on Twitter.
"It's so triggering to see people come up on the internet who have harassed you," Yi continued. "And then when you talk about the incidents you become known as the person tied to the harasser. And that's just your name from now on. It almost overrides who you are."
"I genuinely hope he gets help."
Likewise, this story came to light just months after Marilyn Manson parted ways with bassist Twiggy Ramirez in response to a series of sexual assault allegations, and only weeks after he controversially stated that the #MeToo movement could "ruin a lot of people's lives".
"I just don't want to see this turn Hollywood into something that takes away from films being made" said Manson in an interview with Channel 4 News back in December.
"That's not to disrespect those people that are saying the allegations. I just think that if you have something to say, you should say it to the police, not to the press and handle it that way first and foremost. That's what I would do."
"There are always allegations, of course, but when someone starts complaining about something that happened that seems a little bit not as serious as sexual assault, I think that's insulting to people who have been sexually assaulted."
If you or somebody you care for has experienced sexual assault, contact 1800 RESPECT on 1800 737 732 to speak to a counsellor.
Check out Marilyn Manson's 'We Know Where You Fucking Live':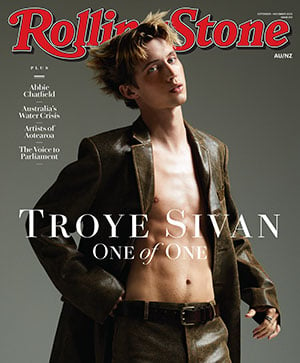 Get unlimited access to the coverage that shapes our culture.
Subscribe
to
Rolling Stone magazine
Subscribe
to
Rolling Stone magazine