Yesterday, one of the world's most famous trash metal bands, Slayer, teased fans with the news that they were breaking up by announcing a farewell tour. Now, the group have addressed their fans, confirming that they do indeed to pack it in once and for all following their upcoming tour.
Slayer took to Facebook yesterday where they shared a short video retrospective of their career, and announced a 'farewell tour'.
With no further information from the group, fans weren't sure if the band were set to break up, if they planned to continue recording and only stop touring, or if they were just calling their upcoming tour by that name.
Now, in a new Instagram post, the group have confirmed the news by way of a rambling collection of their achievements throughout their 37 year career, in addition to the announcement of their upcoming US tour dates.
"After making some of the most brutal, breathtakingly aggressive, all-hell's-a-breaking-loose music ever created, being one of the four bands that defined an entire musical genre and being the band that other heavy acts are measured against and aspire to…after nearly 37 years, releasing 12 studio albums, multiple live recordings, compilations, live video and two box sets, playing nearly 3000 concerts in all corners of the world, receiving countless awards including five Grammy nominations and two Grammy awards, Gold records and other accolades…having its own exhibit in the Smithsonian Institute, gracing hundreds of magazine covers, experiencing the devastating loss of a founding brother, and even appearing on "The Tonight Show," the age of Slayer, one of the greatest thrash/ metal/punk bands of this or any age, is coming to an end," the group wrote.
"Slayer will do one last concert tour around the globe to thank their fans for all the support over the years."
We noted yesterday that AJ Maddah, founder of the now-defunct Soundwave Festival and the man responsible for bringing Slayer out to Australia for their most recent appearance, recently hinted at an upcoming metal tour that may or may not be Slayer from what we can tell.
"Just heard about an amazingly ridiculous metal package coming to Aus mid this year," he wrote on Saturday. "Headliner has not been for 5 years. No, not Metallica." This definitely seems to indicate that we could be seeing Slayer hit up our shores one final time sometime this year as part of their farewell tour.
Just heard about an amazingly ridiculous metal package coming to Aus mid this year. Headliner has not been for 5 years. No, not Metallica. 👊

— AJ (@iamnotshouting) January 19, 2018
Of course, fans of the band need not fret about a lack of music from its members, with guitarist Kerry King's wife taking to Instagram to tell fans that the famed axeman will continue to create new tunes. "He says not to worry," stated Ayesha King, "you'll always get music from him."
At this stage, only time will tell when and if Slayer will grace us with their presence one final time, but we're certainly excited for whatever may come.
Check out Slayer's 'South Of Heaven':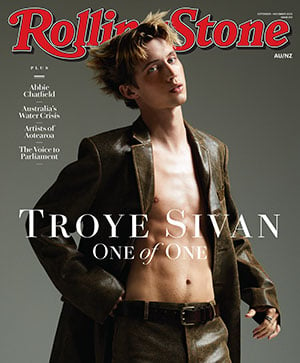 Get unlimited access to the coverage that shapes our culture.
Subscribe
to
Rolling Stone magazine
Subscribe
to
Rolling Stone magazine