Fresh from kick-starting a multi-million dollar campaign for their Music Unlimited streaming service, Sony are flexing their corporate muscle in a different way, with news that the music corporation have unleashed their legal team on a small American indie label for copyright infringement for sampling A Tribe Called Quest's back catalogue in a tribute album… that doesn't actually include any ATCQ samples.
Gummy Soul, an online collective that functions as a production group and boutique record label focussing on hip hop, reported on their website that they have had to pull the release of Bizzare Tribe: A Quest To The Pharcyde after receiving a cease and desist order from Sony Music last Friday 31st May.
"As owners of A Tribe Called Quest's catalog, Sony is claiming copyright infringement and has demanded that we take the album down immediately or face further litigation for damages," reads a statement on Gummy Soul's website.
Sony is taking issue with the 55 minute tribute album, compiled by Amerigo Gazaway, one of Gummy Soul's three former radio presenter co-founders – along with  Wally Clark and Kurtis Stanley. But the clincher, and Gummy Soul's main gripe, is that Gazaway utilised the original source material in his tribute mix; using the original jazz, soul, and funk recordings that the influential East Coast hip hop group sampled to "recreate classic productions" and reinterpret the original material with vocal selections from West Coast hip hop group, The Pharcyde.
The Gummy Soul statement reads: "while less than 3 minutes of the 55 minute Bizarre Tribe experience is Sony owned ATCQ material (you'll remember Amerigo flipped the original sourced records Tribe sampled, as opposed to having sampled their music directly), Sony feels that our project is non-transformative, and is in direct competition with original A Tribe Called Quest material."
The group penned an open letter to Sony Music after receiving the threat of legal action, outlining that their work falls under the "fair use" exemption of copyright as defined by the Copyright Act of 1976, while critiquing the major record label for their knee-jerk reaction.
"Had one of the six Sony attorneys copied in your email deemed it necessary to listen to Bizarre Tribe before pursuing legal action, you would know that our projects are much more nuanced," writes Gummy Soul representatives, and continues:
We would further add that the presence of documentary style sound-bites, interviews, and news clips included on Bizarre Tribe to provide a narrative of [A Tribe Called Quest]'s history and commentary on their work only further protects us under the fair use exception, undermines your claim against us, and provides a clearer distinction as to the uniqueness of what we do at Gummy Soul.

As you know, Sony is no stranger to the fair use exception as you have relied on it many times yourselves. Most recently when Sony Pictures was accused of copyright infringement by the Estate of William Faulkner, a member of the Sony legal team stated:

"This is a frivolous lawsuit and we are confident we will prevail in defending it. There is no question this brief reference (10 words) to a quote from a public speech Faulkner gave constitutes fair use and any claim to the contrary is without merit." (The quote in question is actually a passage from Faulkner's book, Requiem for a Nun.)

With the defense presented in your statement, either Gummy Soul and Sony Music are both protected under our shared interpretation of fair use, or you believe the law should apply differently to small, independent record labels than it does to giant, mega conglomerates like Sony Music.
Gummy Soul also emphasises that their popular "deconstructed reinterpretations" have always been available free of charge and never released under commercial sale or for profit.
They also take Sony to task for "repeating the industry's history of perpetual catch-up while forward thinking start-ups like Gummy Soul find new and innovative ways to create art and leverage digital media to our advantage." (Snap!)
The self-described "tiny… shoestring label" then points out that Sony Music could benefit from their innovation and "stop the war on artists" instead of slamming them with legal action. Noting Gummy Soul runs with no employees "other than a label manager, the two artist co-founders and a part-time contributor [who] were able to build a 60,000 person email list, earn over 100,000 in downloads, garner [Sony's] attention… why not leverage our success to your benefit while helping to push a reasonable dialogue for copyright reform?" (Double Snap!)
Despite their eloquent and well-proposed open letter, Gummy Soul note they "cannot afford to take on a Goliath like Sony Music," and complied with the record label's wishes to remove the album tribute to A Tribe Called Quest to "avoid a merit-less and costly lawsuit," but in a final move that should be applauded, they conclude their open letter by writing:
You should know that we have placed a copy of the album in the archives of the Center for Popular Music at Middle Tennessee State University. It will now be available indefinitely for research under "fair use" provisions, fully keeping with the Center's mission "to promote research and scholarship on American vernacular music and to foster an understanding of the nation's diverse musical culture and its global reach."
(Game. Set. Triple Snap!) Gummy Soul's plight is self-evident and a clear example of record labels' over-zealous and over-protective concerns about music piracy that can often hurt and hinder innovation rather than prioritise the security of artist's recording rights. Although unconfirmed, we'd also be willing to speculate that Sony have taken action without the consultation or endorsement of A Tribe Called Quest, in fact, Q-Tip, Phife Dog, Jarobi, and Ali Shaheed Muhammad would probably dig what Gummy Soul have tried to do with Bizarre Tribe. But we may never know.
Gummy Soul are asking for fans to help spread the world about the Bizarre Tribe dispute by reading and sharing their open letter (and Tone Deaf recommends that you really should). If you needed any more encouragement, just take a look at Gummy Soul's ace press shot below, how could you not support their cause?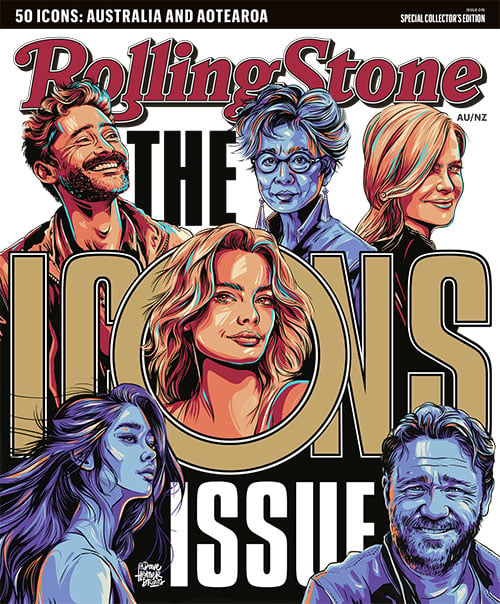 Get unlimited access to the coverage that shapes our culture.
Subscribe
to
Rolling Stone magazine
Subscribe
to
Rolling Stone magazine