Hot on the heels of rival Rdio which launched a few months back, the industry leader in streaming music and household name across Europe and North America, Spotify, has announced that they are officially launching here in Australia today, beating out Telstra who have partnered with MOG and plan on launching in a few months.
Spotify was launched in Sweden in 2008 by Ek and Martin Lorentzon, out of a desire to develop a better, more convenient and legal alternative to music piracy. Since then, Spotify has become the world's largest and fastest growing music service of its kind.
With a catalogue of more than 16 million tracks, Spotify allows you to stream music from wherever you are on your computer, mobile phone, iPad, connected TV, and more, so you can enjoy music whenever and wherever you like.
But unlike some other operators in the fledging streaming music space, Spotify's business model is somewhat different in that their most basic package is free. To offset the cost of streaming your playlists are periodically interrupted by audio ads, much to same as commercial radio.
But for those who'd rather not have to listen to ads there is of course paid subscriptions you can purchase, including a package that will let you stream from your computer, or a premium package that lets you stream across all your devices and store music for offline use when you don't have an internet connection available.
"We're unbelievably excited to be here," says Spotify co-founder and CEO Daniel Ek. "Australians are massive music fans and we've created a service that we know they'll love."
"Spotify offers everything you could possibly want from a music service: it's free, it's fast, it's easy to share and with more than 16 million songs we have one of the biggest on-demand music libraries in the world."
"Music is inherently social," Ek adds. "That's why we built the best social features into Spotify for easy sharing and the ultimate in music discovery."
The launch here in Australia comes with deals signed locally with all four of the major record labels, APRA and a raft of independent labels, and have already partnered with some other locals such as Triple J who will showcase new tracks on a hand crafted Triple J Hitlist, as well as playlist for past Hottest 100 countdowns.
Other great apps include TuneWiki, letting you sing along to your favourite lyrics; Rolling Stone Recommends, giving you the latest reviews; or find out which of your favourite bands are touring near you with Songkick Concerts.
"Spotify provides a wonderful legitimate avenue by which music lovers can consume music online and on-demand," says ARIA CEO Dan Rosen. "We are excited to welcome Spotify to the Australian market and believe music fans across the country will feel the same."
If you're interested in taking the service for a test drive, go ahead and visit spotify.com.au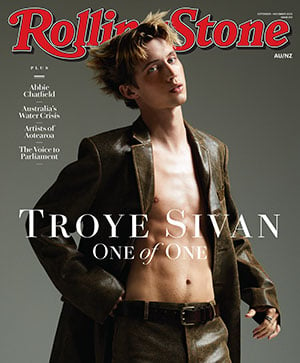 Get unlimited access to the coverage that shapes our culture.
Subscribe
to
Rolling Stone magazine
Subscribe
to
Rolling Stone magazine