Stevie Nicks has been left a little red-faced, mistakenly referring to One Direction's Harry Styles as a member of *NSYNC.
We've all been there before. We've all mixed up some musicians while thinking they were someone else. Why, if you were to ask someone the difference between Lil Pump and Lil Peep, you'd probably have your answer prefaced by a quick jaunt over to Google.
However, when it comes to artists whose name, face, and songs have been plastered all over billboards, magazines, and music charts, such an incident becomes a little bit less understandable.
That, it seems, was the case on Friday, when Fleetwood Mac member Stevie Nicks mistook One Direction's Harry Styles for another iconic boy band member.
As Variety notes, Friday saw One Direction's Harry Styles induct Stevie Nicks into the Rock and Roll Hall of Fame as a solo artist.
"She's the magical gypsy godmother," Styles noted at the ceremony. "She sees the romance in the world and celebrates it."
However, some members of the media wanted to know more about the friendship of Nicks and Styles, asking the Fleetwood Mac singer how she became friends with the One Direction member.
"Well, we met quite a long time ago actually," Nicks began. "What I really loved about Harry was that when he decided to make a solo record from *NSYNC…"
As Stevie Nicks trailed off and scattered laughter arose, she quickly realised she had mistaken Styles for Justin Timberlake. "Not 'NSYNC, sorry. I'm never gonna live that one down. One Direction."
Check out Stevie Nicks' moment of mistaken identity:
After laughing at her own mistake and setting herself right, Nicks professed her fondness for One Direction before explaining why she idolised Harry Styles.
"He could have gone one or two ways," she began. "He could have made a serious pop record, which would have been less of a risk, or he could have made a rock and roll record and take a risk, and he did."
Of course, this isn't the first time that the pair have collaborated in any way, with the duo teaming up at a secret show in Los Angeles back in 2017.
While Harry Styles might have a few years to go before he's eligible for the Rock and Roll Hall of Fame, Justin Timberlake – who Stevie Nicks ostensibly confused him for – previously appeared at the awards as a member of *NSYNC to induct Michael Jackson in 2001.
Timberlake also inducted both The O'Jays in 2005 and Madonna in 2008, but was sadly absent from the awards this time around.
In related news, Michael Jackson's sister Janet Jackson was also inducted into the Rock and Roll Hall of Fame on Friday, closing out her speech by asking the organisation to "induct more women."
Check out Stevie Nicks at the Rock and Roll Hall of Fame: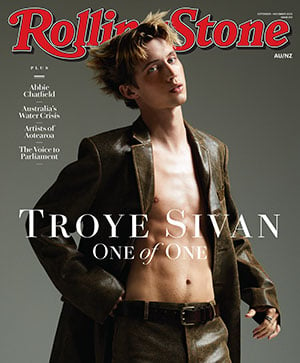 Get unlimited access to the coverage that shapes our culture.
Subscribe
to
Rolling Stone magazine
Subscribe
to
Rolling Stone magazine