Suzi Quatro has hit back at the Rock and Roll Hall of Fame, explaining that it's "disgusting" she hasn't been inducted.
Over the years, we've seen plenty of artists offer varying opinions when it comes to the Rock and Roll Hall of Fame. While Nine Inch Nails' Trent Reznor explains he "couldn't give less of a shit" about the honour, Ted Nugent said he feels it's "sacrilege" he's yet to be inducted.
Now, Suzi Quatro has chimed in on the matter, explaining she's extremely frustrated that some of the rockers she directly influenced are in the Hall of Fame, while she remains on the outside.
Joining The Pleasure Seekers at age 14 with her older sister Patti, Suzi Quatro got started in the world of rock music early, releasing her first solo album in 1973.
Thanks to her unapologetic style and ferocious stage presence, acts such as The Runaways cited Quatro as an influence, with Runaways guitarist Joan Jett being known as one of her biggest fans.
Check out Suzi Quatro's 'Devil Gate Drive':
However, in a recent interview with Billboard, Suzi Quatro explained that while Joan Jett is indeed a worthy inductee to the Rock and Roll Hall of Fame, she's confused as to why she herself has not been included.
"[Joan Jett] deserves to be in – she's an excellent artist – but it's disgusting that I'm not," Quatro explained. "I'm a real stickler for the truth, and I'm pissed off that history is being rewritten."
"I was first, right? I was there before anybody else had a twinkle in their eye – that's a fact of life. I'm happy that I opened a door because that door needed to be opened. I'm so proud of that, and I get thanked by everybody."
Suzi Quatro's snub by the Rock and Roll Hall of Fame is an immensely confusing one. Despite having been eligible since 1998 and breaking ground as the first female bassist to gain widespread recognition, her absence from any sort of nomination in the past is puzzling.
In fact, so well-known is her absence that numerous petitions to get her inducted have even popped up in the past.
"I just don't like being ignored because that's not correct. It's a big fault," Quatro continued. "I hear from a lot of people – they say, 'What? You're not in it?!' No – and my biggest fan is, and that's not right. You can't rewrite history just to suit your organization."
"So my feelings are hurt," she concluded. "I've been very polite about it for many years, and now I don't want to be polite anymore. It doesn't make sense. The truth is the truth, history is history, the timeline is the timeline. I need to be in that Rock and Roll Hall of Fame."
While the likes of Radiohead, The Cure, Stevie Nicks, Roxy Music, Janet Jackson, Def Leppard, and The Zombies are set to be inducted as the class of 2019 next month, it remains to be seen when Suzi Quatro will receive her long-overdue honour.
Check out Suzi Quatro's 'Stumblin' In':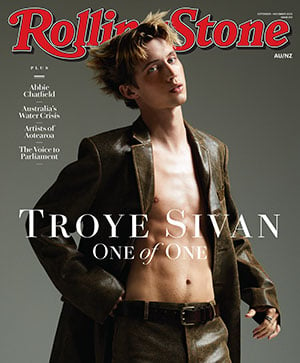 Get unlimited access to the coverage that shapes our culture.
Subscribe
to
Rolling Stone magazine
Subscribe
to
Rolling Stone magazine