As we announced in late July, Bank Of Melbourne has launched the Melbourne Music Bank, which aspires to uncover the 'next big thing' by alluring the city's best musicians with a major career boost of $15,000. All you have to do is submit an original composition inspired by Melbourne, sounds pretty easy, right?
Well, yes and no. There's plenty about the Victorian capital that is inspirational and plenty of classic Aussie songs that have used the metropolis as a backdrop. But putting what makes Melbourne into a song is easier said than done.
To get budding local musicians' thinking we've selected just some of the many songs that Melbourne has influenced. If you're struggling for inspiration just take a quick listen to the tracks below and get writing!
Paul Kelly – 'Leaps And Bounds'
You could fill an entire list of Melbourne music tributes with Paul Kelly songs, but there's as few as iconic and representative as the one he released way back in 1986. Taken from Gossip, the debut album from Paul Kelly and the Coloured Girls, 'Leaps and Bounds' was written in Kelly and Chris Langman's South Yarra home in 1978. It wasn't until Kelly rediscovered the song years later that the pair decided to finish it. The video is typically Kelly-esque; starring Melbourne's skyline and the MCG. The song even inspired the name of The City Of Yarra's very own music festival. (Corey Tonkin)

The Living End – 'All Torn Down'
What better way is there to make statement of your heritage on your debut album than by defending the history of Melbourne and its sites? Taken as the third single from the trio's self-titled release, 'All Torn Down' proudly showcased the Melbournites' love of their home city. Released in 1998, at a time when CityLink and Melbourne Docklands were being developed, the track details urban developments and their disregard for the city's parks and historic sites. The single artwork displays a scaled-down birds eye view map of Melbourne, while the video sees the band playing in several iconic Melbourne locations. The song is still pertinent to this day with several venues battling against property development. It's little wonder The Living End remain as one of Melbourne's most iconic bands. (CT)

Crowded House – 'Four Seasons In One Day'
Co-written by Neil and Tim Finn, Crowded House's 1992 classic is a song about the debilitating rollercoaster effects that come with depression and anxiety – how "even when you're feeling warm, the temperature could drop away." But the lyrics also make reference to the infamously unpredictable weather of Melbourne, which played a huge part in the band's career. Crowded House have always cited the city as a big inspiration to their music, with Neil Finn telling The Age that "Melbourne was the birthplace of Crowded House and was always the town we chose to return to. It's forever deeply ingrained in our collective psyche and was the backdrop for many of our best musical moments."
It may have been written by two Kiwi ex-pats, but Melbournians have adopted 'Four Seasons In One Day' as bona fide anthem, voting it in as the second greatest 'Melbourne Song of all-time" in a 2013 poll (behind Crowded House's 'Don't Dream It's Over). (Dylan McCarthy)

The Bedroom Philosopher – 'Northcote (So Hungover)'
While all the songs in this list showcase parts of Melbourne's historical and cultural fabric, Justin Heazlewood's comedic alias ensures Melbournians don't become quite to full of themselves with this more recent take on the city's culture. While the  2010 track (and must-see accompanying video) is an obvious piss-take on the Northside's hipsterhood, it acts as a reminder of what Melbourne culture has developed into in the 21st Century. While "Myspace friends and Connex tracks" are a little outdated now, other lyrical aspects – such as writing music for an ad, music piracy, and eating tofu salad – are all still very relevant in 2014. 'Northcote' is just as hilarious now as it first was when it was released. (CT)

[include_post id="413421″]
Dan Sultan – 'Old Fitzroy'
While Dan Sultan is currently winning over even more audiences with the release and recent tour of his latest album, Blackbird, the standout track of his 2009 sophomore album, Get Out While You Can, has its roots deeply entrenched in Melbourne. The song, which is being covered on Missy Higgins' new OZ record, may be specific to Sultan's own family history, but the suburb that inspired him and countless others is representative of how much Fitzroy has changed over the years through rapid gentrification. (CT)

TISM – 'Mourningtown Ride'
What list of iconic Melbourne songs would be complete without the city's most beloved masked musical satirists? If Paul Kelly is the emblematic figurehead for Melbourne as a shining beacon of inspiration, TISM are the underground instigators who are unafraid to pick at the scabs of the city's worst traits – and always with an entertaining tongue-in-cheek accuracy at the core of their biting tunes. That's especially true of this highlight from 1992 EP, The Beasts Of Suburban – a brilliantly cutting portrait of 14 suburbs in a succinct three-and-a-bit minutes. The moral of the story? Don't get off the train. (Al Newstead)
The Cat Empire ­– 'The Crowd'
While they might spend most of their calendar year embarking on global pilgrimages that see them playing to over a quarter of a million international fans, The Cat Empire's heart will always belong to their hometown of Melbourne. Recently, the sextet shared their massive milestone, playing their official 1000th show, with a city-stopping free show in the heart of the CBD at Federation Square. No surprise then, that you'll regularly finding them tipping their collective hat to Melbourne in their lyrics. None better than on this tune from their eponymous 2003 debut album, in which co-frontman Harry Angus pays tribute to the city's "crowded trams" and "traffic jams," then wanting to go "sleep on the St Kilda sands". (DM)

[include_post id="409525″]
High Tension – 'Collingwood'
Artist Sarah Thompson rose to Northside notoriety with her hilariously accurate portraits of Melbourne's favourite local bands using MS Paint. Thompson was then tapped by hard-hitting outfit High Tension to create the video for their anthem dedicated to the suburb, and it couldn't have been a wiser choice. Seeing all of Collingwood's most revered hallmarks – the Woolies on Brunny, the Tote, the 86 tram (that, let's be honest, no-one ever pays for), plus a few bongs and tinnie towers thrown in for good measure – all rendered in MS Paint form – makes for an absolute pisser of a watch. You'll never walk with your head down again. (DM)

Remi ­– 'Sangria'
Local boy Remi had a huge breakout with his lazy day party anthem 'Sangria', which eventually landed in at #85 on the Triple J Hottest 100. The track's storyline provides a pretty accurate account of how most people in the suburb like to spending their time in the summer – namely, "homies chilling in Brunswick,"getting high and taking naps, then having a big night and repeating the cycle all over again. The rapper gets bonus points for namedropping his fellow Melbourne musos like Hiatus Kaiyote and Silent J, and extra cred for taking a swipe at Mykis ("My train's at 10 to 4 o'clock and I hop in/Like fuck a Myki, I don't clock in"). Because let's face it, there's nothing more quintessentially Melbourne than hating our god-awful public transport system. (DM)

Amanda Palmer & The Grand Theft Orchestra – 'From St. Kilda To Fitzroy
Proof that it's not just Aussie musicians that take shining to the Victorian capital, the great Cabaret-bred Amanda Palmer gives her tale of the 16-minute (by tram) journey from one compass point to the other. The sentimental number – its title inspired by Paul Kelly's iconic tune – was simply influenced by "the absolute and utter unbridled joy I felt walking through the streets in St Kilda and Fitzroy one day, just doing the simple things," writes Palmer in her own blog about the Theatre Of Evil-era B-side. The best part? The field recordings that surround Palmer's plaintive melodies: kids on the Luna Park rollercoaster, cafe ambience, street noise, and the familiar 'ding' of a tram – all recorded live in St Kilda. (AN)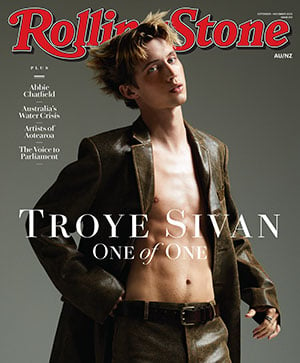 Get unlimited access to the coverage that shapes our culture.
Subscribe
to
Rolling Stone magazine
Subscribe
to
Rolling Stone magazine