After months of anticipation, L-Fresh the Lion's first album with Elefant Traks has finally arrived.
As we said last week in our local records wrap L-Fresh is without a doubt "one of the most important and progressive names in Aussie hip hop right now".  Hailing from Sydney's west he's one of the unique voices in a scene that represents the diversity of modern Australia.
Out via the iconic Elefant Traks label, Become is a record that sees L-Fresh navigate the complexities and tensions that come with inheriting and adopting two very different cultures.
To celebrate this stunning effort from one of Australia's most exciting new artists L-Fresh himself has kindly penned for us a run down on the records that changed his life, check them out below and for more info visit www.l-fresh.com.
Tupac Shakur – Me Against The World

1995, Interscope Records
Can I just say all of Tupac's albums? I'll always be a Tupac fan. I came across his music as a teenager in high school. He had a way of telling stories that really appealed to me.
His songs inspired me to rap. Me Against The World is my favourite Tupac album from start to finish. From songs like 'If I Die Tonight' and 'So Many Tears' to 'Dear Mama'. So many of my favourites from him are on that album.
Lauryn Hill – MTV Unplugged No. 2.0

2002, Columbia Records
This is such a beautiful piece of work. I think most people love Lauryn Hill for herMiseducation album, which is an absolute classic.
Miseducation is one of my favourite albums of all time. But MTV Unplugged No. 2.0 blows me away every time I hear it. I love how raw it is. Lauryn shares some of her deepest thoughts and feelings in such an honest way. This albums' contentment with imperfection makes it a stand out for me.
Talib Kweli & Mos Def – Black Star

1998, Rawkus Records
This was one of the first Hip Hop albums I bought and man, I played it so many times over, it's ridiculous.
The chemistry between Talib Kwei and Mos Def on this album is mastery. They feed off each other so effortlessly. I became huge fans of Talib Kweli and Mos Def after hearing this album.
Common – Be

2005, GOOD
I was introduced to Common by the Black Star album via his appearance on the song 'Respiration'.
I then became addicted to his song 'The 6th Sense', which was produced by the legendary DJ Premier from Common's classic album Like Water For Chocolate, which is another one of my favourites.
But when Be came out, that was it. Game over. What an album! I consider it Common's best album. The production compliments his style perfectly. It's Common as I love hearing him: busting thoughtful lyrics over soulful beats. I still regard 'Be (Intro)' as the best intro song to an album, ever. 
The Roots – How I Got Over

2010, Def Jam
Hip Hop's number 1 band = The Roots. When I found my way to their music, they became one of my favourites immediately. They're just so dope.
Black Thought is one of the best MCs ever. He's a beast on the mic. He never fails to impress. This particular album is my go to Roots record. 'The Fire' is one of my favourite songs of all time. It pumped me up the first time I heard it and it still has the same impact on me today.
True Vibenation – Sampler

1997, Wondergram Records
I don't know if this counts as an album because it's more of an EP, but I'm going to include it anyway. I'm pretty sure this was the first Hip Hop record I got that was made by Australian artists. I remember the day clearly.
I played my first gig, outside of school, as a teenager at Fisher's Gig in Campbelltown. Other local acts included The Planet Crushers, NJE, 2412 and True Vibenation. I'm pretty sure I copped a CD off everyone that day. That moment was my introduction to Hip Hop music from Australia. I never knew there was a Hip Hop scene here before then. My mind was blown wide open after that.
Many of my first memories of Hip Hop music from Australia are linked to this record. Songs like 'We Are The West' and 'Abstract' were stands outs to me. Hearing this made me realise that I had so much to learn when it came to making music. It massively inspired my drive towards becoming a better artist.
Tour Dates
Thu 26 May – Howler – Melbourne
Fri 27 May – Howler – Melbourne – SOLD OUT
Sat 28 May – Republic Bar – Hobart – SOLD OUT
Fri 3 June – Solbar – Maroochydore
Sat 4 June – Woolly Mammoth – Brisbane – SOLD OUT
Fri 10 June – Academy – Canberra
Sat 11 June – Baroque Room – Katoomba
Thu 16 June – Oxford Art Factory – Sydney
Fri 17 June – Oxford Art Factory – Sydney – SOLD OUT
Sat 18 June – Cambridge Hotel – Newcastle
Fri 24 June – Rocket Bar – Adelaide – SOLD OUT
Sat 25 June – Amplifier – Perth
Sun 26 June – Mojos – Fremantle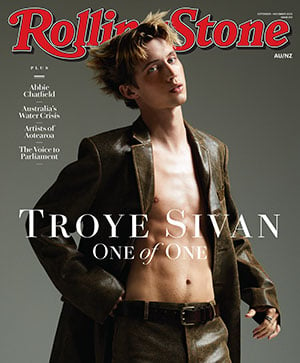 Get unlimited access to the coverage that shapes our culture.
Subscribe
to
Rolling Stone magazine
Subscribe
to
Rolling Stone magazine