What's it like to create the stunning stage visuals for a Chemical Brothers show? Tone Deaf thought we'd ask the people who make it happen. 
Adam Smith and Marcus Lyall – aka Smith & Lyall – have been directing the electronic duo's live shows for decades, and anyone who's watched The Chemical Brothers live knows just how important the show directors are to the overall endeavour.
For going to see Ed Simons and Tom Rowlands play their momentous, sublime anthems is vibrantly enhanced by the spectacular visual creations of Smith & Lyall, featuring robots and monsters, kaleidoscopic colours and unforgettable images.
The pair's visuals have come a long way over the years, and in 2023, they're afforded a level of creative freedom that only comes through building up trust and friendship with co-directors and collaborators.
With The Chemical Brothers coming to Australia early next year for a run of tour dates (see full details below), we chatted with Adam to discuss the Smith & Lyall partnership and find out what exactly goes into creating the visuals for a show of such magnitude.
Love Electronic?

Get the latest Electronic news, features, updates and giveaways straight to your inbox Learn more

View this post on Instagram
Tone Deaf: How did you both first become friends with Ed and Tom? And how soon was it before that blossomed into a creative partnership?
Adam: I met Ed first almost 30 years ago through mutual friends. We were going to some of the same clubs. They were DJing at some of them and, at the time, myself and Noah Clark (as Vegetable Vision) were doing visuals at some of them, so we saw and heard each others' work. Can't really remember how soon afterwards we started working together. Maybe a year or two ? Basically when they decided to do a live show they wanted a light show and asked Noah and I because they had seen and liked our work.
How long have you worked with The Chemical Brothers now?
I've been working with them since their second live show. Almost 30 years now. Marcus and I began working together on the show 12 years ago, although Marcus did a lot of earlier work for us as an animator and editor.
It must feel incredible to go from making small visuals with your mate at local raves and clubs to having your art seen by thousands at festivals like Coachella. 
Yes, it's incredible looking back at it. While it's all happening, you don't really realise how amazing it is becuase you are so wrapped up in it (and you're young), but yes, with hindsight it's amazing. The show has grown from using small analogue 35mm slide and 16mm film projectors to state of the art LED screen, lasers and lights. And 4 metre high robots that fire lasers out of their eyes.
Do you remember your first Chemical Brothers set?
Yes, 20 minutes long. Noah and I used just black and white imagery so our show would look different. It was also so that it would be as bright as possible as the projectors were a bit dim compared to the lights in those days.
How much experimentation is involved in your visuals? Do you both get to try new things visually in each show?
Yes, we try and keep it experimental and playful whilst always serving and trying to visually express the music. We try to push ourselves to come up with diffrent ideas and reject ideas if they feel too similar to what we've done before. Marcus is great at pushing this and great at finding new techniques to abstract our work.
When The Chemical Brothers release a new song, how long do you have to prepare visuals for its introduction to the live set?
More often than not, we have the new songs before they've been released. Depending on how complicated the idea is, it might take months and months from idea to finished visual and lighting look in the set. It's a lot of very detailed intricate work.
Do you both have any particular show highlights over the decades?
I think the integration of lights and visuals in the last few years is something we have worked very hard on, alongside our brilliant lighting designer and programmer JC. It's great to see this come to life, first in rehearsals and then at shows.
Who are your visual artist influences?
A lot of the work is a mix of varying influences. Inspirations come from theatre, dance, fine art, photography, experimental film, and fashion. Anything that feels right for the idea and the music. We like mixing up seemingly disparate influences to create something new.
Artists we love (and have been influenced by) include Oskar Fischinger, Nam June Paik, Leigh Bowery, Len Lye, Man Ray, Eadweard Muybridge, Kenneth Anger, Bill Viola, Anthony Mccall, James Turrell, and  Olafur Eliasson. Theatre and dance companies like Theatre de Complicité, Akram Khan, and Gecko Theatre (all of whom we have collaborated with) are also an inspiration. Kabuki theatre, Urban dance, and physical theatre have also fed into ideas.
Examples of scenes in films that have influenced us include the solarised sequences in the Monkee's psychedelic film Head (which Jack Nicholson directed), the fairground ride scene from The 400 blows by François Truffaut. 1980's Japanese superhero TV shows informed the visuals for "Eve of Destruction".
You both pursue other creative pursuits outside The Chemical Brothers' shows, right? What have you got going on currently?
Yes. Marcus and I both currently have art projects on the go. I direct film and TV as well, so currently developing a couple of scripts. We're also developing an immersive experience called Another World which is premiering at Factory International in Manchester.
How do Chemical Brothers' fans usually react to your visuals? Do they ever reach out?
They do. It's lovely. There are a lot of tattoos of the visuals appearing on peoples bodies. That's quite a radical reaction.
The Chemical Brothers 2024 Australian Tour
Presented by Frontier Touring, Roundhouse Entertainment (Geelong only) and Double J
With special guests The Presets DJ Set (Sydney & Geelong), Anna Lunoe (all shows) and James Holroyd (all shows)
Tuesday, February 27th
Riverstage | Brisbane, QLD
18+
ticketmaster.com.au
Thursday, February 29th
Sydney Showground | Sydney, NSW
18+
asx.com.au
Saturday, March 2nd
Mt Duneed Estate | Geelong, VIC*
A Day on the Green
Lic. All Ages
adayonthegreen.com.au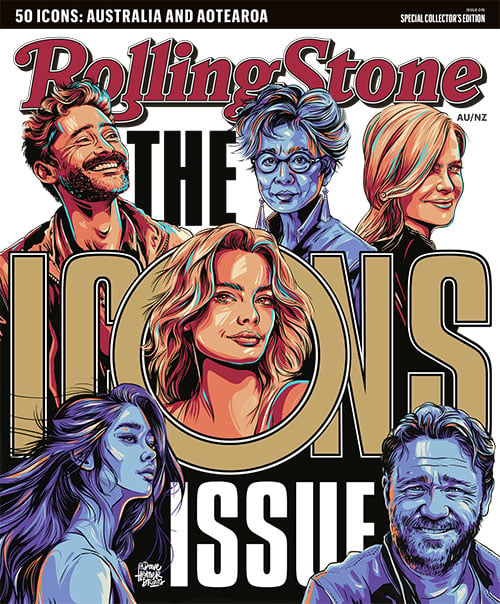 Get unlimited access to the coverage that shapes our culture.
Subscribe
to
Rolling Stone magazine
Subscribe
to
Rolling Stone magazine