The Cure are have announced the release a concert film documenting their 2018 performance in London's Hyde Park.
Last July, The Cure hit up London's iconic Hyde Park to partake in a special 40th anniversary concert for the group.
Performing as part of the British Summer Time concert series, the group's appearance marked four decades since the release of debut single 'Killing An Arab', and came ten months before the 40th anniversary of their debut album, Three Imaginary Boys.
Performing a number of classic tracks throughout their 29-song set, the performance saw the group dusting off old gems for the first time in years, while giving fans an intriguing look at their extensive back catalogue.
However, for those who weren't lucky enough to be at the event, the group are now set to release this performance as a concert film, coming in just a matter of months.
https://twitter.com/timpopedirector/status/1124573426734305280
https://twitter.com/timpopedirector/status/1124574349703417857
Following on from a few teasers from frontman Robert Smith, director Tim Smith took to Twitter last night to reveal the film's upcoming release.
"Yes, it's true what Robert has announced – that our film of Hyde Park will hit cinemas in early summer," he explained.
"A global release, it marks the first time to see The Cure on the big screen since [1987's The Cure In] Orange. I shot it in groovy 4K and we mixed at Abbey Road in glorious 5:1 surround sound."
"No point to say more for now, but we have worked long and hard on this to give a truly cinematic experience," he added. "More announcements to come in next few weeks."
This exciting news happens to follow on from The Cure's plans to livestream their fifth and final performance at Sydney's Vivid LIVE festival this month.
Featuring the group's 30th anniversary celebration of Disintegration, this livestream will be helmed by British director Nick Wickham, and will be available to view via YouTube and the event's Facebook page.
Check out the livestream for The Cure's final Sydney show:
In related news, Robert Smith recently explained that while he's "still doom and gloom" The Cure's new record is undoubtedly going to "delight" hardcore fans of the band.
"It's so dark. It's incredibly intense," he explained. "And I've waited 10 years to do something that means something. It's going to work really well."
"I'm not sure how much of it we'll play this summer at festivals. It's not really festival music. The songs are like 10 minutes, 12 minutes long. We recorded 19 songs. So I have no idea what to do now."
"The others are saying, 'Triple album!' I'm saying, no let's not," he continued. "I'll pick six or maybe eight songs and do like a single album."
"But I think it will delight our hardcore fans. And probably really, really infuriate everyone else. At my age, I'm still doom and gloom."
Check out The Cure's 'Boys Don't Cry':
The Cure Vivid LIVE 2019 Dates
Friday, 24th May (Sold Out)
Sydney Opera House, Sydney, NSW
Saturday, 25th May (Sold Out)
Sydney Opera House, Sydney, NSW
Monday, 27th May (Sold Out)
Sydney Opera House, Sydney, NSW
Tuesday, 28th May (Sold Out)
Sydney Opera House, Sydney, NSW
Thursday, 30th May (Sold Out)
Sydney Opera House, Sydney, NSW
The Cure @ Hyde Park, London 7/7/18 Setlist
'Plainsong'
'Pictures Of You'
'High'
'A Night Like This'
'The Walk'
'The End Of The World'
'Lovesong'
'Push'
'In Between Days'
'Just Like Heaven'
'If Only Tonight We Could Sleep'
'Play For Today'
'A Forest'
'Shake Dog Shake'
'Burn'
'Fascination Street'
'Never Enough'
'From The Edge Of The Deep Green Sea'
'Disintegration'
Encore:
'Lullaby'
'The Caterpillar'
'Friday I'm In Love'
'Close To Me'
'Why Can't I Be You?'
'Boys Don't Cry'
'Jumping Someone Else's Train'
'Grinding Halt'
'10:15 Saturday Night'
'Killing An Arab'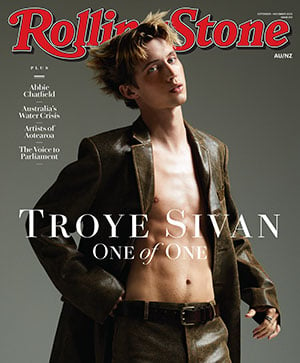 Get unlimited access to the coverage that shapes our culture.
Subscribe
to
Rolling Stone magazine
Subscribe
to
Rolling Stone magazine