Minivan, the debut EP from The Rions, sounds like summer bliss.
Summer is always great when it comes around, and after a long winter, we're finally ushering it in. For many in Australia, especially if you're from the Northern Beaches of New South Wales like The Rions, this is summer: road trips in the sun, drinks by the beach, relaxed BBQ's, and generally being outside alongside friends.
While Minivan sounds like summer bliss, it's actually a moment of growth for the emerging indie rock band, a coming-of-age record. Touching on heartbreak and self-growth, The Rions are still discovering themselves as people on the EP, and trying to make sense of adulthood.
Songs like "Talking to Walls" and "Got My Hopes Up" are deeply personal, about going through experiences that mature and shape you, alongside experiences from a failed relationship.
"With time, heartbreak can turn into many things. The chorus retrospectively and confidently recognising the problems that the love they used to share caused them. The song is meant to feel like you're joining arm in arm with the people who have your back, and healing through admitting what the problems were", The Rions explain.
Minivan builds on the strong promise The Rions have been showing for a while now, ever since winning triple j's Unearthed High in 2021. Two years later, they've signed to Sony Music Australia and are ready to take on the world as four best friends.
After Minivan released last month, The Rions hit the road on a national tour. You can check all of their upcoming tour dates here, which includes appearances at Grapevine Gathering and Yours & Owls.
Love Indie?
Get the latest Indie news, features, updates and giveaways straight to your inbox Learn more
Tone Deaf asked the band to take us through their excellent EP in greater detail, which you can check out below.
The Rions' Minivan EP is out now. 
Minivan EP Track by Track:
"Talking to Walls"
"Talking to Walls" is a song about self-reflection in a time of crisis. Realising that one's lifestyle has to change in order to turn their life around. This song represents a time in someone's life where they are faced with the decision to send their life down a path of salvation or ruin. The angle from which this story is told is one that offers no excuses for the lack of improvement, but a plea for patience, to allow them to pick themselves up and keep trying. The song itself came about through a songwriting session with Noah and Harley writing with Harry O'Brien (singer of Pacific Avenue) and Charlie Gradon.
"Scary Movies"
"Scary Movies," in the context of the story of Minivan, is a turning point. One in which love is the catalyst for change. The specificity of the chorus's lyrics is an example of the tiny intimacies of being a human, that is so special to people emotionally. "Scary Movies" is merely a love letter to the joy that finding your soulmate, platonic or not, is enough to change your life for the better. In the studio, we were really keen to just make a fun dance song and Chris Collins definitely pushed it there with the addition of the groovy keyboard synth in the choruses.
"Got My Hopes Up"
"Got My Hopes Up" explores the gut-wrenching feeling of being faced with the reality that it just won't work. This track explores being comfortable with who you are, and recognising that the faults of the relationship stemmed from the insecurities of the other party. It's a heartbreaking thing to do all you can to change the mind of someone who just won't see you eye to eye. "Got My Hopes Up" conveys the heaviness of moving on against all efforts not to. Simarlily to "Minivan", this track was also born in high school for an assignment, though it has barely changed at all from its original state in comparison to "Minivan".
"Take What You Want"
With time, heartbreak can turn into many things. It can be channeled into powerful emotions and in this song's case, bitterness and regret are the outcome of said heartbreak. The chorus confidently recognises the problems that the love they used to share caused them. The song is meant to feel like you're joining arm in arm with the people who have your back, and healing through admitting what the problems were. "Take What you Want" was actually the result of us working with Chris for the first time. He managed to fit in a session with us during the jam-packed schedule over BIGSOUND while we were there in Brisbane, and ended up with a song we all really liked.
"Minivan"
"Minivan" is the point of the story where it's time to remove yourself from the situation and relocate physically, emotionally, and spiritually. It feels like becoming your own person and having pride in yourself for how far you've come and how far you'll go. "Minivan" is meant to be an emotional vessel of transportation that will take you to a state of mind that values keeping memories, and making them at the same time. This song also has a special place in our youth due to its 3-4ish year-long process it took to evolve it from the high school assignment it had begun as, evolving in every aspect possible until it hit the point it's at now.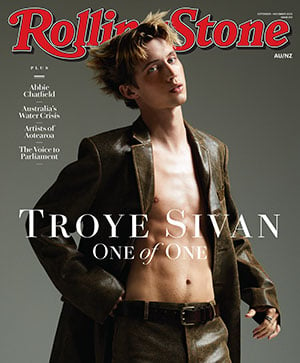 Get unlimited access to the coverage that shapes our culture.
Subscribe
to
Rolling Stone magazine
Subscribe
to
Rolling Stone magazine